Black Maternal Health Week Shines Spotlight on Black-Led Solutions
"I am very hopeful that this work is ultimately going to lead to some meaningful change for Black mamas in the U.S."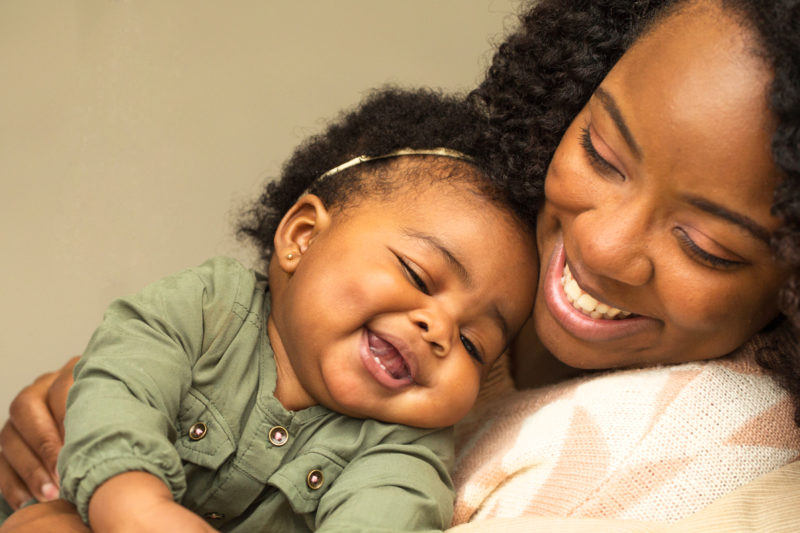 "Part of this awareness week is to lift up Black mamas and let them bring forward their solutions," said Monica McLemore (not pictured), a BMMA advisory committee member and assistant professor in the family health nursing department at University of California, San Francisco. Shutterstock
Today marks the final day of the second Black Maternal Health Week.
Hosted by the Black Mamas Matter Alliance (BMMA) and backed by 17 U.S. senators, including presidential hopeful Sen. Kamala Harris (D-CA), the annual week seeks to increase awareness and create opportunity for dialogue and action on Black maternal health.
It's hard to deny that there has been a marked increase in media attention on this issue over the last few years. From a yearlong series on maternal mortality at NPR to the cover story of the New York Times Magazine last April, the conversation about maternal and infant mortality, and particularly the disparities facing Black women, has reached a fever pitch.
But the BMMA leaders don't just want to see media coverage of the problem—they want to see reporting on the solutions. "Too much reporting on Black maternal health has been doom and gloom," said Monica McLemore, a BMMA advisory committee member and assistant professor in the family health nursing department at University of California, San Francisco, during an interview with Rewire.News.
"I had written last year [that] the media coverage kept asking why, why is this happening?" said Elizabeth Dawes Gay, co-director of BMMA. "I think we gave them a pretty clear answer: It's racism. It's discrimination, it's societal and systemic issues that need to be addressed."
BMMA is working to highlight community-generated, Black-led solutions. "One of our major goals as an alliance is to have Black leaders on maternal health at the forefront, and I think we're doing that," said Dawes Gay. "The media, public health officials, and medical professionals are recognizing the role and importance of Black-led efforts on maternal health."
"Part of this awareness week is to lift up Black mamas and let them bring forward their solutions," added McLemore.
She sees a lot of engagement on this front on social media, including through Twitter conversations on the week's hashtag. McLemore recalled one woman's idea to start a postpartum visiting van: "Go around [and] see postpartum moms, bring toys, social support, and just to see how they are doing."
Jessica Roach is the founder and executive director of Columbus, Ohio-based Restoring Our Own Through Transformation (ROOTT), a partner organization to the alliance. Roach has been involved with BMMA since the beginning, and credits the alliance with much of the increase in conversations about the issue in the media. "I see there being a great deal of attention that's being drawn to maternal health," Roach told Rewire.News. "A great deal of this has to do with the advocacy of the Black Mamas Matter Alliance, that has come together to lift and push this issue in our voice."
Centering Black-Led Solutions
BMMA is a relatively new initiative, formed in late 2016, but it builds off of previous efforts to focus on the well-being of Black mothers and babies.
Dawes Gay describes the group as a platform meant to elevate work happening on the ground across the country. The alliance is made up of more than 20 kindred partner organizations that are already focused on this issue in their work.
The inaugural Black Maternal Health Week last year was an experiment to see what worked. "People were hungry for a conversation and for a space to have dialogue," said Dawes Gay. Much of that dialogue took place on social media, and the engagement on those platforms has increased significantly this year, she said. BMMA has also seen a more nuanced and deeper conversation on the issue.
Although BMMA has organized a number of events and webinars directly, the majority of the events are organized locally by its partner organizations.
ROOTT, for example, organized six events for Black Maternal Health Week—including a prenatal yoga class, a live podcast taping, and a community discussion featuring Dr. Joia Crear-Perry, founder of the National Birth Equity Collaborative (NBEC) and an advisory committee member for BMMA. ROOTT's work spans from advocacy to direct service, and is fortified by a doula program that supports Black mothers in the Columbus community.
As Roach noted, the "in our voice" piece is integral to the work of BMMA. Roach also co-leads the BMMA care working group, one of three groups that drive work forward at the alliance. The other two groups are focused on policy and research, respectively, and each group meets regularly via phone to coordinate their work within these focus areas.
The alliance has leveraged its reach and community-based connections to elevate the work and perspectives of Black-led initiatives. This is evident in, among other things, the way partners have been framed by national outlets. Jennie Joseph, whose National Perinatal Task Force is a kindred partner, was featured last week in a video for the TODAY show. The video segment powerfully connects the dots between Joseph's personal experience with hysterectomy due to endometriosis and her work running a prenatal care clinic for low-income mothers in the Orlando area.
"I recognized there was no power or agency inside of health care in this country, regardless of whether you are insured or uninsured, regardless of race or ethnicity—I personally suffered at the hand of a system such as this," said Joseph. "I wanted to fix this mess for myself, but also I felt a drive to stand for women and say, 'hey, this is not right.'"
Decolonizing Research and Informing Policy
Held April 11-17, each Black Maternal Health Week has a theme. This year's theme was "Decolonizing Research to Develop Meaningful Policy for Black Maternal Health." For McLemore, who is a researcher herself, decolonizing research on Black maternal health means "moving towards more of an emancipatory vision about how we can get better data, what data is missing, what we'd like to be collected and how to think about the analytics of existing data."
In addition to hosting a webinar on decolonizing research in Black maternal health, the group also hosted a Twitter chat called #CiteBlackWomenSunday, emphasizing the importance of supporting research led by Black women on Black maternal health. Racism can play out in research spaces as well, and can shape whose voices are centered, and whose work is seen as authoritative scholarship.
Inas Mahdi, a BMMA collaborator, emphasized this point in a graphic created by BMMA: "Black women researchers bring a combination of lived experience and research training together to apply love, social justice and applied research principles to the field of maternal health. The research I conduct, I conduct with love and scientific integrity, which expands the potential for a real meaningful impact to advance Black maternal health."
Another important part of this conversation is how that research is used once it's completed. Dawes Gay puts special emphasis on how research informs policy. "How are we then using that research to inform policy, to develop policy that actually works for Black mamas?" she asked. "We're [also] thinking realistically about how legislation can help bring holistic care to Black mamas, that is community-driven and that respects and acknowledges Black people."
There have been some policy wins for the group, and for their local and state partners. On the federal level, BMMA counts the formation of the first-ever congressional Black Maternal Health Caucus as a win. The caucus will work to advance legislative priorities that focus on Black maternal health specifically, such as urging members of Congress to cite racism as a cause of maternal mortality. "I think certainly at the policy level, the fact that there is now a BMHC is a really great sign of progress," said Dawes Gay.
The caucus was announced just two days before the 2019 Black Maternal Health Week began, and Dawes Gay is hopeful that it will help advance legislation at the federal level. Elsewhere, on the state level, more than 80 bills have been introduced that address this issue, signaling significant legislative momentum nationally.
Challenges and Hope
While there has been increased momentum in terms of media attention, legislation, and attention toward Black-led initiatives, there are still challenges ahead for this work. A major one is funding for the Black-led groups in the alliance, said Dawes Gay. Rather than increased funding for the groups already doing the work, Dawes Gay says that foundations are funding larger, more established, and white-led organizations that do not have the same connection to the community to address Black maternal health.
"There are a lot of big white-led organizations that are now attending to [Black maternal health]. That is important, but it is not fair for funders to provide more resources to these really large organizations when there are Black-led organizations that already do this work very well. All they need is the right amount of resources to be able to scale up and share their models. They should be prioritized to advance solutions for Black maternal health," said Dawes Gay.
While many of BMMA's kindred partners are executing programs producing improved outcomes for the women they support, their work is in jeopardy without adequate financial resources.
Another question is what it will actually take to move the needle on the disparities facing Black mothers and babies, like the fact that Black women are four times more likely to die as a result of pregnancy and childbirth than white women. McLemore is particularly concerned about how the political climate will affect this, in particular what will happen if abortion becomes even more difficult to access. "If abortion becomes outlawed, illegal, or a privilege of whatever state you live in, our current health system is not going to be able to absorb all the people who aren't able to get the abortion they want," she explained.
"All of a sudden we're going to have people who won't be able to access those services, and we'll see a different population of people coming into our pregnancy system."
But despite these challenges, advocates remain optimistic. "I'm hella hopeful," said McLemore. She's in talks about creating a digital hub in Oakland that could offer mini-grants to accelerate the work of community members trying to address this issue. "We've been too timid in trying to figure this out. It's time for some bold action."
Dawes Gay is also optimistic about the trajectory of BMMA's work. "I am very hopeful that this work is ultimately going to lead to some meaningful change for Black mamas in the U.S."
While she's happy with how this second Black Maternal Health Week has unfolded, Dawes Gay acknowledges that the conversations are just beginning.
Roach also feels positively about the direction of the Black maternal health movement. "It's not even just hope, it's faith and trust in the integrity of what it is that we are doing in our organization and what it is that other Black-led organizations are doing across the country. How we're finding that space to communicate with and support each other."