For Years, an Anti-Choice Restriction in Texas Devastated Access to Early Abortion Care
New research about the effects of HB 2 suggests that regulations targeting medication abortion can and will result in people unable to access the care they need.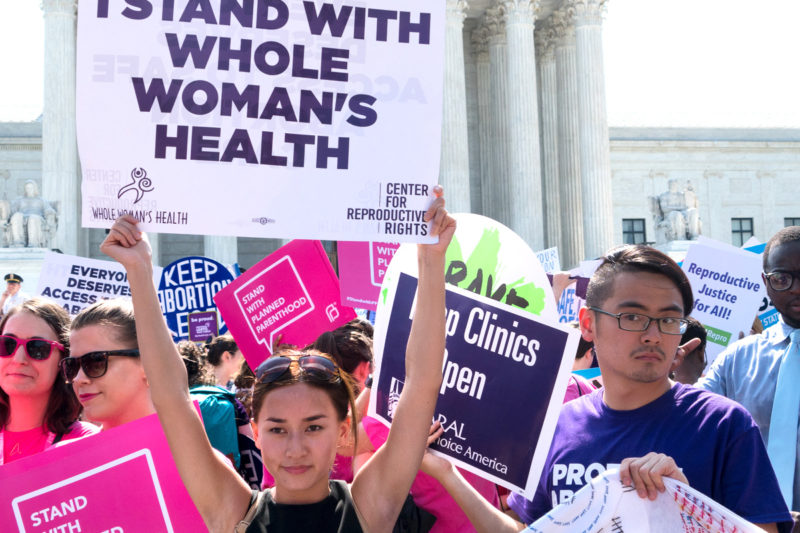 While these numbers are promising, the TxPEP study emphasizes that there are still extensive restrictions on abortion in Texas that continue to have an effect on access to care. Victoria Pickering / Flickr
In 2013, the Texas legislature passed HB 2, a notorious anti-choice law that led to the closure of more than half of the state's abortion clinics. Two of the law's several provisions were struck down by the U.S. Supreme Court in 2016, but a provision that restricts medication abortion has remained in place. A new study shows this provision devastated access to early abortion care for years.
"As a result of clinic closures that had happened after HB 2 and these medication abortion restrictions, we see that fewer providers are offering the method and the barriers are resulting in fewer women accessing the care that they want," Sarah Baum, the study's lead author, told Rewire.News.
As part of its omnibus anti-abortion package, HB 2 required doctors to administer medication abortion according to Food and Drug Administration (FDA) guidelines. The problem was that at the time the law was passed, these guidelines hadn't been updated in over a decade and were no longer in line with medical best practices.
Despite a legal challenge to the medication abortion restriction, a federal judge ruled in October 2013 that this provision of HB 2 was constitutional and could remain. After this, Texas became one of three states that required medication abortion be administered in accordance with FDA labeling—which, at the time, had not changed since the FDA's initial approval of mifepristone (also known as mifeprex) as a medication used to induce abortion when prescribed in combination with another pill, misoprostol. Before HB 2, doctors in Texas had been able to provide abortion care based on best medical standards, judgment, and research.
Three years after HB 2 passed, in March 2016, the FDA finally updated the guidelines. In doing so, it made a number of updates in line with evidence-based practices, including lengthening how far into the first trimester the medication can be taken (previously restricted to seven weeks and now allowed up to ten), updating the dose, removing the recommendation for an in-person follow-up appointment, and updating language so that physicians are not the only medical professionals who can administer the drugs.
These updates mean patients face fewer barriers for accessing a medication abortion and are able to seek this care later into pregnancy. Last month, researchers with the Texas Policy Evaluation Project (TxPEP) at the University of Texas at Austin published a study showing that during the three years after HB 2's passage, medication abortion use declined dramatically. After the FDA updated its label in 2016, the numbers returned to pre-HB 2 days. This research suggests that regulations targeting medication abortion can and will result in people unable to access the care they need.
Baum, an investigator at TxPEP and associate at Ibis Reproductive Health, told Rewire.News, "This study doesn't necessarily demonstrate that medication abortion has increased dramatically in the state so much as it has bounced back to where it was before HB 2."
In their new study, Baum and her fellow TxPEP researchers aimed to understand the effects of the HB 2 legislation and FDA updates. They did this by analyzing numbers on medication abortion use during three time periods: before HB 2 (from November 2012 to April 2013; after HB 2 (from November 2013 to April 2014; and after the FDA updated its medication abortion guidelines (from November 2017 to April 2018). TxPEP received data directly from licensed providers.
After analysis they found that before HB 2 went into effect, medication abortions made up 28 percent of all abortions in Texas. After HB 2, this decreased to 10 percent. Once the FDA protocol was updated, the proportion rebounded, with medication abortions accounting for 33 percent of all abortions. As Baum explained, "This is similar to what we see in national statistics, and it is essentially a return to the proportion of medication abortion before the barriers of HB 2 were implemented."
While these numbers are promising, the TxPEP study emphasizes that there are still extensive restrictions on abortion in Texas that continue to affect access to care. These barriers include bans on telemedicine for providing medication abortion, a mandatory ultrasound 24 hours prior to an abortion, and a restriction on insurance coverage for abortions.
In addition, the implementation of HB 2 forced at least half of the state's abortion clinics to close. This was largely because of the law's other components, including requirements that clinics physically alter their facilities to meet the standards of an ambulatory surgical center and that providers have admitting privileges at nearby hospitals. While the Supreme Court ultimately overturned these parts of the law, the process of reopening a clinic is difficult and many still remain shuttered. This effect alone means abortion clinics are not geographically accessible for everyone.
"So we see that even today, after the changes due to the FDA label, many women still have to travel long distances to reach care. In fact there's 900,000 Texas women who currently live over 150 miles from any abortion clinic in the state," Baum said. And being forced to travel such distances can come with extreme financial and personal costs: "If we think about travel, this includes burdens related to transport, to potentially taking off work, to child care, and even an overnight stay if they're seeking an abortion later in pregnancy."
So while the medication abortion numbers did "bounce back" after the FDA protocol was updated in 2016, many people still aren't able to fully access the care they need and want. In fact, another study from TxPEP released this week found that second-trimester abortions increased by 13 percent in the year after HB 2 was implemented, despite overall state abortion rates declining by 18 percent—suggesting that when patients were able to get care, it was later than they desired.
Understanding that restrictions on abortion affect provision and care is key, and this research opens yet another window into that lived reality. TxPEP researchers like Baum intend to continue analyzing how state-level policies are affecting access to reproductive health care across the state. Their findings confirm that removing a layer of abortion restrictions can open up access to care for people who are seeking it—but that abortion still remains out of reach for many.