Here's How Democrats Want to Classify Reproductive Rights as Human Rights (Updated)
President Trump's State Department deleted reproductive rights from its human rights report last year. A new bill would make sure that doesn't happen again.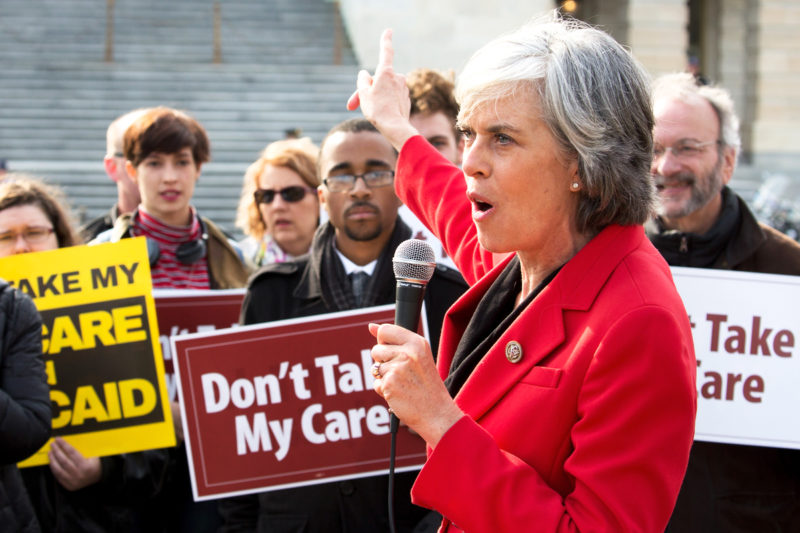 The "Reproductive Rights Are Human Rights Act" is similar to a bill by the same name introduced by Rep. Katherine Clark in the last Congress. Tasos Katopodis/Getty Images
UPDATE, March 13, 2:45 p.m.: The U.S. Department of State released its 2018 Human Rights report on Wednesday, once again omitting reproductive rights sections from its assessments.
Congressional Democrats introduced legislation on Thursday that would classify reproductive rights as human rights and require the U.S. State Department to include access to reproductive health care in its annual human rights report, a practice that ended when President Trump took office.

The "Reproductive Rights Are Human Rights Act" was introduced by Democratic caucus vice chair Rep. Katherine Clark (D-MA) and announced at a press conference Thursday along with Rep. Barbara Lee (D-CA) and U.S. Senate co-sponsors Bob Menendez (D-NJ) and Richard Blumenthal (D-CT). The bill is similar to a bill by the same name introduced by Clark last year in response to the State Department's sudden decision to drop the sections on reproductive rights from the 2017 human rights report it released last spring.

"It is very true to form for this administration that they are attempting to eradicate the rights of women through willful ignorance," Clark told Rewire.News. "The way that we are able to protect human rights internationally is through shining a light on the violations. I think what this administration is saying is that we are no longer interested in finding out what is happening with women's health and monitoring, assessing and protecting women across the globe."

Amanda Klasing, acting co-director of the women's rights division at Human Rights Watch, said the State Department's annual human rights report has critical government uses. "A lot of people think that it just sits on the website and it's something that foreign service officers have to do once a year, but actually it's a really important tool for Congress because it helps in appropriations matters about foreign assistance," she said in an interview with Rewire.News. "It's important for immigration judges and for immigration lawyers trying to determine whether asylum claims are founded."

The report's use by immigration judges is critical for Stephanie Schmid, U.S. foreign policy council at the Center for Reproductive Rights, who used an example from Central America to demonstrate the harm of excluding reproductive rights from the report. "Any woman that would be coming to the U.S. border right now … fleeing some condition like in El Salvador where you can be jailed for having a miscarriage, and trying to make a refugee or asylum claim at the border, wouldn't be safe," she told Rewire.News. "Potentially an immigration judge [could say] 'I don't know what you're talking about, the 2017 human rights reports don't say anything about women being jailed in El Salvador for miscarriages.' They don't say anything about the high rate of sexual and gender based violence by gangs and in other situations. So what we do is invalidate and erase the experience and stories of women all over the world."

The Center for Reproductive Rights has sued the State Department twice under the Freedom of Information Act for refusing to release records about the erasure of reproductive rights from the human rights report.

The reproductive rights information was gathered for the annual report by foreign service officers who maintain regular contact with health-care providers and advocates on the ground, contact that has ended under Trump's State Department.
"They are no longer attending the meetings and events where they would gather this information, and so it's a complete loss of not just one year worth of recording data, or two or even four, it's a loss of all of the leg work that is done to build and maintain these relationships," said Schmid, adding that loss of these connections will take years to rebuild no matter who is elected in 2020. "Even when the presidential memorandum is rescinded on day one, there will be a minimum of a year or two years for embassies to rebuild meaningful relationships where they can actually be substantially reporting on what's happening."

Clark's bill mandates that foreign service officers must consult with reproductive health and rights organizations in local communities to gather accurate information for the human rights report.
At Thursday's press conference, Blumenthal said he expects bipartisan support for the bill. Clark told Rewire.News she's confident the bill will pass the Democratic-controlled U.S. House of Representatives, adding that it's important to expose this issue whether or not the GOP-majority Senate will pass it. "We want to remind people that these type of actions that are really assaults on women and women's healthcare are being taken by this administration," she said. "We would love it if we're able to convince the Senate to pass this through, but we have to keep raising this issue and shining the spotlight on what this administration is doing, and the kind of discrimination and coercion and violence against women and girls that this administration is willing to tolerate."
Kasing said she expects the 2018 human rights report to be released on Friday, once again without reproductive rights information, but she hopes that the general public will begin to recognize that violations of reproductive rights are as legitimate as other forms of human rights violation.
"There is a sense that there are hard human rights issues and then there are soft human rights issues," Kasing said. "The State Department is still reporting on the hard human rights issues like torture, extrajudicial killings, but there's some flexibility as to whether or not these [reproductive rights] actually qualify as human rights. As somebody who has interviewed both people who have been victims of state sponsored violence, torture, abuse, and people who have had their reproductive rights violated, the feeling of abuse, the feeling of violation is the same. It's a visceral feeling."