New Congress Opens Door for Renewed Push for LGBTQ Equality Act
Nancy Pelosi, likely to be elected speaker of the House, has promised to advance the Equality Act, calling it "personal" in remarks in early October.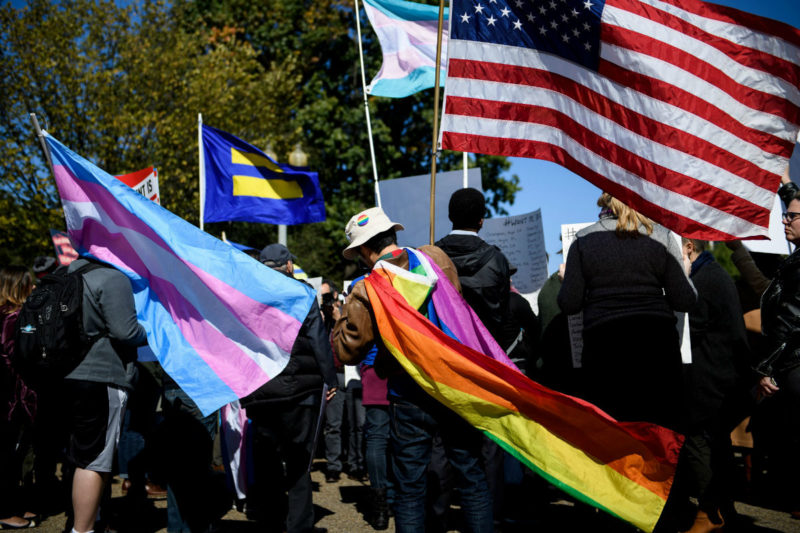 The Equality Act could be a comprehensive legislative response to the anti-LGBTQ sentiments of the Trump administration. BRENDAN SMIALOWSKI/ Getty Images
LGBTQ-rights advocates say the Equality Act, a comprehensive LGBTQ nondiscrimination protections bill, is needed now more than ever amid continuous attacks from the Trump administration. And now, with a new Democratic majority about to enter the U.S. House of Representatives, it may have an opening.
Nancy Pelosi (D-CA), likely to be elected speaker of the House, mentioned the bill last month in a Washington Post op-ed detailing the Democratic House agenda for the upcoming session of the U.S. Congress. Twenty states plus the District of Colombia currently have nondiscrimination protections in various areas of everyday life for LGBTQ people, but to date, there's never been a federal LGBTQ equality law. While there have been previous efforts at passing a federal LGBTQ nondiscrimination bill over the last thirty years, urgency among advocates and lawmakers has grown significantly of late thanks to a steady string of Trump administration actions rolling back key government protections for queer people.
The Trump administration in January 2018 rescinded Obama-era guidelines protecting transgender students. That was followed in steady succession by the administration issuing guidance arguing that Title VII's sex-based employment protections do not apply to LGBTQ people, banning trans military service, expanding religious exemptions for federal contractors to discriminate against LGBTQ people, proposing rollback on Section 1557—which protected trans people from discrimination in health care—and engaging in repeated court and executive efforts to roll back LGBTQ rights. The administration's attacks culminated in a leaked U.S. Department of Health and Human Services memo in October that attempts to eliminate the sex-based rights of transgender people altogether.
While advocates and their attorneys have fought back through the courts, the Equality Act, a bill which has existed in some form since the seventies, could be a comprehensive legislative response to the anti-LGBTQ sentiments of the administration.
"While the courts still agree with us, courts can change," National Center for Transgender Equality (NCTE) Executive Director Mara Keisling told Rewire.News in an interview. Keisling noted that the bill consists of LGBTQ anti-discrimination protections in seven key areas of everyday life: employment, education, public accommodations, housing, credit, jury service, and federal programs.
"If we can cement into law very clear explicit protections for people based on gender identity and sexual orientation, the Department of Justice's dereliction of duty will be much clearer and much less justifiable … but, trans people, as you know, our lives and our identities are under attack from the Trump administration, [and] the Equality Act would go a long way towards shutting that down. It's the key piece that would solidify things really well."
The Equality Act's Origins
First introduced in 1974 as the "Gay Civil Rights Bill," the Equality Act has gone through several iterations and the politics in trying to get it passed has carried along with it plenty of controversies. The bill never had enough popular support to advance to a floor vote in either chamber until the early to mid 2000s, when the U.S. Supreme Court struck down "homosexual conduct" bans in Lawrence v. Texas, and the marriage equality movement began experiencing early wins in states like Vermont and Massachusetts.
In an effort to get some incremental progress, the legislation was narrowed to exclusively include employment protections in 2001 and renamed the Employment Non-Discrimination Act (ENDA). It subsequently saw various efforts at passage over the next decade and a half, none more contentious than in 2007. Former Rep. Barney Frank, an openly gay Massachusetts Democrat, was the lead House sponsor for ENDA that year and infamously worked with then-Speaker Nancy Pelosi to drop gender identity protections from the bill in a move that resulted in a bitter split among LGBTQ advocates. The Human Rights Campaign was one of the only LGBTQ advocacy groups to support the gay-only ENDA. In 2013, Frank told the Georgia Voice that pushing ahead without trans protections in 2007 "wasn't a failure of will," making an argument for incrementalism. "Then the question was, was something better than nothing? Was it better to pass a bill that was protective of lesbian, gay and bisexual people or pass nothing? We tried very hard."
Versions of ENDA were passed by the House in 2007 and the Senate in 2013, but were never passed by both chambers in the same session and thus never reached a president's desk for signature. ENDA was expanded in scope and renamed the Equality Act in 2015.
The 2007 fight, however, helped galvanize the transgender rights movement and a similar split is not expected this time around. "It's important to remember the Equality Act as a bill was only introduced in 2015," said Sarah McBride, national press secretary for the Human Rights Campaign, in an interview with Rewire.News. "Then it became the centerpiece of the movement upon introduction, and if the U.S. House were to pass it, it would be the first time a chamber of Congress has passed an LGBTQ-inclusive, comprehensive LGBTQ civil rights bill. Not just an LGBTQ [bill] in one area of life, but throughout daily life."
Why Now?
Because bills need to be reintroduced in each successive Congress, advocates are currently working with lawmakers to fine-tune the Equality Act for another introduction. "One of the other important things we are working [on in the bill is] amending the Civil Rights Act of 1964 to include sexual orientation [and] gender identity in some places," said Keisling, explaining that doing so would push back on the conservative misconception that LGBTQ people are asking for "special rights."
In addition to making sexual orientation and gender identity protected classes, those behind the Equality Act are also seeking to modernize the landmark civil rights legislation's legal definition of public accommodations. "[I]f you look at the '64 Civil Rights Bill, the public accommodations section is primarily about things that are very clearly and specifically tied to interstate commerce. So train stations, hotels, movie theaters, [and] restaurants," said Keisling. "Whereas they could not have even imagined things like shopping malls, Uber, car-sharing or … car-hailing services. So, for the 1964 Civil Rights Act to be even appropriate for LGBT people, let alone for everybody else, needs to be updated a little bit."
To include trans people under sex-based protections in each area of the bill also necessitates an expansion in sex-based rights for all into public accommodations and government programs. "Sex is not a category in public accommodations or government programs," said Keisling. "We are making the argument in employment, housing, health care and education that LGBT people are covered under the definition of sex discrimination. We've never been able to make that argument [in court] with public accommodations because sex isn't in it."
Since the bill would expand sex-based nondiscrimination protections to government programs for the first time under federal law, LGBTQ rights advocates worry conservatives may cite their opposition to reproductive rights in order to block the measure. "When you start talking about government programs, you're ultimately talking about health care, which means some people will be afraid that you're talking about reproductive rights and abortion," explained Keisling. The worry is that extending sex-based protections to government programs could create a backdoor legal challenge to abortion restrictions like the Hyde amendment, which could potentially threaten whatever conservative support the bill may have.
"So, that has to be navigated super carefully," said Keisling, who noted that NCTE is a pro-choice organization which supports pro-choice initiatives. "We need to make sure we don't seem to be sneaking anything into a bill while at the same time we need to do no harm and we need to understand that the reproductive rights movement and the women's rights movements are two of our greatest allies and two of the movements that are most important to trans people as a whole."
Pelosi has promised to advance the bill, calling it "personal" in remarks in October. But advocates are fairly certain it won't reach a Senate floor vote. "I want to be clear, I think there is zero chance that we could pass this in this Senate," Keisling said. "If [Senate Majority Leader] Mitch McConnell would let it come up to a vote, I think we'd have a better than even chance to get it passed in this Senate. I do not believe Mitch McConnell will let it come up for a vote."
A spokesperson for Pelosi's office, however, disputed that characterization in response to questions from Rewire.News. "I dispute the premise of your question [that the bill has little chance of passage in the Senate or signature by the president]. There is bipartisan support for this bill and there were strong bipartisan votes to repeal "don't ask, don't tell" in 2010."
Despite the legislative challenges, advocates still hope to lay down an important marker of progress by passing a comprehensive LGBTQ nondiscrimination bill in the lower chamber for the first time ever.
"[Passing it in the House] will build momentum in ultimately passing it through both chambers, having the president, having a president sign it into law," said McBride. "It would send a clear message to LGBTQ people around the country that U.S. House of Representatives sees them and loves them, and it would help build momentum for local and state nondiscrimination protections that we still need to pass in a majority of states, and in many cities and towns across the country."