GOP's Appeal to Latino Voters in Florida Governor's Race Is Falling Flat
Democrat Andrew Gillum is focusing on Medicaid expansion and Medicare for all, and appealing to Puerto Ricans in a state that hasn't elected a Democrat to the governor's mansion since 1994.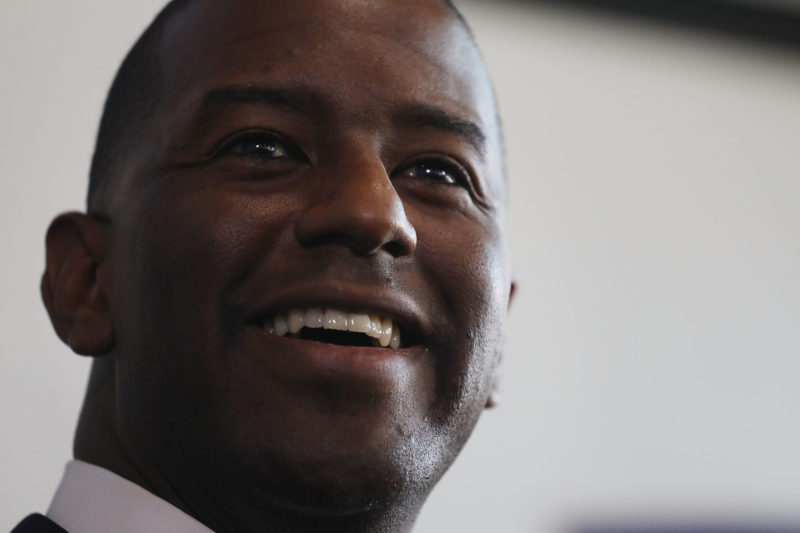 Andrew Gillum, like many progressive Democrats in Congress, supports Medicare for all, and suggests raising corporate taxes to pay for it. Joe Raedle/Getty Images
Florida Republican gubernatorial candidate Ron DeSantis' plan to attract Latino voters by painting his opponent as a socialist doesn't seem to have taken hold.
DeSantis, a former congressman, is trailing his Democratic opponent, Tallahassee Mayor Andrew Gillum, and one of the chief reasons is health care.
It's a pivotal issue in a state where people of color, Latino people in particular, account for the bulk of the state's uninsured residents. They also make up a quarter of the state's population, and they're more likely to be registered Democrats or unaffiliated with a major party, than registered Republicans.
Capturing these voters could decide whether Gillum wins the seat being vacated by Republican Gov. Rick Scott, who is termed limited out. A poll released last week showed Gillum is leading among independent voters, and among Hispanic voters by 63 to 24 percent. And although President Trump carried Florida, the poll gave Gillum a narrow lead over DeSantis.
Gillum is making a pitch to win over voters in a state where millions lack health coverage. "I believe in a state where health care is treated as a right and not a privilege," said Gillum, addressing a cheering crowd at an election rally in Orlando last month. "I believe we deserve a state where people don't have to be terrified of getting sick."
Gillum would be the Sunshine State's first Black governor. He's poised to reshape health care in a state with one of the worst uninsured rates in the United States, while many Democrats running for state legislative seats run on expanding Medicaid access.
Health care is a key issue in the state. While Florida's uninsured rate has fallen from a high of 20 percent to about 13 percent since enactment of the Affordable Care Act (ACA), hundreds of thousands of working Floridians with low incomes still lack health-care coverage.
"Health care seems to be front and center in a lot of political discussions," said Anne Swerlick, health-care policy analyst for the nonprofit Florida Policy Institute. "Many Floridians, if not themselves, have family, neighbors who can't access care. It's not something abstract for people, it's something that impacts their everyday lives."
The blame lies largely with the state's Republican-majority legislature and governor, who rejected Medicaid expansion under the ACA, leaving more than 500,000 Floridians without insurance. Many of the uninsured live in rural areas or work in the state's low-wage sectors, such as hospitality, retail, and construction—where they make too much to qualify for traditional Medicaid, but too little to afford health insurance's premiums, deductibles, co-pays, or steep out-of-pocket costs.
"It's not a political issue, it's a human issue, but what we see is there's a significant gap between the people who need coverage and who can afford it," said Betsy Franceschini, senior director of Florida Programs and Policy with the Hispanic Federation, a national nonprofit.
At rallies around the state, Gillum is touting his health-care platform, which includes Medicaid expansion. Gillum, like many progressive Democrats in Congress, backs Medicare for all, and suggests raising corporate taxes to pay for it.
With the election weeks away, DeSantis has yet to release a health-care proposal. He told reporters he'd seek a waiver from the Affordable Care Act, and he voted to repeal the health-care law while in Congress, according to the Tampa Bay Times. He's against Medicaid expansion. Attack ads airing in the state show DeSantis suggesting a cancer patient without health insurance could, "Show up to the emergency room."
DeSantis' campaign did not respond to requests for comment. The Republican has tried to woo Latino voters by attacking Gillum as a socialist, just as President Trump did shortly after Gillum won the Democratic gubernatorial primary. State Rep. Jeanette Núñez, DeSantis' running mate, has criticized Gillum for aligning with policies backed by Sen. Bernie Sanders (I-VT), the most popular senator in the United States. 
Although Florida hasn't sent a Democrat to the governor's mansion since 1994, a win by Gillum wouldn't be unprecedented. In 2016, Scott narrowly beat back a challenge by former governor Charlie Crist, a one-time Republican who ran as a Democrat in the race, as the New York Times reported.
Since then, Florida has witnessed a massive influx of Puerto Ricans fleeing physical and economic devastation on the island. U.S. citizens, these refugees could prove to be a key voting block for Gillum, who recently won the endorsement of the Puerto Rico's Gov. Ricardo Rosselló.
"Puerto Rican refugees talked about leaving the island with the clothes on their back and coming here and having a catastrophic illness and not knowing if they could get health care," said Jose La Luz, who recently led Hispanic outreach for the national Medicare for All campaign.
Now volunteering for the Gillum campaign, La Luz said he's spending the next few weeks galvanizing Puerto Ricans and other Latino voters to cast their votes for Gillum. Chief among his targets are residents in a stretch of central Florida, where he said votes are still up for grabs. He said he's seen Puerto Ricans registering to vote by the thousands.
The Hispanic Federation, which is helping register voters, said 92 percent of the 27,000 voters that the organization has registered since April identified as Puerto Rican or of Puerto Rican descent. The numbers, however, represent a tiny fraction of the state's voters.
La Luz said the Puerto Ricans he talks to understand Gillum's appeal. He said some remember the commonwealth's government-owned hospitals, which were privatized in 1994 under former Gov. Pedro Rosselló's campaign for "efficiency." Others consider themselves steeped in "populism of the left," which favors rights for the disaffected.
"Puerto Ricans have, by fate, become a bloc of voters that could be decisive in the gubernatorial election," La Luz maintained.
Now, the test in Florida is whether these voters will cement a victory for Gillum.