'I Think They Want Us to Die in There': Federal Inspectors Highlight Detention Center's Inhumane Conditions
The report confirms what people like Udoka Nweke have said for years: Facilities like Adelanto are unsafe, abusive to detained people, and the medical care provided is substandard at best.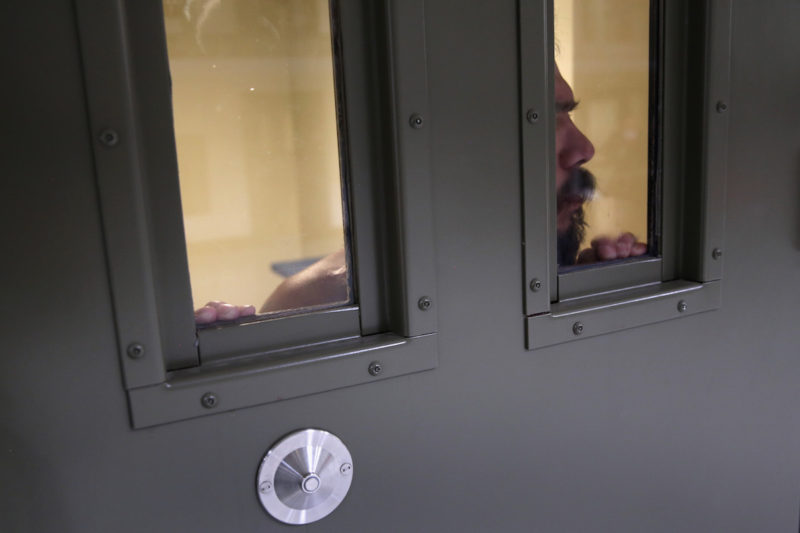 A disabled person was placed in disciplinary segregation for nine days, during which he wasn't able to leave his wheelchair to brush his teeth or sleep in a bed. Medical staff simply stamped his medical visitation sheet, rather than actually evaluating him, according to the report. John Moore/Getty Images
"The condition here in Adelanto is getting worse each day. The mental distress I am going through is very bad and it's affecting my health," Udoka Nweke wrote in June to an immigrant rights advocate, in a letter shared exclusively with Rewire.News.
Nweke is a gay asylum seeker who arrived at the San Ysidro port of entry in December 2016 after his life was threatened in his native Nigeria and his partner was killed. As Rewire.News reported in June, he attempted suicide while detained at California's deadly Adelanto detention facility after learning the federal government had denied his asylum claim. Due in large part to the work of organizations like Black LGBTQ+ Migrant Project (BLMP), which ran his deportation defense campaign, Nweke has since been released.
In an exclusive interview with Rewire.News on Monday, Nweke, who lives in transitional housing in Southern California, said Adelanto officials treated him "terribly" during the nearly 20 months he was there and put him in segregation (a form of solitary confinement) regularly. "This to me is torture," Nweke wrote on June 4. The officials did nothing to stop other detainees from abusing him because of his sexual identity, he said in the interview.
Nweke was not at all surprised by the findings of a new report on Adelanto from the Department of Homeland Security's (DHS) Office of the Inspector General, released about a week after the asylum seeker was able to leave the facility. The report confirms what people like Nweke have said for years: These facilities are unsafe, abusive to detained people, and the medical care provided is substandard at best.
In May 2018, DHS inspectors conducted an unannounced inspection of the Adelanto detention center; they reported their finding in an "alert" that was released September 27 and widely circulated on social media.
Federal inspectors reported that 15 out of 20 cells they inspected had what they described as "nooses" made of braided bedsheets. One detained person told inspectors that he had seen "a few attempted suicides" using the braided sheets, and that the guards "laugh at them and call them 'suicide failures' once they are back from medical."
At the time of the unannounced inspection, 14 people were in "disciplinary segregation."The inspectors' review of the their files found that all 14 were "inappropriately placed" in segregation "before they were found guilty of a prohibited act or rule violation." Some in segregation were even handcuffed and shackled, another action DHS inspectors found to be inappropriate and unnecessary. A disabled person was placed in disciplinary segregation for nine days, during which he wasn't able to leave his wheelchair to brush his teeth or sleep in a bed. Medical staff simply stamped his medical visitation sheet instead of evaluating him, according to the report. He was eventually moved to medical for observation.
Immigrants formerly in Immigration and Customs Enforcement (ICE) custody have been reporting similar conditions in detention centers nationwide for decades. Adelanto, in particular, has long been characterized by advocates as one of the most deadly in the country.
Since Adelanto began operating in 2011, detained people have accused the facility of poor conditions and insufficient medical care, eventually prompting 29 members of Congress to send a letter to ICE and federal inspectors in 2015 requesting an investigation into health and safety concerns at the facility. That same year, 400 detained people launched a hunger strike to demand better medical care.
Conditions appear to have only worsened. From December 2016 to July 2017, five people attempted suicide at Adelanto, most of them using the bedsheet nooses highlighted in the inspector general's recent report. Over the span of three months in 2017, three people died in the detention center. Last year, Rewire.News reported the story of Alfredo Aranda-Holguin, a lawful permanent resident detained at Adelanto with stage 3 kidney disease, hypertension, and type 2 diabetes. His kidneys were failing and ICE was not allowing Aranda-Holguin to access dialysis, according to his wife, Karla Aranda. There were stints of time in which Karla received conflicting messages from ICE and other detained people about whether or not her husband was even alive.
In Nweke's case, he said that he had attempted to access medical care while in the facility for more than a year. His mental health was quickly deteriorating, and officials did little to help, he said. When the federal government denied Nweke asylum, he attempted suicide, after which he was placed in Adelanto's medical unit.
Upon his release, Nweke said that officials threatened to put Nweke in segregation. Nweke began bashing his head against a wall, and only then was he transferred to an outside medical facility, where he was diagnosed with a mental illness and prescribed medication.
Nweke was able to eventually leave Adelanto in large part because of the work of BLMP, which is housed within the Transgender Law Center. While publicizing Nweke's case, organizers with BLMP have also shed light on the ways that Black queer and trans immigrants' realities are commonly ignored by the mainstream immigrant rights movement. In a statement upon Nweke's release, BLMP national organizer Ola Osaze said that people like Udoka are rarely centered in the fight for migrant justice.
Benjamin Ndugga-Kabuye, an organizer with the Black Alliance for Just Immigration (BAJI), a group fighting for immigrant rights and racial justice with African Americans and Black immigrants, previously told Rewire.News that Black immigrant communities are marginalized in immigrant rights movement because of one primary reason: anti-blackness. The State of Black Immigrants in California, a new report from BAJI, directly addresses anti-Blackness and the failure to center Black immigrants, which further isolates "the Black experience from the immigrant experience."
"Black immigrants are unseen, unheard, and erased. While this lack of support is happening, Black immigrants face some of biggest hardships in the immigration system; they face the most detention, the longest stays in detention, and now asylum seekers no longer have the right to a bond hearing," said Ndugga-Kabuye.
Escaping prolonged detention was the first step in a very long asylum process for Nweke. It could take years before he receives a final say on his asylum case, and the situation is especially dire in California. According to the American Immigration Council, there is an all-time-high backlog in U.S. immigration courts, with more than 690,000 open deportation cases as of March 2018. These cases had been pending for an average of 718 days and remained unresolved. As of March, immigrants who were eventually granted asylum had to wait more than 1,000 days for that decision; in California, the wait time is the longest in the country, averaging 1,300 days.
Nweke is receiving ongoing help from BLMP, and Luis Gomez, the immigration resources specialist at LGBT Center OC, is assisting him with ICE check-ins, doctor's appointments, and other needs as they arise. BLMP has also created an online "survival fund" for Nweke.
Prior to migrating to the United States in search of safety, Nweke said he had no idea that the United States locked up its asylum seekers as a matter of practice.
Federal inspectors concluded their report by reminding ICE that immigration detention is civil custody and intended to be "non-punitive." Adelanto's conditions and the treatment of detained people there "are similar to those one may see in criminal custody," inspectors noted, after identifying the "serious issues" at the center that violate DHS' detention standards.
Advocates have long argued that detention is prison, and has always operated as such. The same private companies that manage prisons also oversee a bulk of ICE's detention facilities. Adelanto, for example, is operated by the private prison company GEO Group.
Nweke sees no difference between detention and prison in the United States. "My life at Adelanto was very terrible," he said. "They used to handcuff me and put me in segregation for days. They lock us up. I think they want us to die in there."