Judge Kavanaugh's Supreme Court Nomination Could Put the Americans With Disabilities Act in Danger
On the anniversary of the ADA's passage, disability rights are increasingly in peril.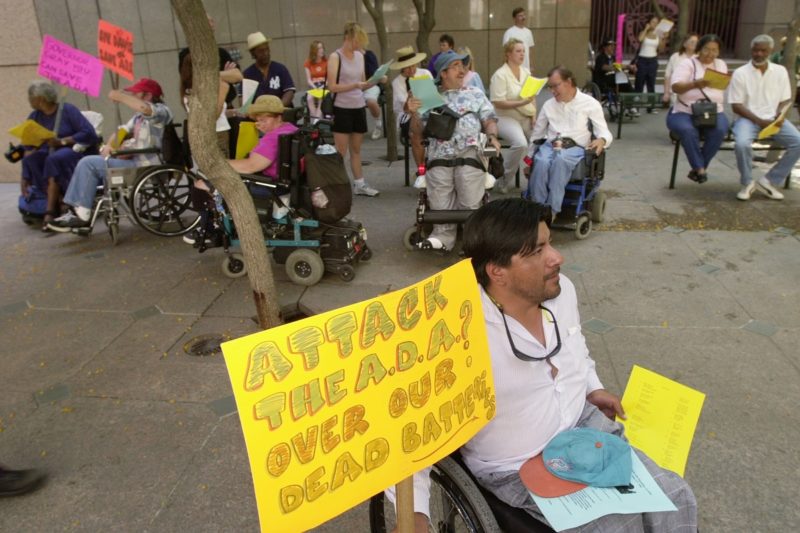 Judge Kavanaugh is known for being anti-regulation, which worries advocates because federal regulations are critical to how disability rights laws—including the ADA—are interpreted and enforced. David McNew /Newsmakers
Twenty-eight years ago this week, the Americans with Disabilities Act (ADA) became law, promising to finally guarantee "equality of opportunity, full participation, independent living, and economic self-sufficiency" for people with disabilities. Since its passage, the ADA has led to greater access to employment, state and local government services, public accommodations, commercial facilities, transportation, and telecommunications. Now, however, disability rights are increasingly in peril—and some advocates believe President Donald Trump's recent U.S. Supreme Court nomination of Judge Brett Kavanaugh will make the situation even worse.
"As we celebrate the 28th anniversary of the ADA, we must remember how hard people with disabilities fought to secure passage of the ADA and other disability rights laws, and recognize how much is at stake in this Supreme Court nomination battle," attorney Jennifer Mathis, Director of Policy and Legal Advocacy at the Bazelon Center for Mental Health Law, told Rewire.News.
Judge Kavanaugh is known for being anti-regulation, which worries advocates because federal regulations are critical to how disability rights laws—including the ADA—are interpreted and enforced.
Moreover, businesses increasingly oppose the ADA. Many, for example, support the ADA Education and Reform Act of 2017 (HR 620). This bill, which has passed the House, would significantly weaken the ADA and greatly limit its enforcement. But even if HR 620 does not pass the Senate, advocates worry that if a case challenging the ADA came before the Supreme Court, Judge Kavanaugh's pro-corporate leanings could mean he would vote to undermine it.
"Twenty-eight years later people still have major misunderstandings of the ADA. People see the blue wheelchair symbols and think, 'See, everything's fine! What are disabled people complaining about?'" Alice Wong, founder and director of the Disability Visibility Project, told Rewire.News.

"The ADA didn't make ableism and discrimination magically go away, but it gave us a set of protections that are constantly under threat by lobbyists who view it as a burden on businesses and a source of 'frivolous lawsuits,'" she continued.
These concerns are not unfounded. Indeed, Congress passed the ADA Amendments Act of 2008 to preserve the intent of the ADA after the Supreme Court had significantly narrowed its scope through a series of decisions. A Judge Kavanaugh appointment could mean more restrictions.
Advocates say that Judge Kavanaugh's history is cause for concern in other arenas of significance to the disability community as well. "There are quite a few red flags in Judge Kavanaugh's record that should concern the disability rights community," Mathis told Rewire.News. "Judge Kavanaugh has authored or joined many opinions that have significant negative implications for people with disabilities."
For example, "Judge Kavanaugh's opinions in employment discrimination cases seem to demonstrate a pattern of ignoring compelling evidence presented by workers, including workers with disabilities, and giving virtually unlimited deference to employers' arguments," Mathis said.
Indeed, as a circuit judge for the U.S. Court of Appeals for the District of Columbia in 2008, Judge Kavanaugh wrote the opinion in Adeyemi v. District of Columbia that ruled against a Deaf man who sued the District of Columbia schools under the ADA after he was passed over for an information technology job.
Moreover, Mathis is equally troubled by Kavanaugh's 2007 opinion in Doe ex rel. Tarlow v. District of Columbia, in which he "reversed a trial court decision finding that D.C. had violated its own statute requiring that guardians base medical decisions on the known wishes of their wards unless those wishes could not be ascertained, and had violated those individuals' due process rights."
"Judge Kavanaugh found that the wishes of a person under guardianship could not even be considered if the person did not have the capacity to make medical decisions at a prior point," she continued.
In other words, laws like the one in Washington, D.C., are used to help ascertain what a patient would have wanted when they were competent to make a medical decision. The courts usually consider the patient's expressed wishes as an important factor in making that determination. But, as Mathis notes, Kavanaugh concluded that people's expressed wishes should be given no weight at all if they never had capacity to make medical decisions—calling the issue of bodily autonomy, especially for people with disabilities, into question.
Mathis explained that Kavanaugh's reasoning in the ruling was inconsistent with how many courts have ruled on similar laws. "A person's wishes are not meaningless even if the person did not have capacity to make medical decisions in the past, and those wishes should be an important factor in determining whether the government should authorize medical procedures to be performed on the person," Mathis said.
It's vital to note, too, that disability cuts across all identities—and therefore, all issues are disability issues. Wong told Rewire.News that "Kavanaugh, who will most likely vote to overturn Roe v. Wade, will undermine civil rights for all marginalized communities. Health care, anti-discrimination laws, immigration, workers' rights, you name it."
"Any attack on these issues is an attack on disability rights," Wong continued.
Rebecca Cokley, director of the Disability Justice Initiative at the Center for American Progress, agreed: Kavanaugh "will undoubtedly provide a fifth vote for those claiming religious freedom [and] gives them permission to discriminate. Given the Muslim ban, [North Carolina's] HB 2, Masterpiece Cake Shop, and the attacks on the ADA, access to public accommodations is under attack for most marginalized communities and this nomination doesn't give me faith that this will stop anytime soon."
Among the disability community's biggest worries about Judge Kavanaugh's nomination is the future of the Affordable Care Act (ACA). Because of the ACA, health insurers are prohibited from denying coverage to the 133 million adults under the age of 65 in the United States with pre-existing conditions—many of which qualify as disabilities.
Since its passage, conservative states have attempted to use the courts to repeal the ACA. Although these lawsuits have been mostly unsuccessful to date, the U.S. Department of Justice recently announced that it would not defend the ACA in a lawsuit brought by 20 states. This case, which is being led by Texas Attorney General Ken Paxton, concerns the constitutionality of the ACA. Many fear what will happen if this case reaches the Supreme Court after Judge Kavanaugh is confirmed.
In Seven-Sky v. Holder , Kavanaugh described the ACA as "unprecedented on the federal level in American history" and indicated that as a result, the judiciary should "exercise great caution" in finding it constitutional.
He also indicated that the president could lawfully refuse to enforce the ACA's individual mandate if he concluded that it was unconstitutional.
Without the individual mandate, which congressional Republicans and the Trump administration have moved to end, fewer healthy people will buy health insurance, raising the cost of coverage so high that many people with pre-existing conditions will simply not be able to afford it.
"The Affordable Care Act's inclusion of anti-discrimination on the basis of pre-existing conditions has been the most important civil rights gain of the disability community since the ADA," Cokley told Rewire.News.
"We talk about potential of a negative ruling on this impacting a substantial part of our community, but just how widespread the damage is could be catastrophic. We're talking about people with diabetes, pregnancy, sickle cell anemia, cancer patients—others who have never seen themselves as members of the traditional groups that make up the disability community," Cokley said.
Kavanaugh's support of executive power is also troubling in light of the threat to the rights of people with disabilities from the Trump administration. According to Wong, "Generally, Kavanaugh believes that a president is above the law, that he has 'absolute discretion' and that is dangerous for all communities."
Indeed, the Trump administration has threatened nearly every facet of life for people with disabilities—employment, housing, and health care, to name a few.
"The president already appointed people … that have made significant rollbacks and changes in their policies related to people with disabilities. Unchecked power and lack of accountability in the executive branch is a ticket to totalitarianism. The Judicial Branch should function as a check on these powers, but I guess not when you stack the deck with appointments like Kavanaugh," Wong said.
In fact, Wong told Rewire.News, "At a recent conference, [Principal Deputy Administrator] of the Administration for Community Living, Mary Lazare, spoke in favor of segregating disabled people in institutions." Lazare issued an apology via Twitter, but the sentiments of her remarks continue to alarm some people.
"All of this is concerning and infuriating AF to me as a disabled person living in 2018," Wong continued in an email.
The Kavanaugh nomination will undoubtedly have long-term consequences for decades to come. "At times like this, we really need to pay attention to the courts. The president serves for four to eight years, … but a court that is hostile to disability rights is going to be one we have to deal with for generations," Cokley told Rewire.News.
Twenty-eight years ago, President George H. W. Bush signed the ADA into law, proclaiming "Let the shameful wall of exclusion finally come tumbling down." While full equality has yet to be reached, there has been some progress, largely because of the ADA. Nonetheless, we cannot ignore the reality that a Justice Kavanaugh on the bench could have long-lasting dire effects for people with disabilities and others from marginalized communities.
"While Justice [Anthony] Kennedy's record in disability rights cases was mixed, the appointment of Judge Kavanaugh would clearly pivot the Court in a new direction-away from protecting civil rights, including the rights of people with disabilities. The hard-won rights of people with disabilities in all aspects of life are at risk," Mathis said.
"It is hard to overstate the consequences of this nomination."