Abolishing the Tipped Wage in D.C. Is a Class and Race Issue. Here's the Data to Prove It.
The ballot measure to end the tipped minimum wage in Washington, D.C. was popular among voters of color and people with low incomes. Now the city council could overturn the measure.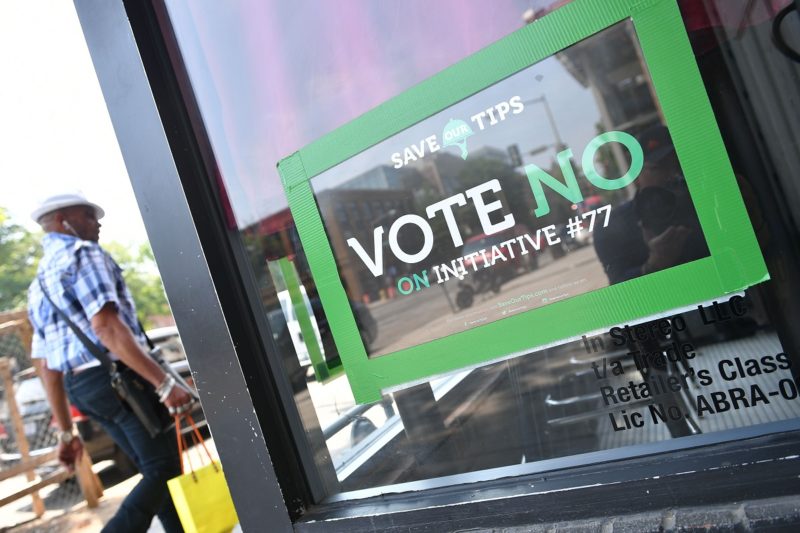 On the other side of the issue are big business interests pushing to stop Initiative 77. Mandel Ngan/AFP/Getty Images
When Washington, D.C., voters went to the polls to vote in the primary elections for their city councilmembers last month, they cast a vote for or against Initiative 77, a much-watched ballot measure that would ensure tipped workers are paid the same minimum wage as all other workers. More than half of them voted in favor.
But the popular initiative abolishing the tipped minimum wage might not get a chance to take effect. The D.C. city council was mostly opposed to the initiative before the election, and a few weeks later a majority of members introduced a bill to overturn it as the restaurant business lobby applies continued political pressure to stop it from taking effect.
City councilmembers might want to examine who supported the initiative and who has fought against it before casting a vote to undo the will of the their constituents.
Yes votes for Initiative 77 were very highly correlated with a ward's poverty rate, and its share of Washington's Black and brown population, according to an analysis of voting data matched with voter registration and demographic data by Rachel West, director of poverty research at the Center for American Progress, shared exclusively with Rewire.News. If turnout in the two wards with the most low-income people and people of color, wards 7 and 8, were as high as they had been in the most well-off ward, Ward 3, the initiative would have passed by 56.5 percent, rather than the 55.1 percent support it got on June 19.
These are also the populations who have the most at stake if the council decides to overturn the initiative before it takes effect. Forty percent of tipped workers across the United States were people of color as of a 2013 analysis, despite making up about a third of the overall workforce. In states where tipped workers are only guaranteed $2.13 an hour, nearly one in five servers and bartenders live in poverty. The same trends hold true in Washington, where people of color are disproportionately represented among tipped workers and where the poverty rate for tipped workers is nearly double that for the city's workforce.
When D.C. city councilmembers were asked by Rewire.News to respond to the data showing the demographics of voters in support of Initiative 77, just seven out of its 13 members responded. Councilmembers Jack Evans, Vincent C. Gray, and Robert C. White Jr. declined to comment.
Councilmember Brandon T. Todd, who co-sponsored the bill, said in a statement, "I understand that the voters passed initiative 77, and I do not take this lightly. However, I believe that a policy shift of this magnitude requires deliberation that is more nuanced than a simple 'yes' or 'no' vote on a misleading initiative." His spokesperson, Joshua Fleitman, added, "He has heard overwhelmingly from tipped workers—of all races and socio-economic levels—that Initiative 77 as passed would be harmful."
Many restaurant workers oppose Initiative 77 based on what their employers have told them about the measure, said Diana Ramirez, director of ROC-DC, a chapter of Restaurant Opportunities Center United, an organization that advocates for getting rid of the tipped minimum wage and put the issue on the D.C. ballot.
"In the recent weeks we've heard from a loud minority of tipped workers who have been convinced by their employers into opposing an initiative that would raise their take-home pay," she said. "Despite how loud their rally cry may sound, they do not represent the majority of tipped workers in the city. The majority of tipped workers in D.C. are women and people of color who experience high rates of poverty and twice the rate of sexual harassment: these are the workers who must be protected."
Chairman Phil Mendelson, who co-sponsored the bill to overturn the abolition of the tipped wage, told Rewire.News, "I disagree with the premise that Initiative 77 would … result in higher pay. Tipped workers are entitled to the minimum wage and employers must pay what workers don't earn it in tips."
While the law says employers must make up the difference if a tipped worker's pay, including tips, doesn't come to the full minimum wage, the Department of Labor found 1,170 violations of that rule between 2010 and 2012, recouping $5.5 million for stiffed workers. Meanwhile, tipped workers in states that require the same minimum wage for all workers make more than those in states with lower-tipped wages, including both their base pay and their tips.
Not everyone on the council supports a full repeal. In a statement sent to Rewire.News, Councilmember Brianne K. Nadeau, said, "[W]hile I didn't support this initiative at the ballot box, Ward 1 voters did," adding that she does "not feel comfortable" with a full repeal.
"I am not for repeal, but as I expressed before the vote I do have concerns about the implementation timeline," Councilmember Elissa Silverman told Rewire.News, calling it too "aggressive."
But she agrees with the premise that tipped workers need a higher wage. "What the initiative shows is one of the main challenges in our city is that there are certain people … who are doing extremely well and there's other folks in our city who feel that the benefits have not gone to them," she said. "The people who voted yes voted yes because they're concerned about the inequities in our city, and they're concerned [about] whether somebody who is working in the hospitality industry can earn a wage on which they can afford to live here."
Silverman noted the introduction of the repeal bill is just the beginning of a process between now and when the council returns from summer break in the fall, which will include hearings and an eventual vote. In that time, she is meeting with tipped workers, both for and against the initiative, as well as restaurant owners, including those in the seven states that have gotten rid of the lower tipped minimum wage.
She plans to speak with colleagues about potential changes to the initiative and other policies that she sees as compromises. One change she might propose could be giving restaurant workers a tax credit to offset increased payroll costs. Another could be regulating or standardizing how restaurants pool and distribute tips among their employees. "I hope we are headed towards some type of compromise," Silverman said.
"I do think it's not [either] Initiative 77 [or] repeal," she said. "I believe that there are some things that we can do to help workers and strengthen the restaurant industry, and that's what I'll be looking at doing."
On the other side of the issue are big business interests pushing to stop Initiative 77. According to campaign contributor data, the National Restaurant Association (NRA) has given the main campaign against Initiative 77, Save Our Tip System, six donations totaling $95,231, making it the largest contributor. The NRA is a trade association representing the biggest companies in the food service business, from sit-down restaurants like McCormick & Schmick's to fast casual places like TGI Friday's to fast food giants like Burger King and Yum! Brands (owner of Taco Bell, KFC, and Pizza Hut). It spends heavily on lobbying for its agenda—it has spent more than $42 million since 1998—which includes trying to stop minimum wage and other benefit increases.
In fact, it was the NRA that negotiated a deal with Congress in 1996 to support a minimum wage increase so long as it kept the tipped minimum wage remained at $2.13, where it's been since 1991.
The Save Our Tips campaign also received $55,050 from the Restaurant Association of Metropolitan Washington, a regional trade association representing restaurant owners.
These powerful business groups "see this as a real beachhead," Silverman said. "If they can repeal Initiative 77, I think they see it as stemming the tide of more worker-friendly legislation."
"I don't think it's an exaggeration to say, especially in the hospitality and restaurant industry, all eyes are on what we're going to do," she added.