Fight Over Sanctuary Law Puts Oregon At Center of National Immigration Battles
Extreme anti-immigrant groups want to overturn Oregon's 30-year-old sanctuary law. A diverse coalition is fighting back.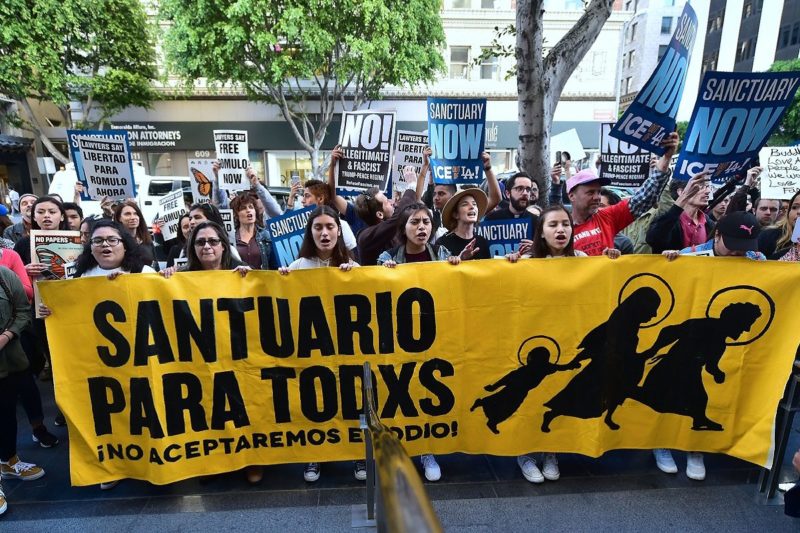 While it may seem sanctuary cities are stuck between a rock and a hard place under an administration that has vowed to defund and shame them, in states pushing anti-immigrant policies, public officials such as mayors, city councils, county commissioners, and law enforcement officials actually have a great deal of power and discretion over policing in their communities. Frederic J. Brown/AFP/Getty Images
Oregon is not among the more racially and ethnically diverse states in the country: Three-fourths of its population is white. So, it may seem odd that Oregon may become the locus of pitched national debates over the rights of undocumented immigrants. There is strong support for immigrants from elected officials, the business community, legal and advocacy organizations, law enforcement, and the public in Oregon. But there also is a renewed push by radical anti-immigrant groups to overturn a 30-year-old sanctuary law in a test case intended to push stricter state immigration laws across the country. It's an effort that depends in part on a misinformation and scapegoating campaign like that being pursued by the Trump administration, and in part on tapping into the roots of the state's deeply racist past. Last week, that effort got one step closer to success.
Oregon's sanctuary law was passed in 1987 in response to widespread racial profiling of immigrants by federal, state, and local law enforcement working in tandem. In 1977, a U.S. citizen of Mexican descent, Delmiro Trevino, was arrested at a restaurant in Independence, Oregon, because police suspected him of being undocumented. He filed what eventually became a class action lawsuit. Ten years later, Trevino's lawyer in that suit, Rocky Barilla, had become a state legislator and introduced a bill that garnered overwhelming support from Democrats and Republicans alike, passing with all only one no vote in each chamber. The law severed ties between state and federal law enforcement and forbid state agencies from using state resources or personnel "for the purpose of detecting or apprehending persons" in violation of federal immigration law. In other words, state and local police would no longer be deployed to arrest and assist in the deportation of immigrants simply because they were undocumented.
The Trump administration's Customs and Border Patrol (CBP) and Immigration and Customs Enforcement (ICE), however, are actively working in Oregon as in other states to deport undocumented immigrants no matter the reason. They have targeted Dreamers, jailed and deported a summer exchange student, terrorized naturalized citizens, and destroyed the economies of entire towns. In a phone call, Andrea Williams, executive director of the Oregon immigrant rights group Causa, told me that immigrant families are afraid, but they should not "be living in fear for going to school, for reporting a crime, for being a witness to a crime, all because they think police will report them to ICE." And, she added, "[This fear] undermines local law enforcement's efforts to address real crimes and protect communities."
Trump has re-energized long-time anti-immigrant groups across the country. In Oregon, one of those groups, working with Republican state legislators, decided to challenge the sanctuary law so that state and local resources can be devoted to deporting as many people as possible.
Last year, three Republican members of the Oregon House of Representatives filed a proposal with the secretary of state's office to overturn the sanctuary law. Last week, Oregonians for Immigration Reform (OFIR), an anti-immigrant group, submitted over 100,000 signatures in support of Initiative Petition 22 (IP 22). If 88,184 signatures are validated the initiative will be on the ballot in November. Williams said that if the sanctuary law is overturned "it will be a huge liability and embarrassment for the state."
Oregon has strong and very public advocates for the rights of immigrants. Oregon Sen. Jeff Merkley (D), for example, was the first member of the U.S. Congress from any state to call attention to the family separation crisis at the border and demand transparency from the Department of Homeland Security on the whereabouts and well-being of children separated from their parents. In doing so, Merkley ignited a national backlash against the Trump administration's "zero-tolerance" policy so ferocious the administration was forced to step back publicly, if only in a performative sense. Merkley continues to pressure the administration on the whereabouts and reunification of both the children and their parents.
In February 2017, after Trump announced his Muslim ban, Gov. Kate Brown (D) strengthened the sanctuary law by issuing an executive order forbidding any state agency or employee from helping federal immigration officials locate or apprehend undocumented immigrants. In addition, Brown's order barred state agencies from discriminating based on immigration status and forbade them from using public resources to help create a religious registry. She also directed Oregon's attorney general to join other states' attorneys general in fighting the Muslim ban last year. Just this week, Brown joined five other Democratic governors in a letter to Secretary of Health and Human Services Alex Azar and Secretary of Homeland Security Kirstjen Nielsen demanding information "on behalf of the children residing in our states who have been needlessly traumatized and who remain justifiably frightened for themselves and their families."
Reputable polling also suggests that the citizens of Oregon are strongly supportive of undocumented immigrants. In a poll conducted last November by Oregon firm DHM Research, 69 percent of those polled supported offering undocumented immigrants a means to stay in the United States legally. Forty-six percent supported a pathway to citizenship and 23 percent a pathway to legal permanent residency. Only 22 percent suggested there should be no legal pathway to residing in the country or the state. Ninety-two percent of Democrats and 75 percent of "others" said undocumented immigrants should be allowed to stay legally. Republicans were split down the middle.
Despite this support, racism and white supremacy have deep roots in the state, stretching back to before Oregon joined the union in 1859. In an October 2017 interview with CBS News, Oregon historian Walidah Imarisha noted that many Oregonians assume the state "came into the Union a free state," but it was actually a "no-Blacks" state. "That same law that outlawed slavery also … said that black people weren't allowed to live in Oregon," Imarisha said, and it included the Lash Law that said that black people would be publicly whipped every six months, up to 39 lashes, until they left the state."
The law wasn't taken off the books until 2002.
In the 1920s, Oregon had the largest per capita membership in the Ku Klux Klan of any state. Oregon failed to ratify the 14th and 15th Amendments (giving Black men the right to vote and granting citizenship and equal protection under the law to "all persons born or naturalized in the United States") for nearly a century after the rest of the country. After Pearl Harbor, more than 4,000 Japanese Americans living in Portland were sent to internment camps, and both former-governor Walter Pierce and the Oregon House of Representatives sought ways to prevent them from returning to the state or reclaiming their property once they did. And for decades starting in the early 1900s, Oregon companies actively recruited Mexican laborers to build railroads and work farms, only to later allow those of Mexican descent to be profiled for deportation.
Today, the Southern Poverty Law Center (SPLC) counts at least 12 white supremacist hate groups in Oregon, including various KKK groups, neo-Nazi groups, and skinhead groups. Among those designated as a hate group is OFIR, the group spearheading IP 22. OFIR is supported in this effort by a national anti-immigrant group, the Federation for American Immigration Reform (FAIR), which has also been designated as an "hate group" by SPLC. Both OFIR and FAIR previously worked to overturn an Oregon law that enabled undocumented persons living in the state to obtain drivers' licenses.
OFIR and FAIR are closely tied to some of the nation's most ardent anti-immigrant rights figures. In 2015, OFIR hosted hosted Joe Arpaio, former sheriff of Maricopa County, Arizona, at a rally. Arpaio, well-known both for his anti-immigrant stance and his cruel treatment of immigrants, was found guilty in 2017 of defying a 2011 court order requiring he stop racially profiling Latinos and turning them over to federal authorities. He was later pardoned by Trump. FAIR is also tied to Kansas Secretary of State Kris Kobach (R), known for his own strong anti-immigrant stance. Kobach represented FAIR when it filed a challenge to a Kansas law that offered in-state tuition to undocumented students. After 9/11, Kobach created a national program requiring citizens from 25 countries—almost all majority Muslim—be fingerprinted and tracked when they visited the United States. He also helped train Sheriff Arpaio's officers in immigration enforcement. In 2016, FAIR pushed the Trump administration to find a senior position for Kobach, who is also well-known for his efforts to eliminate voting rights.
Having worked on population, migration, and refugee issues for more than 20 years prior to joining Rewire.News, I am very familiar with FAIR and other groups affiliated with them, such as Numbers USA. FAIR's public materials are and always have been cloaked in concerns about the environment, the economy, and the welfare of Americans—but those same materials give them away. A May 2012 publication entitled Rethinking Rapid Growth in a Finite World, for example, focuses on both the entry and birth rates of immigrants as contributors to "rapid population growth" in the United States and by extension to environmental issues. But it never once discusses the links between wasteful consumption and environmental scarcity; does not mention access to birth control or abortion as means of enabling women to choose when, with whom, and how many children to have. And it does not examine the fact that white children born in the United States will grow up to consume more resources per capita than the vast majority of people on the planet.
I called OFIR and spoke to its communications director, Jim Ludwick, to try to understand their point of view and strategy. And it was not easy. The phone call consisted of my asking rather anodyne questions about the organization's rationale for the campaign; Ludwick responded in heated tones to the point of yelling. He claimed that the sanctuary law prevents Oregon law enforcement from turning convicted rapists, arsonists, and murderers over to ICE for deportation. That is false. He claimed that immigrants were a drain on the state's economy. Not true. According to the American Immigration Council, "More than a third of Oregon's farmers, fishers, and foresters are immigrants, as are nearly 23 percent of all production employees. As workers, business owners, taxpayers, and neighbors, immigrants are an integral part of Oregon's diverse and thriving communities and make extensive contributions that benefit all." And they pay taxes: In 2014, immigrant-led households in the state paid $1.7 billion in federal taxes and $736.6 million in state and local taxes; undocumented immigrants in Oregon paid $80.8 million in state and local taxes (a figure that would be as much as $119.4 million if they could receive legal status). In 2016, DACA recipients in Oregon paid an estimated $20 million in state and local taxes. When I raised these points, Ludwick told me they were not true but did not offer any evidence except his own assertions to rebut these facts. He threatened to hang up on me.
The effort to attack Oregon's sanctuary law is akin in many ways to efforts by the anti-choice movement to target specific states or locales to "test" and build support for laws not supported by a majority. Causa's Williams told me she has been tracking these efforts across the country. Similar attempts to overturn sanctuary laws failed in Nevada and Florida. But OFIR and FAIR see Oregon as a test case for upending sanctuary laws and policies in Colorado and other states, and in cities and towns across the country. "This ballot measure has national implications," said Causa. "FAIR has created a national strategy group, and their ambitions are much larger than Oregon. Success here will open the door for other jurisdictions and states to question their laws as well."
Williams is fighting back. Causa has organized a broad coalition of more than 80 business, labor, faith, civil rights groups, and law enforcement leaders, under the banner of Oregonians United Against Profiling to defeat IP 22, should it qualify for the November ballot. The coalition includes major national businesses located in Oregon, such as Nike and Columbia Sportswear, as well as the Portland Business Alliance, civil rights and immigrant rights groups (including the American Civil Liberties Union of Oregon (ACLU of Oregon), the American Civil Liberties Union (ACLU), and the National Immigration Law Center); and unions including Oregon Education Association (OEA), SEIU, Oregon AFL-CIO, Pineros y Campesinos Unidos del Noroeste (PCUN). Williams expects this list to grow.
"The current law has been working as intended," Williams said. "Local police are not allowed to detain or target or arrest someone who is undocumented only because they have violated federal immigration law, which is a civil violation. If they have committed another type of crime, local and state authorities can do their job like with anyone else who commits a crime."
Overturning the sanctuary law "would create even more fear than already exists," said Williams. "Every day we are hearing more and more stories of longtime immigrant residents who have established roots being sent to countries they don't remember and of children being ripped apart from parents and detained in immigration camps."
OFIR's signature campaign also is under suspicion due to widespread complaints from signers who claim they were misled. Williams told me that people paid by OFIR to gather signatures at college campuses and at motor vehicle offices were telling voters they were signing a petition to support the sanctuary law, not overturn it. The Oregon Department of Justice has opened an investigation into these claims. Williams also said that Oregon's Secretary of State Dennis Richardson (R) changed the rules mid-game to favor petition drives by anti-immigrant and anti-choice organizations seeking to challenge state laws. He was later forced to rescind those changes, at least temporarily.
If the signatures collected by OFIR all are validated, voters will decide the fate of the sanctuary law in November. "It's is going to be a close call," said Williams. "And we are preparing as if they will qualify."
In a July 6 press release from Oregonians United Against Profiling, civil rights leader and long-time resident of Woodburn, Oregon, Ramon Ramirez, said he remembers what Oregon was like without the law. "Before Oregon had this law, I saw immigration agents, aided by local police, busting down doors and grabbing people off the street, with no way of knowing their immigration status," Ramirez said. "My friends and neighbors, including U.S. citizens, were being harassed by local police demanding to see their papers. Passing this law made things a lot better. Throwing it out would turn back the clock and open the door to more profiling."
Oregonians United Against Profiling will be holding press conferences on IP 22 with local civil rights and law enforcement leaders on Monday, July 9 in Portland, Salem, Eugene, and Bend.