Trump's HHS Installs Fake Clinic Leader to Oversee Family Planning Funds
Diane Foley once said it could be considered "sexually harassing" to demonstrate in a classroom how to use a condom on a banana.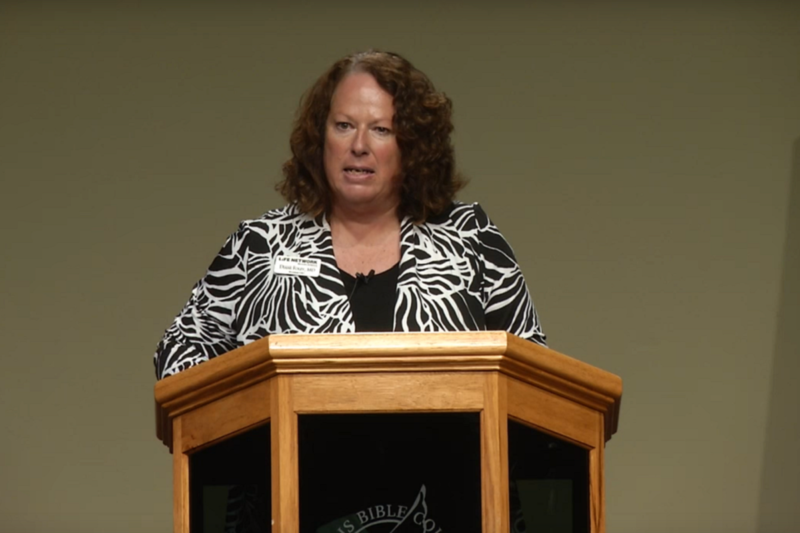 Diane Foley served as the president and CEO of Life Network, which operates two anti-choice clinics in the Colorado Springs area. Charis / YouTube
Diane Foley, who ran a Christian organization operating two Colorado anti-choice "crisis pregnancy centers," or fake clinics, was quietly installed on Tuesday as deputy assistant secretary for population affairs, where she will lead the office responsible for the Title X federal family planning program.
The U.S. Department of Health & Human Services (HHS) said little about Foley in its announcement of her appointment to the Office of the Assistant Secretary for Health, saying she "has a long and distinguished career working in the healthcare and the public health arenas."
Foley will oversee the Office of Population Affairs (OPA), which administers Title X, a program providing family planning and related services to more than 4 million primarily low-income people in the United States, many of whom face systemic barriers to health care.
Title X has recently made headlines as the anti-choice Trump administration and HHS have piled on attacks against the program. The administration last week announced new proposed restrictions on the federal family planning funds, which reproductive health advocates are calling the "domestic gag rule."
Foley served as the president and CEO of Life Network, which, according to its website, promotes "life-affirming alternatives to abortion" and operates two anti-choice clinics in the Colorado Springs area. The organization is an affiliate of CareNet, which operates one of the largest networks of fake clinics in the United States. It gets support from Focus on the Family, an anti-choice organization that opposes some forms of contraception such as intrauterine devices (IUDs).
The organization and Foley were featured in a short documentary released by Vice News in 2016. In it, Foley says the clinic does not "do prenatal care" but provides infant clothing for women who use "baby bucks" they earn through the organization's "mentoring program."
"We feel very strongly that we shouldn't give things away, because when you have to work for something it gives you a sense of self efficacy," Foley said in the interview, though the organization's website claims that baby clothing is offered "free of charge." She said she feels the choice to have a child "occurs before the pregnancy, and so from a personal standpoint" she could not support abortion rights, but that she did recognize it was a legal choice.
When asked whether there is a place for abortion clinics in Colorado and if she would like to see restrictions on those facilities, Foley said, "If you think back over the history of our country, in the United States, laws were put in place to protect people who didn't really have a voice."
"When you think about that and you really are logically and ethically trying to follow that back, there may be the need for legislation to help protect the most vulnerable people," she said.
Foley also used anti-choice falsehoods to justify restrictions on abortion care, according to another interview published by Vice.
Life Network offers so-called sexual risk avoidance programming, a rebrand of abstinence-based sexual education, to primarily public middle and high school students, according to its website.
As part of her work with Life Network and its abstinence programs, Foley suggested that it may be considered "sexually harassing" to demonstrate in a classroom how to use a condom on a banana, the Colorado Springs Independent reported in 2010.
"Like so many of her peers in the Trump administration, Diane Foley fundamentally opposes the programs she is tasked with overseeing," Mary Alice Carter, executive director of Equity Forward, a watchdog group monitoring those seeking to restrict access to reproductive health care, said in a statement.
"Foley, like her predecessors Valerie Huber and Teresa Manning, rejects the importance of contraception and holds beliefs about reproductive health that have been widely and resoundingly disproved by the medical community," Carter said, referring to the administration's previous appointees to Foley's position.
Chitra Panjabi, president & CEO of the Sexuality Information and Education Council of the U.S., said the organization "is shocked but not surprised by the Trump administration's latest anti-science, pro-abstinence appointee within HHS." In a statement, Panjabi said that Foley "has a track record of ignoring and distorting facts in the name of religion."
"Anyone who perpetuates falsehoods about the safety of abortion as a medical procedure, views a standard condom-and-banana classroom demonstration as 'sexual harassment,' and supports withholding information from young people has no business making decisions that affect sexual and reproductive health care for millions," said Panjabi.