Anti-Choice Protesters Bullied, 'Buttonholed' Abortion Patients at New York Clinic
A video of the protesters chasing away a woman from the New York clinic is "probably one of the sharpest examples of protesters interfering in a patient's ability to enter the clinic."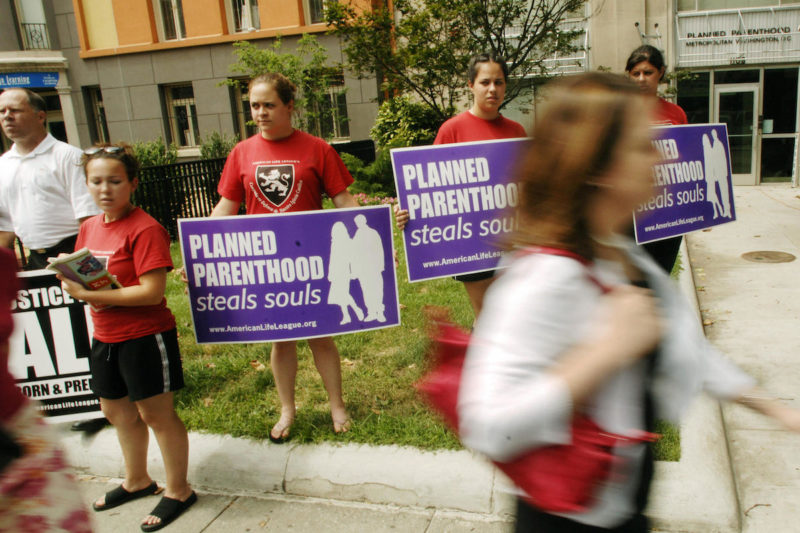 Choices Women's Medical Center developed a weekly clinic escort program to address harassment. MANDEL NGAN/AFP/Getty Images
For more of our coverage on the New York clinic picketers trial, click here.
It was a busy Saturday in September 2012 outside the Choices Women's Medical Center in Queens, New York. There were a couple staffers by the door and a half-dozen anti-choice protesters gathered on the sidewalk. A patient stepped past the pack of abortion rights foes, heading toward the clinic door, when the protesters blocked her. They surrounded her, forcing her to back up against a parked car and then against the clinic wall.
The patient never made it to the door. She eventually walked away. The anti-choice protesters were seen celebrating her departure, having blocked her access to health-care services.
This was one of several videos played in court last week in hearings for Schneiderman v. Griepp, an anti-harassment federal lawsuit brought by New York Attorney General Eric Schneiderman against anti-choice protesters at Choices.
Founded by Merle Hoffman, a well-known women's rights activist and writer, Choices was one of the first women's ambulatory health centers in the United States when it opened in 1971, two years before the Supreme Court's landmark Roe v. Wade decision legalized abortion care. Forty-seven years later, the president and CEO of Choices continued to defend a person's right to choose during her testimony in the United States District Court for the Eastern District of New York in Brooklyn.
"The right to choose is a fundamental human and civil right codified by Roe in 1973. Yet as we approach the 40th anniversary of this decision, women in this city have to run a vicious gauntlet through what are called demonstrators and protesters. I call them bullies and the American Taliban," Hoffman said at a 2012 City Council press conference in New York, according to a video clip that was played Thursday in the courtroom.
Defense attorneys implied she was using the attorney general's office to bring a lawsuit that would benefit her health-care clinic. Hoffman denied the allegation. She said she has thought about suing the protesters herself but didn't think she could. "Justice costs money,"she said.
Roger Gannam attacked Hoffman's choice of words in the 2012 press conference, asking if she sees protesters outside the clinic as terrorists, if she believes they have the right to protest, and whether she believes hyperbole is an appropriate tool in politics. Gannam is an attorney with the Liberty Counsel, a group that has been flagged by the Southern Poverty Law Center for its anti-LGBTQ extremism. He is defending one of the 14 anti-choice protesters named in the suit, Scott Fitchett Jr.
"You see their conduct outside Choices as a terrorist attack, don't you?" Gannam asked.
"No," Hoffman said.
Gannam referred to Hoffman's deposition, which has not been made public, where she reportedly said she sees the protesters' actions as a terrorist act.
Hoffman replied that, as a writer, she often uses "colorful language" to grab attention. What she meant, she said, was that the anti-choice protesters and the Taliban both share the same "fundamentalist misogyny and hatred" toward women, and that such attitudes have led to attacks on doctors and clinics across the United States.
Gannam referred to an email Hoffman had sent in which she said protesters should be "bridled," pointing out that she used to ride horses and knows what "bridled" means: to control.
"Restrain, curb and guide," Hoffman shot back. "What I had in mind was, protesters and bullies have to be controlled, restrained or curbed before they get out of control … at the door, around the patients, and all over the sidewalk."
Sandra Pullman, assistant attorney general in the state's Civil Rights Bureau, played video clips from outside the Queens clinic before it developed an official escort program. In one clip, protesters preached loudly at a group of women waiting to get into the clinic before it opened for the day. One of the patients sang loudly and told the protesters to keep quiet and go away. The protesters all continued their activities until the clinic opened and the patients filed in. Kenneth Griepp, the lead defendant and a pastor at the Church at the Rock in Brooklyn, an evangelical Christian congregation that organizes the protests, was heard telling the protesters that they have to be louder next time, "much louder."
The 2012 video of the protesters chasing away a woman is "probably one of the sharpest examples of protesters interfering in a patient's ability to enter the clinic," Mary Lou Greenberg, a longtime activist who runs community outreach and directs the escort program at Choices, said in her testimony Thursday.
Such aggressive anti-choice activity was the reason Choices came up with the escort program on Saturdays, when protester activity peaks each week, she said.
"Protesters would line both sides of the sidewalk with very large signs or aborted fetuses and big words," she said. "They would step up to patients, buttonhole them, and try to talk to them whether they wanted to hear it or not. It was very upsetting to patients."
The clinic went from having two or three staffers outside to a robust clinic escort program with 12 to 20 trained volunteers on site every Saturday, wearing identifiable vests to distinguish them from the protesters. At least two escorts meet each patient on the sidewalk and try to whisk them safely into the clinic with minimal disruption despite the presence of the protesters' graphic signs and offensive chants, said staffers, whom protesters sometimes call "death escorts."
Pearl Brady, a former clinic escort and escort leader, also described some of the anti-choice protest tactics at Choices last week in her testimony. Brady has maintained detailed records on the protesters and their activities amid a marked uptick in violence against abortion providers and clinics.
The preliminary injunction hearing continues Wednesday.