Don't Be Fooled by Trump's Bogus Border Security Demands
Trump and the GOP are refusing any deal for DACA that does not include funding for "the wall" alongside the southern border, despite the lack of evidence to support the need for ramped-up border security.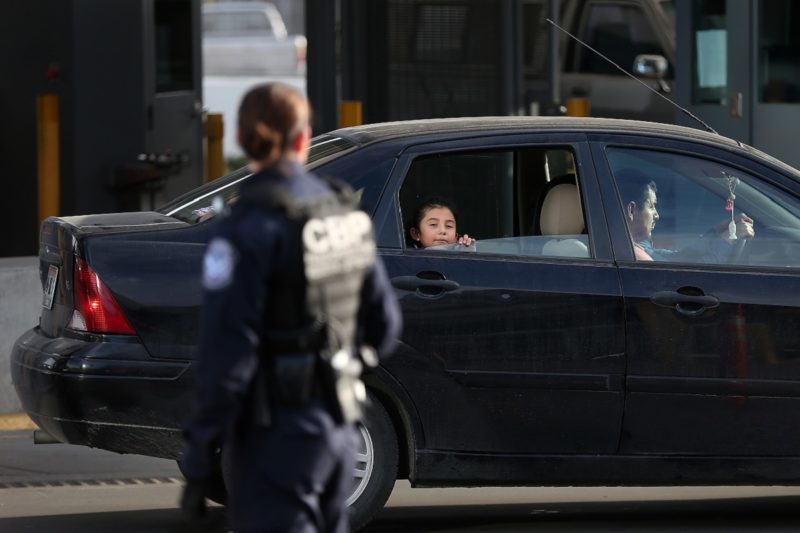 Through flip-flopping positions and a government shutdown, Trump and the GOP have essentially held hostage one of the most easily targetable groups of undocumented people, attempting to use them as tools for fear mongering in order to pressure Democrats for their border security demands. Justin Sullivan/Getty Images
In recent weeks, Congress' failure to pass a budget that includes protections for some young immigrants has made national headlines. For three days in January, the U.S. government shut down as Democrats refused to vote on a funding bill without a promised plan to reinstate legal status for Deferred Action of Childhood Arrivals (DACA) recipients (known as "Dreamers"); Democrats eventually caved to Republican pressure to pass a temporary spending bill. Last week, as Congress approached the most recent budget deadline on February 8, lawmakers passed a funding bill that once again did not include the DREAM Act. These episodes are just the latest in what has become a major political moment on immigration that started with President Trump's decision to end the Obama-era initiative last September.
The White House and Republican position is to refuse any deal for DACA that does not include funding for "the wall" alongside the southern border. Just this Monday, the White House released Trump's 2019 budget plan, which includes a request for border wall funding. But as even Trump has admitted, building a literal wall would be difficult at best. Recent proposals from the White House, House Republicans, and a bipartisan Senate group give some insight into the kind of border security measures that would suffice (to little review and discussion in Congress) as a reasonable exchange for DACA protection. But voters and allies of immigrants should be wary of these policies, not least of all because they do little to address actual immigration issues in the United States.
It's clear why most Americans support legal protection for these DACA recipients: the strict eligibility requirements ensure that they are young people who both entered the country as minors and maintained a long presence before receiving legal status. Not only do they forfeit legal protection should they commit any "felony or significant misdemeanor," but they are also less likely to commit crimes overall than U.S. citizens. In fact, DACA recipients consistently defy the claims Republicans make against them by demographics, crime risk, and their economic and educational gains.
Why then, with wide public support and Democrats willing to exercise what political pressure they have to fight for this deal, has a bill benefitting Dreamers failed to advance in Congress?
Through flip-flopping positions and a government shutdown, Trump and the GOP have essentially held hostage one of the most easily targetable groups of undocumented people, attempting to use them as tools for fear mongering in order to pressure Democrats for their border security demands.
All of the proposed plans so far call for the construction of a border wall (or some physical barriers), increased spending for law enforcement agencies like the Customs and Border Protection (CBP) and Immigration and Customs Enforcement (ICE), harsher criminalization of undocumented immigrants, and deep cuts to the numbers of immigrants allowed to enter the country legally. Some differences can be seen in the methods for deterring undocumented immigration: The House immigration bill calls for nearly $130 billion over the next five years to establish a sophisticated border surveillance apparatus with drones, biometric verification, and other surveillance tools, while Trump's plan focuses more on detainment, deportation, and rejection at border crossings.
On DACA, the House GOP bill offers only limited, temporary protections to Dreamers, while the White House and Senate proposals offer a path to citizenship after 10-12 years of residency in the United States. Trump himself has recently expressed support for a path to citizenship for Dreamers, but the process to this point casts doubt that his statements can be trusted. Even the more generous plans, however, make no room for the 3.6 million non-DACA eligible youth, nor speak a word to the rest of the roughly 11 million undocumented people facing the threat from ramped up enforcement practices.
Beyond the limited solutions for addressing the issue of undocumented people in terms of both active immigrations and those currently in the United States, it's unclear that the proposed policies would be either effective or just in their implementation and impact.
The proposed 5,000 person increase to CBP, for example, which the Department of Homeland Security's Office of the Inspector General has questioned, would strengthen a law enforcement agency that has seen troubling systemic issues regarding the use-of-force, corruption, and rampant unaccountability, most recently reported to be destroying supplies left for immigrants who often die without them. Though CBP has made improvements to reduce the lethality of encounters, reform to these systemic problems has lacked, and many of them worsened in direct connection to the last hiring surge in the late 2000s.
Trump's desire for broad increases in the detention funding and authority against undocumented people in the United States poses another concern, not least of all because of his campaign's ties to the for-profit prison industry. ICE currently holds around 38,000 undocumented people in detention daily, many of them in appalling conditions, separated from their families, and facing abuses ranging from sexual assault to death by neglect. Already, toughened enforcement has included crackdowns on activists and sweeping raids, often targeting the most vulnerable people, and a sharp rise in arrests even as the number of border crossings has dropped.
This last point tells a hidden truth about the call for investment in border security against immigration: There simply is no immigrant security threat. The Trump administration continues to make inaccurate claims about disproportionate crime among undocumented immigrants, despite the fact that data do no support these claims. 
The government's own research shows that undocumented migration has dropped to the lowest levels in at least 17 years, and the population of undocumented people has been stagnant for the last seven years. Meanwhile, as Republicans hold out on immigration legislation addressing the urgent need of DACA recipients, more than 100 young migrants lose legal protection, jobs, and access to resources every day.
Besides using DACA repeal to push unwise and harmful border policy, the Trump administration has taken steps to normalize a deeper anti-immigrant agenda: DHS ended Temporary Protected Status (TPS) for 2,500 Nicaraguans, almost 59,000 Haitians, and 200,000 Salvadorans, with limited protections being extended for Syrians and Hondurans, both facing additional review in the coming months. Along with the proposals to cut legal immigration and the recently re-implemented "Muslim ban," Trump and the GOP's actions betray a hostility to immigration at large, especially from places the president doesn't respect.
Americans overall support legal status for undocumented people in the country, but many do so with an assumption that increased border security would come along with it. The debate around DACA protection must shift to a more skeptical view of Trump's calls for border security. Rather than repeating law enforcement mistakes, maintaining mass detention, or increasing surveillance beyond already questionable extra-Constitutional authority, resources instead could focus on fixing the immigration system, such as by eliminating the case backlog. But first, lawmakers should start by fulfilling the demands of the American people and return legal protections to DACA recipients and their families.