This Week in Sex: We're Still Not Surprised That Abstinence-Only Doesn't Work
A new study with middle schoolers just adds to the flood of evidence.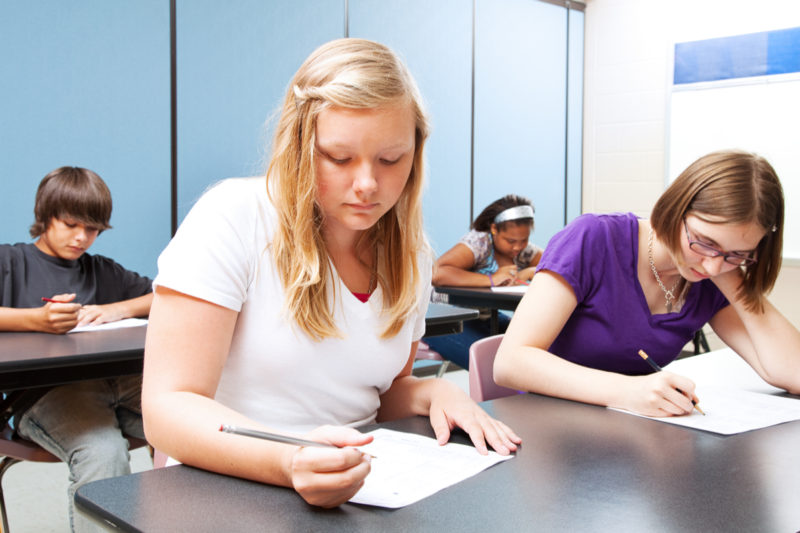 Some results from a recent study suggest that abstinence-only programs have a negative impact on condom use. At the three-month mark, the abstinence-only group had a significantly higher percent of unprotected vaginal sex than the comparison group. Shutterstock
This Week in Sex is a summary of news and research related to sexual behavior, sexuality education, contraception, STIs, and more.
Don't Stop the Presses
There is now even more evidence that abstinence-only-programs—you know the ones that teach fear and shame instead of condoms and the pill, and tell kids just don't do it before marriage—are not only ineffective, but potentially dangerous.
A new study in the Journal of Adolescence found that students who were taught to abstain from sex were more likely to have unprotected sex than peers in other programs.
For this study, researchers recruited Black middle schoolers ages 12 to 14 in the South.
Depending on the school they attended, students were assigned to one of three interventions. Some attended "Becoming a Responsible Teen," an evidence-based sexuality education program that teaches about condom use. Others were taught "Choosing the Best Path," a strict abstinence-only-until-marriage program. The third group served as the comparison group and used a program called "African Tradition and Vibes," which was created just for the young people.
Participants took a survey right before the intervention, three months after, and again at nine months. The survey asked about sexual behavior, condom use, and their attitudes toward both sex and condoms.
As expected, the students in the abstinence-only intervention had less favorable attitudes toward sex and the comprehensive group had more favorable attitudes toward condoms than those in the other groups.
But this didn't always translate into their behavior in the ways the researchers expected. Overall, there were not statistically significant differences in sexual behavior based on the type of sex education received. But remember these were middle-school students and only a few of them were having sex by the end of the study period.
That said, some of results suggest that abstinence-only programs have a negative impact on condom use. At the three-month mark, the abstinence-only group had a significantly higher percent of unprotected vaginal sex than the comparison group.
The researchers concluded "findings suggest that adolescents who receive abstinence-only education are at greater risk of engaging in unprotected sex."
I can't say I'm surprised. I spent years reviewing what abstinence-only programs have said about condoms. It's just common sense that if you learn in school that condoms have holes, break a lot, and are basically useless (none of which is true, mind you), you're less likely to throw one in your purse before a hot date.
Another Fancy Sex Toy, Another Potential Privacy Breach
Given the abundance of internet pornography, it's clear that the web and sex go hand-in-hand (pun completely intended). But having sex toys that communicate via the web may be taking this a little too far—at least until cybersecurity experts can work out the bugs.
In the latest edition of "sex toys and privacy don't mix," an Australian security firm wrote a report about Vibratissimo's PantyBuster toy. The company, SEC, found a lot of potential problems, including possible data breaches that mean your private information may not be so private.
The Panty Buster is a thin, curved, almost triangular vibrator that looks a little like a tongue and comes to a point at one end. As its name suggests, it is designed to sit up inside underwear, up against the vulva. The company says that it can provide both g-spot and vaginal stimulation. And it can do so via a smartphone app that allows it to be controlled from "home or from the other side of the world." Other features allow users to find each other, video chat, share images, and create a Vibratissimo social network and friends list.
Alarmingly—at least to the person with the toy in their underwear—SEC also found that it would be pretty easy for someone to take remote control of the vibrator without the user's permission. Apparently, if a user wants someone to be able to turn their PantyBuster on (or off) from afar, the app creates a link and sends it to the partner. But SEC says these links are easy to guess and no confirmation from original user is required. SEC notes, "The attacker could simply guess this predictable ID in order to control the victim directly."
On top of that, SEC pointed out weaknesses in how Vibratissimo stores information. A person's password was stored in cleartext, unencrypted data that you and I could read with no special training. If a hacker got into the system, she would be able to see the password and gain access to full user information such as name, home address, stored images, and past chats that took place in the apps.
Images were also not secured in the database, according to SEC. Anyone who had seen or guessed the correct URL could see all pictures from any user.
The manufacturer, Germany-based Amor Gummiwaren, has already made some changes based on the report and says it will make others in the near future. But keep in mind that a fun sex toy with high-tech bells and whistles also needs high-tech security.
ICYMI: Don't Have Sex With Someone Who's Got the Flu
When we talk safer sex, we're usually talking about diseases like chlamydia, gonorrhea, or syphilis. But unless you've gone completely off the grid, you know that this is one of the worst flu seasons on record. And, though we think this goes without saying, sex and the flu don't mix.
The flu epidemic is in full swing in 49 states (Hawaii seems to have been spared thus far). In the third week of January, doctors reported that one out of every 15 visits was for the flu—that is as high as it was when swine flu had the nation panicking in 2009. The Centers for Disease Control and Prevention doesn't track all cases of the flu, but as many as 34 million people in this country will likely suffer with the fevers, chills, and respiratory issues that come with the influenza virus by the end of the flu season.
Now, when most of us are laid up in bed, we don't feel like getting laid. But in case your symptoms don't stop you or your partner's symptoms aren't a turnoff, let us point out that doctors say it's a bad idea.
Dr. Kate White, an assistant professor of obstetrics and gynecology at Boston University, told Health.com: "The chances you'll get through sex without the sick partner sneezing, coughing, or even just breathing on you is highly unlikely."
In fact, White recommended that, ideally, you should stay 6 feet away from a person with the flu (which would make most partnered sex acts pretty difficult), and suggests that partners sleep in separate beds if someone has the flu.
And, as much as you might want to celebrate feeling better, she suggested refraining from sex for about a week after symptoms subside. Your partner may still be contagious.