Hungry, Shackled, and Grieving: What Prison Is Like for Pregnant People
Across the country, judges are sending more and more people, including pregnant women, to prison—particularly in the wake of the opioid crisis and other criminalization measures. But can prisons really provide an environment for safe and healthy pregnancies?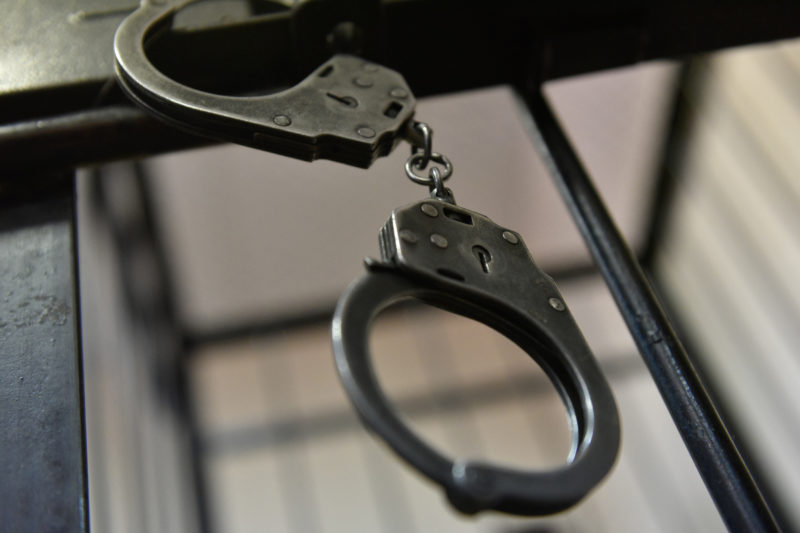 Twenty-two states currently have laws that prohibit the shackling of pregnant prisoners during labor, delivery, and postpartum recovery, though those laws are not always followed. Shutterstock
Miranda Barnett was newly pregnant when she was arrested in 2017.
She had also been using oxycodone, and for pregnant women, it's dangerous to quit cold turkey: Abrupt withdrawal from opiates can lead to uterine contractions, miscarriage, or early labor. Public health authorities recognize that medication-assisted treatment, such as methadone, is the gold standard of treatment for pregnant women experiencing drug dependency. But that recognition didn't seem to permeate the walls of the Tulsa County Jail in Oklahoma. That Friday evening, Barnett says officers told her that she would have to wait until Monday to see a nurse both to confirm her pregnancy and that she needed methadone.
But Barnett persisted, pleading with officers to call the jail nurse that night. After doing so, prison officials opted to transfer Barnett to Mabel Bassett Correctional Center (MBCC), one of the state's women's prisons, the following morning. There, she told Rewire, prison officials "did move fast to get me to a methadone clinic."
Barnett's story raises a vital question. Across the country, judges are sending more and more people, including pregnant women, to prison—particularly in the wake of the opioid crisis and other criminalization measures. But can prisons really provide an environment for safe and healthy pregnancies?
For years, Oklahoma has had the nation's highest rate of female incarceration. Its growth of women's incarceration has consistently outpaced that of their male counterparts. Although quality of prenatal care varies from state to state, and sometimes even facility to facility, the continual hyper-incarceration of women in Oklahoma provides a useful case study to illustrate how pregnancy is treated behind bars.
Nearly half of the 3,000 women incarcerated in Oklahoma are housed at the overcrowded MBCC; all pregnant people in the state are incarcerated there. In 2015, the prison had 30 births. In 2016, that number had increased to 40. Rewire reached out to women who were pregnant at MBCC to examine prison prenatal care (or lack thereof).
Left Hungry
Even when methadone maintenance is not an issue, prisons leave much to be desired in facilitating safe and healthy pregnancies. The recommended diet during pregnancy includes three or more servings of fresh fruits, vegetables, dairy, and protein each day, as well as several servings of whole grain breads or other complex carbohydrates. These are foods missing from most prison meal trays.
In Oklahoma's prison system, pregnant women are not routinely assigned a special prenatal diet. Instead, most are served the same meals as everyone else, along with an additional snack, unless a doctor orders a special medical diet. (None of the women who spoke with Rewire were ordered special medical diets.) For breakfast, that means a fruit drink, coffee cake, hot cereal, and coffee. Lunch might be one cup of beans or one-third of cup of chicken along with a half cup of boiled rice, a half cup of boiled vegetables, and a small piece of cornbread. Dinners are just as starchy, with main courses like 8 ounces of chicken spaghetti or pasta alfredo paired with boiled vegetables, Jell-O, and a slice of bread. But women, pregnant or otherwise, may not receive even these portions; overcrowding often means that the kitchen runs out of certain food items before serving everyone.
The high starch and fat in prison diets increases the risk of maternal and gestational diabetes. In addition, diets that are high in fat and salt make high blood pressure more likely. That means, in turn, that pregnant people are in heightened danger of preeclampsia, which can lead to low birth weights, preterm labor, organ damage, and increased risk of cardiovascular disease.
Not only are MBCC meals nutritionally inadequate, but many women complain that the small portions leave them hungry. Ericka V. was in her last trimester when she arrived at MBCC in 2010. She was not given any information about what to expect during her pregnancy or delivery. Fortunately, Ericka had given birth before.
"I was given what was called an OB snack at breakfast and dinner," she wrote. This snack, she explained, "consisted of either two boiled eggs or a cheese sandwich. I received the same portions as other women and I was always hungry. It was not enough food for me in my pregnant state."
To get to even that unsatisfying amount of food, Ericka, like every other woman in the prison, had to walk up an outdoor slope from the housing unit to the dining hall. In the winter, Ericka recalled, "the walks up to the dining room [were] so scary for me because I didn't want to fall in the snow and ice."
Years later, pregnant women still note the inadequate diet, which frequently leaves them hungry. Summer M. arrived at MBCC in August 2015. By then, the pregnancy snack consisted of two slices of cheese on four pieces of bread plus one fruit (an apple, orange, or banana). "No, it is not enough food," she wrote in a letter to Rewire. "No, we get no extra drinkable liquids."
"We are supposed to get two snacks a day," reported Barnett. But, she says, she only received one snack. "I have been told that because it has a cheese sandwich and an apple, that is two snacks," she wrote in a letter to Rewire. "I spend a lot of time hungry. I often have to argue with kitchen staff and inmate workers to get proper portions and alternatives to lunch meat, which holds up the line and gets me yelled at by other inmates."
Alanda Patterson, meanwhile, had a very different experience. Patterson was four months pregnant when she arrived at MBCC in December 2015. Perhaps because she had a history of strokes, including one shortly after entering prison, and her pregnancy was considered high-risk, she was given Ensure twice a day as well as double meal portions. "I would receive two of everything—glasses of milk, four slices of bread, two helpings [of] beans and two helpings of canned greens, two slices of bologna, two pieces of fruit, etc.," she wrote in a letter to Rewire. But, she noted, the prison's continual overcrowding meant that, at least once a week, the kitchen ran out of fruit and gave her Jell-O instead.
When incarcerated people are taken out of prison—whether to the hospital or to court—they are provided with a bagged lunch. Barnett said that the bagged lunch often contains bologna, and that neither medical nor kitchen staff warned her or the other pregnant women against eating bologna or other lunch meats. According to the American College of Obstetricians and Gynecologists, eating lunch meats, cold cuts, and unpasteurized foods during pregnancy can lead to the foodborne illness listeriosis. The illness generally manifests as mild flu-like symptoms, such as fever, chills, and muscle aches. During pregnancy, however, it can cause miscarriage, stillbirth, or preterm labor.
"If I complain, I have been told to eat it or not, they don't care, but this is what I get," Barnett said. She also noted that, on days that she is taken to the hospital, they are taken out of the prison before breakfast is served at 6 a.m. and returned after the 4 p.m. dinner. "But we only get one sack lunch," she says.
"We were supposed to get two sack lunches," agreed Patterson, whose high-risk pregnancy required more frequent visits to the hospital. "One for a breakfast meal and one for a lunch meal. That was not always the case though."
Not every person with a high-risk pregnancy is treated the same way. Twenty-one-year-old Raven Porter is currently in her last trimester. (Her baby is due in early March.) She was 28 weeks pregnant by the time she arrived at MBCC and, because of her history of cervical cancer, is considered a high-risk pregnancy. Even so, she says she is not allotted the same amount of extra food as Patterson was. Each night, Porter wrote in a letter to Rewire, she receives two slices of bread, one slice of cheese, and one apple as her nighttime pregnancy snack. She does not receive a daytime snack: "I was hungry an hour or two after eating," she commented.
For each meal, she must walk from her housing unit to the cafeteria. Porter notes that she is in lower security housing unit (or the unit for people who are perceived to pose the least threat to the prison's safety and security), which is the farthest from both the cafeteria and the medical unit. "I have to walk twice a day to medical and three times a day to dining," she wrote. But, she added, pregnancy has made the walk painful. "It starts at my lower right side and, depending on how much I walk, my entire stomach will be in knife-stabbing pain. I've had to stop five and six times because the pain was so severe. I've personally never experienced this kind of pain during any other pregnancy."
Porter has requested that she be allowed to receive her meals in her housing unit; that request was denied. "My doctor told me that I had to be at least 36 weeks before he can legally give me a medical lay-in," she explained. "And the pain I was having was normal and I'd be okay, that I can walk just fine." And so, regardless of the cold, rain, snow, ice, and pain, if she wants to eat, Raven must walk what she describes as "about a football field length."
In response to inquiries about the lack of pregnancy meals, the prenatal snack, and the inclusion of lunch meat, Oklahoma Department of Corrections (DOC) communications director Matthew Elliott directed Rewire to the department's policies and procedures, which recommend a prenatal snack, an extra 24 ounces of milk, and a daily vitamin supplement. The guidelines did not contain any more specific information about which snacks were included or why more people weren't put on special pregnancy diets; the DOC did not comment further by press time.
Pregnant in Chains
The security measures jails and prisons take can also jeopardize pregnancies. Any time a person is transported outside of a jail or prison, they are typically restrained. These restraints generally use handcuffs, leg irons, and a waist chain, a practice known as shackling. Many states also add a "black box": a small box attached to the waist chain which draws the handcuffs close to the belly, making it nearly impossible to prevent a fall.
Twenty-two states currently have laws that prohibit the shackling of pregnant prisoners during labor, delivery, and postpartum recovery, though those laws are not always followed. Several state laws extend the prohibition to the second or third trimester of pregnancy. Oklahoma, however, has no laws governing the practice. The department's security standards state, "Once it is determined by medical services that an inmate is pregnant, the inmate will be transported without restraints unless an 'Authorization to Apply Restraints to a Pregnant Inmate' has been approved." However, the stories shared with Rewire indicate that, often, individual officers make decisions on whether and how to restrain women in their custody. This discretion has meant that the use of restraints during pregnancy varies wildly.
Melisa G. was in her first trimester when she entered MBCC in 2017. She told Rewire that she was only handcuffed when transported to her outside medical visits and that officers allowed her to keep her hands in front.
That same year, Barnett was transferred from the Tulsa County Jail to the state prison system. She, however, was fully shackled even after informing the prison guard about her pregnancy. To make matters worse, she became motion sick on the way and vomited on herself. For the rest of the hour-long drive, she recounted, "I had to sit in it."
Patterson, on the other hand, recalled that she was neither shackled nor handcuffed when she was brought to the hospital to deliver her baby. On her way back to the prison, however, she was fully shackled—with ankle cuffs, waist chain, handcuffs, and chains connecting each to the other.
For medical care within the prison itself, women are not restrained at all. According to DOC policy, those with low-risk pregnancies have monthly prenatal checkups during the first 28 weeks; after that, prenatal visits increase to once every two to three weeks until week 36, when they see the OB-GYN weekly. For those with high-risk pregnancies, like Patterson and Porter, the doctor determines their frequency of prenatal visits.
Porter's high-risk pregnancy necessitates outside medical visits at least twice a month. She says that she is "only restrained with belly chain and handcuffs complete with the black box." The handcuffs attached to the black box make it nearly impossible for her to catch herself if she trips or falls. When asked about its use of restraints on pregnant people, the Oklahoma DOC directed Rewire to its security standards.
The Countdown to Goodbye
No matter their pregnancy experiences, birthing day is always accompanied by a sense of dread for those behind bars. Every mother knows that birth begins the short countdown to goodbye, a countdown that typically lasts 24 to 48 hours. At the same time, the Oklahoma Department of Corrections does not allow mothers to breastfeed their newborns at the hospital.
Some mothers are able to send their babies with trusted friends and family. Others must send their children to foster care. For many, placing their children in foster care leaves them in the dark about their children's daily lives; Oklahoma, like the majority of the country's prisons, has no prison nursery option or other opportunity for mothers to keep their newborns with them. Mothers may worry about their children's overall health and well-being. Rarely, however, do they worry that foster care is actually endangering their children.
Tragically, that was the case for Patterson, whose older children were already living with a foster family. That family also took her newborn, whom Patterson had named Genesis Skylar Morgan. The foster mother allowed Patterson to call a couple of times each month and even mailed her pictures of the baby.
But in July 2017, Patterson received devastating news—her baby had died. The autopsy revealed that the cause of death was blunt-force trauma to the head; the foster mother was arrested and Patterson's older children were removed from her household.
"I was devastated and still haven't gotten over it," Patterson wrote. She cherishes the few photos she has of her daughter, including the sonogram images she was allowed to keep.
"She looks as if she is just chillin' in my belly," she wrote about the image of Genesis's crossed feet. "I used to look at that one and envision us on the couch watching cartoons with her feet like that. Now, that moment won't ever come for my baby girl."