Gavel Drop: Are Federal Courts Having Their Own #MeToo Moment?
The U.S. Supreme Court's chief justice ordered research into responses to workplace sexual harassment, especially treatment of law clerks, in the courts. Who's going to tell Clarence Thomas?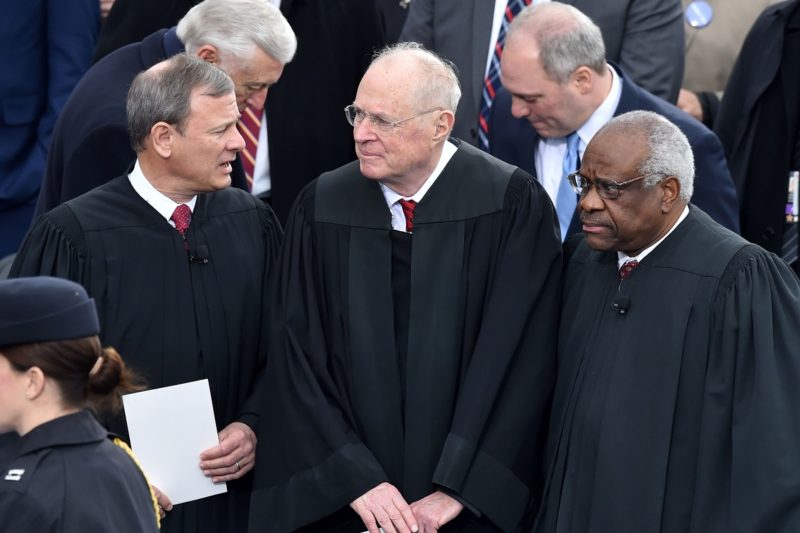 John Roberts (left) has ordered the creation of a working group to find out if federal courts adequately protect staff from unwanted attention. Paul J. Richards/AFP/Getty Images
Welcome to Gavel Drop, our roundup of legal news, headlines, and head-shaking moments in the courts.
Chief Justice John Roberts recently announced that the federal judiciary "is not immune" from widespread sexual harassment problems and said that the court system will now evaluate whether proper procedures are in place to protect law clerks and court employees from sexual harassment. To be fair, this didn't come from out of nowhere or Roberts' big heart; a group of 700 past and current law clerks wrote him a letter requesting some action. Hey, John? Maybe go have a chat with Clarence Thomas. Just a thought.
New voter ID requirements kicked in in Iowa last week. In 2018, if you don't have an approved form of identification, you can still cast a regular ballot if you sign an oath verifying your identity (though this changes the following year). The Iowa Department of Transportation will also automatically issue a free voter ID card to any registered voter who does not have a driver's license. So as far as voter ID laws go, it's not the best. But it's not the worst, either.
Ciara Torres-Spelliscy writes for the Brennan Center for Justice that future impeachment of some judges may be a way to deal with the lack of scrutiny and blistering pace with which the Trump administration is filling judicial vacancies.
A group of undocumented immigrants has filed a class-action lawsuit alleging exploitation and forced labor against a private prison company that runs a San Diego detention facility. Immigrants are allegedly forced to work there for $1.50 a day and often aren't paid at all.
Congratulations to Justice Adrienne Nelson for becoming the first Black justice on the Oregon Supreme Court. A very, very slow clap for Oregon for waiting until 2018 to appoint a Black judge to the bench.
Those Little Sisters of the Poor can't get enough of birth control litigation, so it's lucky for them a federal court ruled that they can join a lawsuit brought by several state attorneys challenging the Trump administration's attack on the birth control benefit. The nuns have rushed in to defend Trump.
A federal appeals court upheld a federal law that bans firearm possession by those convicted of certain domestic violence charges, helping to keep in place this country's minimal gun ownership and possession restrictions.
The Colorado Court of Appeals ruled that admitted Planned Parenthood shooter Robert Lewis Dear can be medicated against his will in order to be competent enough to stand trial for a siege that left three dead in November 2015.
If you're a student in California and you don't like standing up for the national anthem, you're in luck! A federal district judge blocked a school district's rule forcing students to stand for the national anthem during sporting events. So next time you hear the national anthem, you should probably get down on the floor and do the worm.