Abandoned and Vulnerable: Hurricane Harvey Wreaks Havoc on Immigrants in Texas (Updated)
"People are afraid in Texas right now, in light of SB 4, and we really just don't know if some of the state's most vulnerable communities can even safely access water."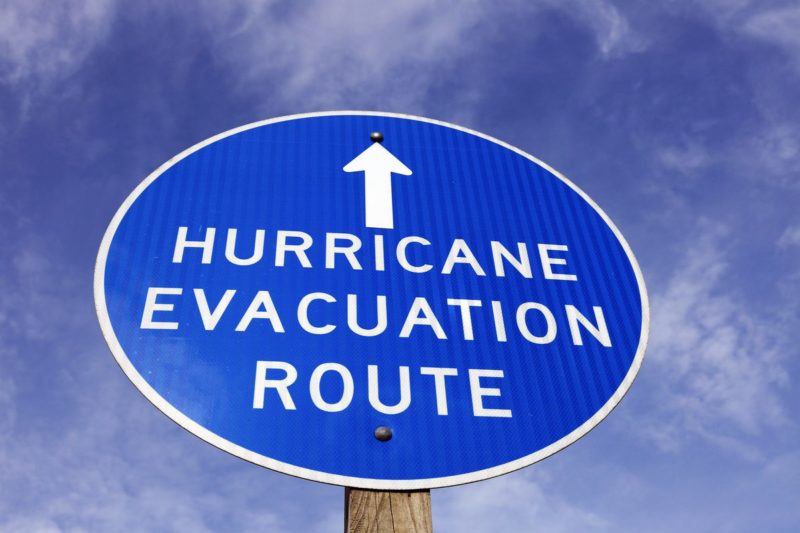 It remains unclear if lacking a government-issued ID will prevent immigrants from accessing services after Hurricane Harvey. Shutterstock
UPDATE, AUGUST 29, 1:30 p.m.: Armando, the quadriplegic man living in a mobile home, along with his children, used an inflatable pool to get out of their mobile home park. They were then helped by someone in a pickup truck, according to the Living Hope Wheelchair Association.
Hurricane Harvey has devastated the immigrant community's most vulnerable populations, including undocumented mothers and children, people in immigrant detention, pregnant people, and those with disabilities.
Over the weekend, BuzzFeed reported that 50 immigrant women and children, mostly Central American asylum seekers, were abandoned by Immigration and Customs Enforcement (ICE) at a downtown San Antonio bus station after bus services were cancelled Friday in anticipation of the hurricane. It remains unclear if buses had already been cancelled by the time ICE abandoned the women and children—who had no money, no cell phones, and did not speak English. One of the women was pregnant.
Amy Fischer, policy director at RAICES, a Texas-based nonprofit that provides legal aid to immigrant families, told Rewire that the 50 mothers and children were released from Karnes County Residential Center, a family detention center run by GEO Group, the nation's largest private prison company. Rewire reported Friday that it was unclear whether GEO, which operates two immigrant detention centers and a prison off the Texas coast, would evacuate these facilities. ICE confirmed that its Port Isabel Service Detention Center was evacuated, but would not comment on emergency protocols in place at the GEO-run facilities. GEO has not responded to Rewire's request for comment. 
RAICES assists women and children detained inside of Karnes, which is why the organization received word from ICE that Karnes detainees were being evacuated to another family detention center, the South Texas Family Residential Center in Dilley, Texas.
"These women and children may be transferred back to Karnes as soon as this afternoon," Fischer said. "We don't know what happened to the other people in detention off the coast. We have heard time and time again, for better or for worse, that families in family detention centers experience better treatment than those in other facilities just because these facilities detain very small children. Women and children in family detention are not treated well by any means, but this is likely why they were evacuated."
Fischer suspects that the 50 women and children released from Karnes and abandoned at the bus station were released because they could not be transferred to Dilley without putting the facility over capacity.
"There's no way to confirm that for sure, but families released from Karnes are only ever released after they've received a positive credible fear determination in their asylum interviews. Some of the women who were abandoned had their credible fear interviews, while others had not. We don't know for sure why these 50 particular women and children were released, but that's just my guess."
A nun who does visitation at Karnes told Fischer last week that about 500 women and children were detained inside the facility. Another nun who does visitation inside Dilley told Fischer that more than 1,300 people were detained inside the facility, which has 2,400 beds.
RAICES worked with the Interfaith Welcome Coalition to find temporary housing for the women and children abandoned in San Antonio until bus lines resumed and they could travel to their families and sponsors within the United States.
In anticipation of Hurricane Matthew in 2016, ICE and U.S. Customs and Border Protection (CBP) released a joint statement saying,"There will be no immigration enforcement initiatives associated with evacuations or sheltering related to Matthew, including the use of checkpoints for immigration enforcement purposes in impacted areas during an evacuation."
Before Hurricane Harvey, these same agencies refused to close roadside immigration checkpoints. Along with the fact that SB 4—which allows law enforcement to racially profile anyone they suspect of being undocumented for the purpose of detainment and deportation—goes into effect on September 1, this left undocumented immigrants afraid to evacuate the state.
Living Hope Wheelchair Association, a Houston-based nonprofit organization, serves people with spinal cord injuries and other disabilities. Sometimes these injuries were sustained while migrating to the United States, but a bulk of the organization's members are immigrant and low-wage workers who cannot access benefits, lack medical insurance, and lack a stable source of income. 
On Living Hope's Facebook page, the group has highlighted the case of a disabled man in need of assistance in the aftermath of the hurricane and catastrophic flooding. Armando is a quadriplegic living in a mobile home with another adult and five children.
On Saturday, Living Hope attempted to direct rescue personnel to Armando's home or at least get his family on the evacuation priority list. As of 7:23 p.m. Sunday night, Armando and his family were still unable to leave their mobile home park. According to the organization, water had began entering Armando's home, a serious problem given that Armando utilizes an electric wheelchair. 
"They spoke with 911 a couple of times and they were told they would go get them but still [sic] has not happen," according to Living Hope's Facebook post. "The whole parking lot of their mobile home park is flooded so they would probably have to be rescued with a very big truck or with a boat."
A press release from FEMA this morning announced that commodities, including liters of water, meals, tarps, and generators, are "being strategically located at Incident Support Bases (ISB) near the impacted areas." When asked by Rewire if FEMA required government-issued identification to obtain these commodities, which would exclude undocumented people, Stephanie Moffett, a spokesperson with FEMA, said "materials are not distributed" from Incident Support Bases. Moffett referred Rewire to the Texas Division of Emergency Management, which has not responded to Rewire's request for comment regarding the use of government-issued IDs for materials and services. 
An "After a Disaster" document, included on the Texas Division of Emergency Management's website, recommends applying for FEMA assistance under the Individuals and Households Program (IHP) to receive "money or other assistance to help with critical expenses that can't be provided in other ways." The first item listed as necessary to apply is a social security number, which the estimated 1 million undocumented immigrants in Texas—who contribute nearly $1.6 billion in local and state taxes—do not have.
On Friday, Texas Gov. Greg Abbott (R) said people would not need to show identification to access shelters, but it remains unclear if water and medical care will require government-issued ID, as was the case during a different kind of disaster: the Flint water crisis, which is ongoing.
"Right now, we just don't know," Fischer said. "That's so much of the problem, is not knowing. People are afraid in Texas right now, in light of SB 4, and we really just don't know if some of the state's most vulnerable communities can even safely access water."