Transgender 7-Year-Old Sues Private School for Discrimination
The lawsuit charges that the school's treatment of a trans student violates a California law prohibiting discrimination on the basis of gender identity and expression.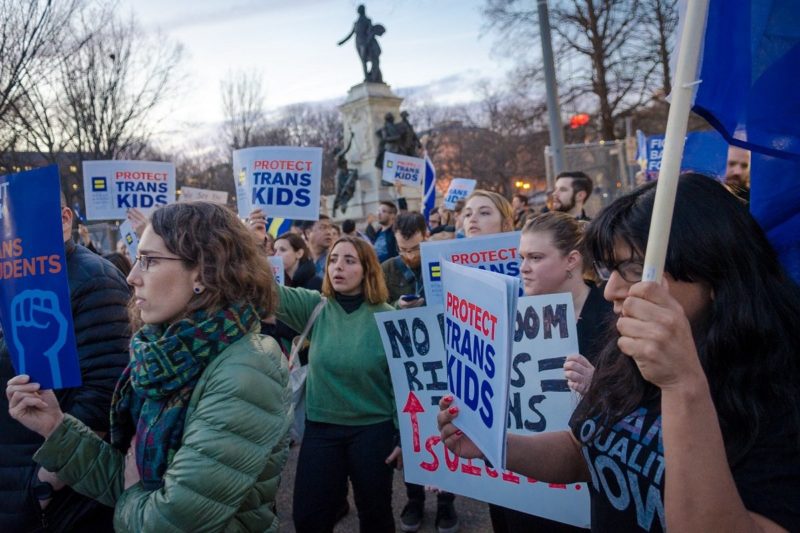 Protesters in support of transgender kids gather in D.C. during a #ProtectTransKids rally. Lauryn Gutierrez / Rewire
When Nikki Brar, 7, first told her family that she's transgender, her older sister's first question was, "What pronoun do you want us to use?"
But her school didn't respond with the same support. In a complaint filed in state court in Orange County, California, last week, Nikki alleges that the school, Heritage Oak Private Education, discriminated against her.
The school refused to use the name and pronoun corresponding to Nikki's gender identity. The school forced her to wear the boy's uniform and use the boy's bathroom; it ignored the bullying to which she was subjected as a result of her gender identity and expression, according to the complaint.
Nikki fell into a depression and talked about self harm. She said she felt that the school was "blocking her inner light." She told her therapist that wearing a boy's uniform every day made her feel like she wasn't making progress even though she was trying every day, according to the complaint.
After Nikki ripped up a photograph of herself and proclaimed "I hate myself," Nikki's parents decided that school was no longer a safe environment for her. They pulled her out and began homeschooling her. And they explored legal options.
Nikki's family thought long and hard about filing the lawsuit, according to an email Nikki's mother Priya Shah sent to the Los Angeles Times.
"It honors our child's commitment to being who she is despite adversity," Shah said.
"It is our small contribution toward ensuring that other transgender and gender expansive children do not go through the same hardship and trauma," she added.
Public Counsel, a large pro bono law firm in southern California, filed a lawsuit on behalf of Nikki and her parents, along with a trio of law professors. The school's discriminatory treatment of Nikki violates the Unruh Civil Rights Act, a California law that prohibits discrimination on the basis of gender identity and expression, according to the lawsuit.
The lawsuit names as defendants Heritage Oak Private Education, the school's executive director Phyllis Cygan, as well as the school's parent organization, Nobel Learning Communities, and its regional director, Kate Taylor.
Cygan did not return the LA Times' request for comment, but Kerry Owens, vice president at an advertising firm called MGH, forwarded a statement to the newspaper contending that Nobel Learning Communities has generally met the needs of older transgender students. Owens claims that Nikki's case was different.
"We believed it was extremely important to respond, not hastily, but with deliberate care, to decide when and how to inform and educate our entire elementary school community of students, staff and parents about the mid-year change of gender identity expression of a young child," Owens said in a statement to the LA Times.
"Due to the sensitivity of the issue and age of the child, we believed we needed expert guidance regarding timing (such as, preparing children for a change they would see in spring semester of second grade and fall semester of third grade), process and age-appropriate communication," the statement continued.
Mark Rosenbaum, one of Nikki's lawyers, balked at Owens' explanation.
The school "created roadblocks and ultimately refused to meet the undisputed needs of a young transgender student in their care," Rosenbaum told the LA Times.
Nikki's lawsuit is the first to use state anti-discrimination laws, Rosenbaum said.
"In light of the Trump administration's inaction on taking a stand against discrimination against trans individuals … this is a terribly important case," he added.
Nikki's complaint seeks damages for emotional distress as well as a preliminary injunction requiring the school to develop a written policy of non-discrimination toward transgender students at all Nobel Learning Communities schools.
That policy must include allowing transgender students to use the names and pronouns that correspond to their gender identity, wear clothes and use facilities corresponding to their gender identities, and participate in school programs and activities in a manner consistent with their gender identity.
Nikki wants the school to develop written policies to train staff in compliance with non-discrimination policies, to address bullying, and for the school to admit it violated the state's anti-discrimination law and advertised fraudulently when it marketed itself as non-discriminatory and a bastion of diversity. Because she is a minor, Nikki could have sued anonymously as "Jane Doe," but she feels strongly about "fighting on behalf of her right to an education without discrimination," according to the LA Times.