Karen Handel: Georgia's Discriminatory Voter ID Law Her 'Most Important Accomplishment'
Handel's position on voting restrictions seems to fit neatly with the GOP platform, which in 2016 endorsed legislation such as voter identification laws, even as research shows they limit access to the voting booth for many.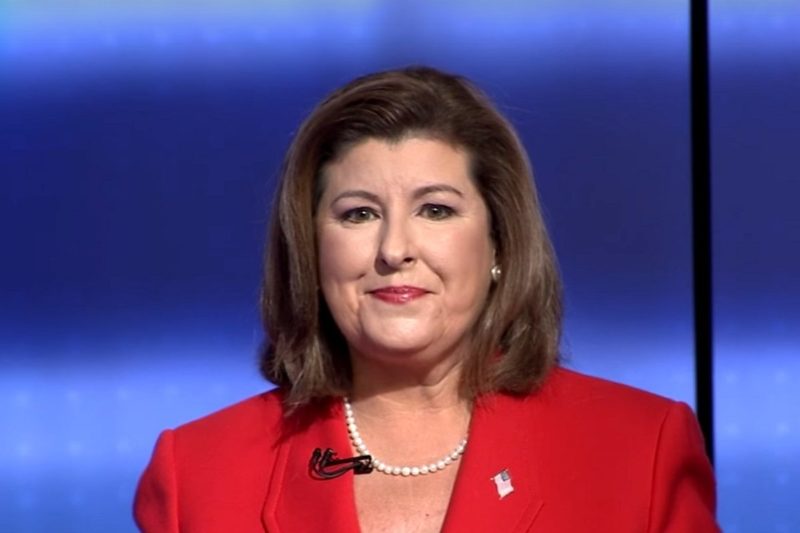 Under Handel's leadership, Georgia moved to purge voter registration rolls. WSB-TV / YouTube
There is no evidence of widespread voter fraud. But that hasn't stopped the Republican candidate for U.S. Congress in Georgia's 6th District, former Georgia Secretary of State Karen Handel, from backing measures suppressing access to the ballot box based on the myth.
When a U.S. district judge required in early May that Georgia extend its voter registration deadline for the looming 6th District special election, Handel snapped into action.
"This is going to boil your blood," Handel wrote of the decision in an email to supporters. "Just hours ago, the Democrats won their lawsuit to extend voter registration in Georgia before our election."
"This lawsuit should be seen for exactly what it is: A partisan attempt to change the rules in the middle of an election for a nakedly partisan outcome," claimed Handel. "Friend, I need your immediate support to fight back against the Democrat's latest trick to deceive this election."
That decision came in response to a complaint filed in April by the Lawyers' Committee for Civil Rights Under Law on behalf of five civil and voting rights organizations. The lawsuit challenged a Georgia law cutting off voter registration in federal runoff races in the state "two months earlier than guaranteed under federal law."
"This lawsuit is necessary in order to provide the people of Georgia with the full protections of the federal law," said Ezra Rosenberg, co-director of the Voting Rights Project of the Lawyers' Committee, in a statement about why the complaint was necessary. "Cutting off the registration period as Georgia does before a runoff election makes no sense, and deprives thousands of Georgians of the right to exercise their franchise."
This wasn't the first time Handel supported efforts that would restrict the vote. She worked against expanding access to the ballot box during her tenure as Georgia's secretary of state from 2007 to 2010. In her 2012 book, Planned Bullyhood: The Truth Behind the Headlines about the Planned Parenthood Funding Battle with Susan G. Komen for the Cure, Handel touted her work restricting access to the polls in Georgia and called the state's voter identification law one of her office's "most important accomplishments."
In the book, she took issue with those who said that voter ID and so-called stand your ground laws "were racist" and criticized groups, such as Color of Change, that have targeted the American Legislative Exchange Council (ALEC)—a Koch-backed organization known for churning out pro-corporate model legislation— for, among other things, its role in the wave of voter ID restrictions pushed from 2009 to 2012.
"Requiring voters to show a photo ID is a commonsense voter integrity program," Handel wrote, though a 2012 Atlanta Journal-Constitution report found that election officials in the state "could not point to a single case of ballot fraud" the law prevented. "Those bringing race into the debate are off base. In Georgia, African American voter turnout was up 42 percent from 2004 to 2008 and white turnout increased 8 percent during this period. Not a single individual in Georgia has been denied the right to vote because of this requirement," Handel continued.
However, a 2012 study by political science scholars Charles S. Bullock and M.V. Hood found that "the new law did suppress votes among those registrants lacking proper ID. Substantively, the law lowered turnout by about four-tenths of a percentage point in 2008," though it did not find voters of color to be disproportionately affected.
There is no doubt that voters of color have been targeted by voter identification laws. In Texas, a federal judge ruled against the state's voter ID law in April, finding that the law intentionally discriminated against Black and Latino voters.
According to the Brennan Center for Justice, "as many as 11 percent of eligible voters [in the nation] do not have government-issued photo" identification, and that number "is even higher for seniors, people of color, people with disabilities, low-income voters, and students."
Handel's book continued that the "outcry over ALEC and these legislative proposals was ridiculous," and compared it to what she has deemed to be a false hysteria over Komen taking grant funding away from Planned Parenthood (the overarching subject of her book, and a scandal of which she was at the center). She called those who fought against ALEC "bullies" for targeting the companies who worked with the organization.
Throughout her time as Georgia's secretary of state, Handel's office "continued to push aggressive election reform, including proof of citizenship and new-voter verification," she wrote in her book.
Project Vote, a nonpartisan organization focused primarily on improving voter registration, says on its website that while cases of noncitizen voting are "extremely rare," the proof of citizenship restrictions they inspire have "real consequences." The policies exclude "legitimate voters who do not have documentary proof of citizenship, such as seniors, students living away from home, or married people who adopt the surname of their spouses," the group's website notes. "Further, proof-of-citizenship policies essentially quash community-based voter registration drives, which are responsible for reaching large numbers of potential voters at markets, churches, and other public places where one is unlikely to carry birth [certificates] and passports."
Under Handel's leadership, Georgia moved to purge voter registration rolls with a voter verification process that, according to a lawsuit filed against Handel in 2008, included a citizenship test triggering "new procedures regarding absentee voting and voter challenge hearings." As part of that purge, more than 50,000 people in the state were flagged. More than 4,500 of them were flagged for questions of citizenship.
As ThinkProgress' Justice Editor Ian Millhiser reported, "The good news for voters targeted by this purge is that [the lawsuit against Handel] was largely successful. A panel of three Republican-appointed federal judges ordered Handel to allow purged voters to cast ballots—albeit through a somewhat drawn out process—and to 'reasonably ensure that no voter is permanently deleted from the voter registration list' based on the purge."
"But we can never know how many of the thousands of voters who received ominous letters falsely challenging their right to vote were deterred from voting that year," wrote Millhiser, who went on to note that Handel also worked to repeatedly lock Democrats off the ballot in Georgia.
Handel's position on voting restrictions seems to fit neatly with the GOP platform, which in 2016 endorsed legislation such as voter identification laws, even as research shows they limit access to the voting booth for many.
Meanwhile, President Donald Trump last month issued an executive order launching a commission on "election integrity," based on the president's baseless accusations that illegal voting played a role in his 2016 popular vote loss. The commission will investigate "vulnerabilities in voting systems used for federal elections that could lead to improper voter registrations, improper voting, fraudulent voter registrations, and fraudulent voting."
Trump chose Republican Kris Kobach, the Kansas secretary of state who has a long history of pushing for voter suppression efforts, as the probe's co-chair. Kobach on Thursday launched a gubernatorial bid.
The commission seems to be an attempt to address false claims about voting problems levied by the president. But fact-checkers, experts, and even those within Trump's own party have debunked the myth and noted it has no basis in reality.