Mamas Day Campaign Sends Love to Immigrant, Muslim Mothers
"The Muslim community's feelings of fear and anxiety ... under Trump are symptoms [that] can be alleviated with beautiful gestures, like sending cards, but to fix the real problem ... we must directly combat Islamophobia, xenophobia, and racism," said Aneelah Afzali of the Muslim Association of Puget Sound.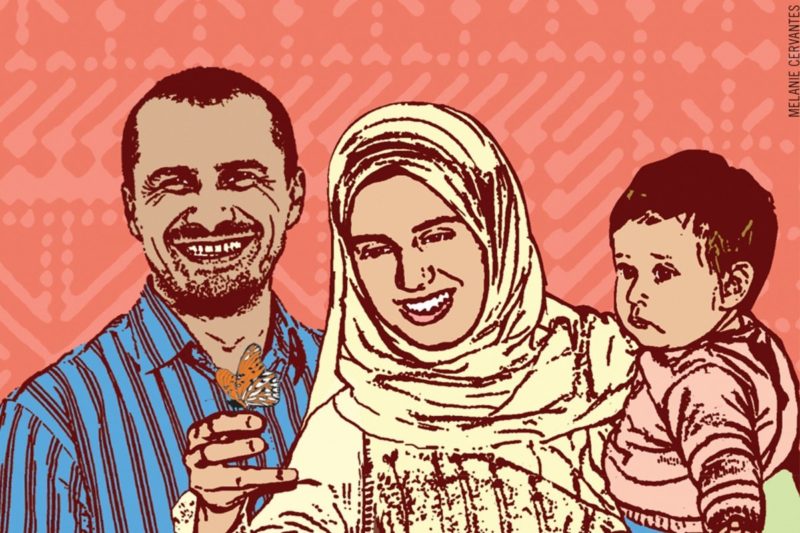 In recent weeks, thousands of people nationwide have sent Mamas Day e-cards to express support to immigrant and Muslim moms. Melanie Cervantes/Forward Together
The social justice organization Forward Together has launched a "Mamas Day" campaign to show solidarity with immigrant and Muslim moms amid the fallout from President Donald Trump's anti-immigrant executive orders, including his "Muslim ban" and efforts to criminalize the 11 million undocumented people who call the United States home.
Each year coinciding with Mother's Day, Forward Together launches a Mamas Day campaign to highlight mothers who are often invisible in popular representations of motherhood, including single moms, queer families, incarcerated parents, and immigrant mothers. In recent weeks, thousands of people nationwide have sent Mamas Day e-cards to express support to immigrant and Muslim moms.
"This year, with the rise of attacks on immigrant and Muslim communities, including efforts to ban people from Muslim majority countries from entry into the U.S. and mass deportations, we wanted to use Mamas Day as an opportunity to let these mamas know they are not alone," said Kalpana Krishnamurthy, policy director at Forward Together, in a statement.
During Trump's ascension to the presidency and in the months since, hate-based incidents have flared across the country, including harassment on college campuses and the vandalization of synagogues and mosques. There were instances of violence at Trump rallies. Trump said he "would never condone violence" after two Boston brothers beat a Latino homeless man with a metal pipe and urinated on him. "Donald Trump was right," the two men said, according to police, "All these 'illegals' need to be deported." The victim was not undocumented.
Aneelah Afzali, executive director of Muslim Association of Puget Sound (MAPS)-American Muslim Empowerment Network (AMEN), said in a statement that Muslims or those perceived as Muslim have seen some of the nation's highest levels of hate crimes since the 2016 election. Hate-based acts, particularly crimes that were racially or religiously motivated, increased by more than 20 percent in nine U.S. cities last year.
"Naturally, there is a huge increase in fear and anxiety in American Muslim and immigrant communities," Afzali told Rewire. "People are experiencing violence and harassment and Muslim children are reporting being bullied here in the Northwest, but this is a nationwide problem."
Affected communities are gearing up for continued attacks, including Muslim Advocates, a legal advocacy and educational organization for American Muslims, which issued an arson awareness notice this week to mosques nationwide. The alert comes in advance of Ramadan, which begins the last week of May.
In December 2016, Afzali's mosque near Seattle was attacked twice. The mosque, which operates as a community center that serves many faith backgrounds, had a granite sign that was repeatedly hit and destroyed.
"It struck our community very hard, and it made every member feel as if they were under attack," Afzali said. "The sign was under an American flag and in my opinion, this was an attack on our America values as well."
The mosque held a sign restoration ceremony in which local community leaders placed their handprints in the fresh concrete base of the new, granite sign to express communal support and solidarity.
"This made it clear that we will not cave into fear or hate and that we would not allow anyone to win who is terrorizing our communities," said Afzali, who publicly invited the unknown perpetrator to the ceremony. The sign was attacked a second time one week later.
Afzali said that despite the grief and sadness expressed by Muslim community members because of the attack, what gave them strength and comfort was the "outpouring of support" in the form of cards, flowers, donations, and well wishes. It was a message, she said, that while hate can be expressed in one act, it can be collectively countered with love and community.
This is in part why MAPS-AMEN partnered with Forward Together for the Mamas Day campaign. Afzali told Rewire that during Friday prayers at her mosque, community members provide encouraging words to each other.
"I'd look around the room and see all of these smiles and people with tear in their eyes. There's no overstating the profound and powerful impact such a small token can make and when I think of that happening on a national scale through the Mamas Day campaign, I knew we had to be a part of it,"Afzali said.
This gesture, Afzali said, must come with action.
"The Muslim community's feelings of fear and anxiety in this political moment under Trump are symptoms and those symptoms can be alleviated with beautiful gestures, like sending cards, but to fix the real problem, to get to the root of the problem, we must directly combat Islamophobia, xenophobia, and racism," she said.
Part of this work is "getting to know your neighbors," Afzali said. More than 60 percent of Americans do not know a Muslim and even fewer know anything about Islam. The ED recommends going to a local mosque and meeting Muslims in the community.
"When you don't know anything about the population being demonized, it becomes easier to believe these false conspiracy theories and violent narratives you hear about them," Afzali said. "When connect on a human level, you begin to understand the impact that these policies and orders have on real people, you can see the detrimental affects on individuals, families, and communities."
Tia Oso, a national organizer with the Black Alliance for Just Immigration (BAJI), works with communities living at the intersections of being Black, immigrant, and Muslim under an administration that seeks to attack all of these populations. For her, the Mamas Day campaign is a way to let these communities know they have not been forgotten and that people are fighting for them.
"People living at these intersections can't choose between one battle or one fight or one identity," Oso said. "Black immigrants, Black Muslims, and Black Muslim immigrants fear racial profiling by police and by immigration authorities. They are concerned about attacks from many different sides, while also juggling everyday concerns, like how to provide for their children and how to get their children a quality education. There are [myriad] issues they're concerned about, which is why we're participating in the Mamas Day campaign and the [National] Mamas Bail Out [Day]. We want to help highlight all the issues Black and immigrant Muslim mothers are facing."
National Mamas Bail Out Day, coordinated by the Movement for Black Lives, Southerners on New Ground, and Color of Change, among others, raised more than $250,000 to bail out Black women in more than a dozen jails nationwide. These women–like 62 percent of people in jail–are not there because they've been convicted of a crime, but because they can't afford to pay their bail as they await trial.
Like Afzali, Oso would like to see those participating in Forward Together's Mamas Day campaign take action.
"We need to resist all forms of racial profiling that dehumanizes communities. We know that women aren't often the stated targets of different enforcement programs, but we also know that women bear the brunt of policies that criminalize because it is their relatives being targeted  and they must do the mental and emotional labor of dealing with this loss to the family, while also caring for their families and ensuring their livelihoods," Oso said.
This was echoed by Maria Jimenez, whose organization, Mujeres Unidas y Activas, partnered with Forward Together for the Mamas Day campaign.
"The policies under Trump are impacting the entire family and when Trump says he's only targeting people with 'criminal' records, we really need to examine that rhetoric," Jimenez said. "People who are driving without a license or working without a work permit are considered criminals and they are being deported—they are mothers and fathers and they are many members of our community."
As Rewire reported this month, there are about 5 million undocumented women living in the United States: mothers, daughters, sisters, workers, organizers, members of the LGBTQ community, and survivors of gender-based violence. "The current administration's policies have made them fear for their safety and a target for deportation," Auditi Guha wrote.
A recent report from We Belong Together, an immigration campaign from the National Domestic Workers Alliance focusing on immigrant women, outlines how attacks against immigrant women have increased during Trump's first 100 days in office. "Policies like the administration's travel ban against refugees from six majority-Muslim countries, executive orders on immigration enforcement, and persistent efforts to defund and limit women's access to sexual and reproductive care have created a climate of fear where women feel hunted, exploited, and are often afraid to report crimes," Guha reported.
Jimenez said that women in the community Mujeres Unidas y Activas serves are afraid to report instances of domestic violence because they fear any interaction with local law enforcement will trigger their deportation, and they fear the deportation of their partners.
"Even though our organization builds strength, self-esteem, and a sense of value in our members and our communities, our immigrant mamas are feeling very much under attack. They are feeling fear. It can feel hard to transform that fear into resistance against hate," Jimenez said.
The e-cards being delivered this weekend to immigrant and Muslim mamas can be a power salve for these feelings. In this moment, Jimenez said, empathy, respect, and recognition are crucial.
"I don't think I can really [articulate] how powerful certain messages can be for women in our communities right now, messages that honor immigrant families are in dire need," Jimenez said. "Immigrant women are heads of our families and our communities. Immigrant women are strong leaders. Immigrant women form the backbone of the economy. We want to see recognition of who we are and what we contribute."