With Health-Care Bill, GOP Forgets That People With Disabilities Vote
Historically, disability was a bipartisan issue with major legislation being signed by Republican presidents. But times have changed.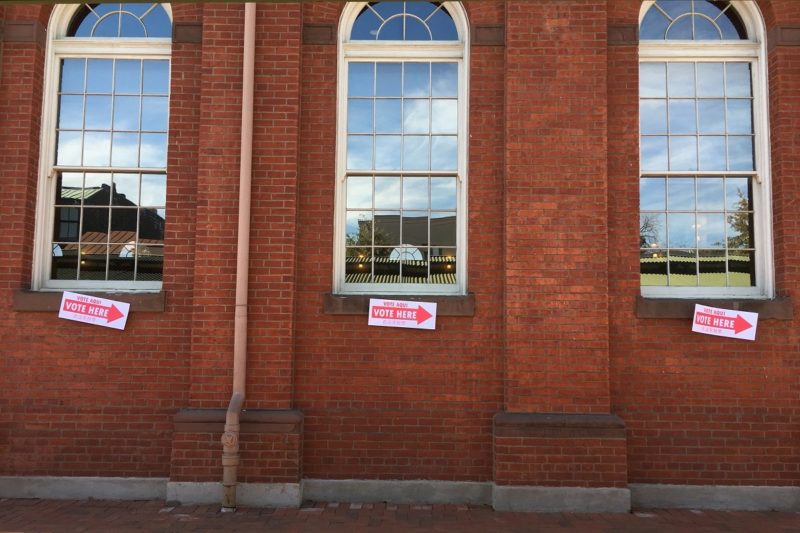 People with disabilities, our families, and our friends don't have to vote for the Republicans who have been so irresponsible with our health. Lauryn Gutierrez / Rewire
Fifty-seven million individuals in the United States—about one in five in this country—have some form of disability. The numbers alone demonstrate that disability affects many families. It transcends gender identity, race, ethnicity, religion, sexual orientation, socioeconomic class, and political affiliation. Most people in this country either know someone living with a disability or themselves are disabled.
This should worry the House Republicans who just voted in favor of the American Health Care Act (also known as Trumpcare), a bill that could put the lives of millions of Americans, including myself, in grave danger. Health care is personal. And by directly assaulting so many people's access to needed benefits, Republicans may have just cost themselves valuable seats in the 2018 midterm election—all of the U.S. House and a third of the Senate will be up for grabs—and their lock on Congress.
Historically, disability was a bipartisan issue. Indeed, Justin Dart, a prominent disability advocate who led the charge for passing the Americans with Disabilities Act (ADA) of 1990, was a Republican. And most disability rights laws, including the ADA and ADA Amendments Act of 2008, were signed into law by Republican presidents. Unmistakably, with the recent passage of Trumpcare in the House of Representatives, times have changed.
It is crystal clear that Republicans, including President Trump, have little regard for people with disabilities. What is less obvious, however, is whether they realize how large the disability voting bloc is. In 2016, 62.7 million eligible voters either were living with a disability or had a household member with one. That's more than 25 percent of the total electorate.
There is much at stake. People with disabilities experience significant health disparities, primarily due to social factors like poverty and barriers to obtaining appropriate and affordable health care. The Affordable Care Act (ACA) had helped to reduce these disparities by expanding access to health insurance. Moreover, Obamacare removed annual or lifetime spending limits on health benefits; lowered costs for people with Medicare; and required standards for accessible medical diagnostic equipment, including scales, examination tables, and mammography equipment.
Now this may all be undone, and I am terrified.
I recently tweeted, "I am a woman with a disability and #Trumpcare could kill me–literally." A few Trump supporters responded, telling me that I was either wrong or should not be relying on Medicaid. What they, and so many other people, do not get is the magnitude of devastation Trumpcare could cause to people like me.
I was born with arthrogryposis, a physical disability that affects joints and muscles. I use a power wheelchair and have limited use of my arms and legs. Although my disability is purely physical and has no direct bearing on my health, my ability to receive appropriate and accessible health care has been a lifelong challenge.
Early on, I understood the need for protections for people with pre-existing conditions. Indeed, due to my disability or pre-existing condition, my family had to fight to get me health insurance coverage. This is especially notable because I have had more than 20 surgeries, beginning when I was less than a year old.
As a working adult, I receive private health insurance from my employer. This allows me to see certain specialists who do not accept Medicaid. Under Trumpcare, states could apply for a waiver to allow insurance companies to charge people with disabilities higher premiums. States requiring the waiver would have to establish "high-risk pools," which have been found to be ineffective for people with disabilities. Requiring people with disabilities to pay more is discriminatory and will price out many.
Because I need long-term support, including in-home care and a wheelchair, I am also enrolled in Medicaid. My state, Massachusetts, has a Medicaid "buy-in" program that enables people to earn an income and still receive benefits by paying a premium. By receiving personal care assistance, which is covered by Medicaid, I am able to work as an attorney and pursue doctoral studies. If I did not receive these benefits, I would literally be stuck in bed.
Trump care also calls for block grants, which would cap the amount of federal funding states receive for Medicaid. Unfortunately, Medicaid buy-in programs are considered optional and could easily be eliminated if Medicaid funding is decreased. If Trumpcare becomes law, I could lose necessary benefits and be institutionalized rather than continuing to be a contributing member of society.
Trumpcare has other important implications for people with disabilities. For instance, special education is at risk of dramatic cuts. Moreover, slashing Medicaid vis-à-vis Trumpcare would likely result in significant reductions to mental health services, which would harm people with psychiatric disabilities.
From mocking a reporter with a disability to owning real-estate properties that violate the ADA, President Trump has repeatedly shown that he is no friend of the disability community. Now, the House has followed suit with a bill that, if enacted, will be devastating for people with disabilities and likely cause irreparable harm.
If we cannot count on the president or Congress to safeguard our rights, who can people with disabilities count on?
We can count on ourselves. People with disabilities have a long history of mobilizing around civil rights issues. Indeed, 40 years ago, in April 1977, people with disabilities staged a sit-in at federal buildings across the nation, demanding the Carter administration sign regulations for the Rehabilitation Act of 1973. The sit-in lasted more than three weeks and was the largest such federal action in the United States. Years later, in 1990, people with disabilities once again demonstrated their ability to mobilize with people crawling up the stairs of the U.S. Capitol to urge the ADA's enactment.
People with disabilities, our families, and our friends don't have to vote for the Republicans who have been so irresponsible with our health. The GOP should be very worried. They have messed with the wrong group of people.