On 'Underground' and the Centuries-Old Fight for Reproductive Justice
Underground tells the story of how enslaved women made complicated decisions around motherhood, from taking measures to control their fertility to ending unwanted pregnancies, and the lengths they went to protect their children.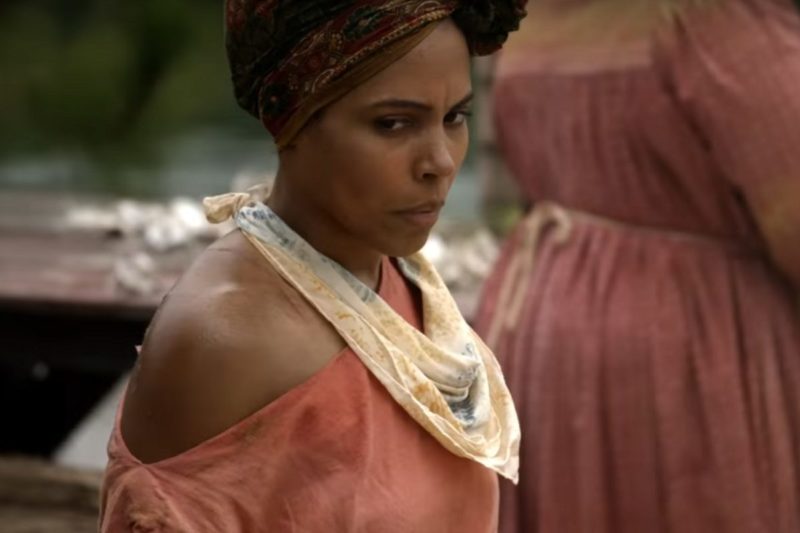 While Underground tells the fictional stories of enslaved women such as Ernestine (actress Amirah Vann), don't think for a second that real-life enslaved women didn't endure the depicted brutalities and worse. Slavery is the grisliest true story there is. UndergroundWGN / YouTube
The historical drama Underground centers the complexities of womanhood and motherhood for enslaved women.
It's through a reproductive justice lens that primetime viewers see the lives of characters such as mother/daughter duo Ernestine (Amirah Vann) and Rosalee (Jurnee Smollett-Bell) unfold in the antebellum era. 
Now in its second season, the WGN America original show tracks what's left of the Macon 7, a group of enslaved women, men, and children. The Macon 7 fled a Georgia plantation and headed north in search of freedom in an exit so fiery that the cotton fields were literally left ablaze.
The series is important for several reasons, not least of all because it demonstrates how history is connected to the present; Black women are still fighting for reproductive autonomy, with reproductive oppression being at the core. The desire to control whole communities of people through the regulation of their bodies, labor, sexuality, and reproduction was a sinister strategy in 1857, the year Underground is set. And yet such tactics remain in place in 2017.
To have pop culture elevating this conversation to mainstream audiences is key to living in a world where everyone is free. It also is key to experiencing true reproductive justice as outlined by SisterSong Women of Color Reproductive Justice Collective: the human right to maintain personal bodily autonomy, have children, not have children, and parent the children we have in safe and sustainable communities.
Created by Joe Pokaski and Misha Green, Underground digs deep into the reproductive horrors Black women faced under chattel slavery.
Slavery was a savage institution. Black people—enslaved or free during this period (see Solomon Northup's story in the book 12 Years a Slave, upon which the film is based)—lived in a constant state of fear. Plantation life meant negotiating day-to-day survival with hyperfragility as not to upset the intricate maze of authority: owners, overseers (white and Black), and basically any white person—adult or child. The slightest misstep could mean being lashed bloody or receiving any cruelty the punisher could dole out. And yes, death.
Yet, women in bondage experienced a particular terror. Not only were these women valuable for the manual labor they produced, but slaveholders sought to exploit and control their reproductive capabilities too. Enslaved women were forced to give birth not to babies to be loved and welcomed as additions to their families, but as a source of free labor for slaveholders. This perversity was designed to strip away the humanity of Black women's childbearing, reducing it to breeding for the master's financial gain.
Underground tells the story of how enslaved women made complicated decisions around motherhood, from taking measures to control their fertility to ending unwanted pregnancies, and the lengths they went to protect their children.
That could mean committing an act of desperation such as drowning your newborn to prevent the child from living in slavery. Seraphina (Devyn A. Tyler), an enslaved woman, does just this in the very first episode of Underground. And Toni Morrison's novel Beloved is based on the arguably most well-documented case of infanticide in U.S. history, Margaret Garner's story.
It also could mean an enslaved woman exerting agency over her reproductive life, like Ernestine, who as a young girl committed to learning midwifery and medicine to arm herself with the know-how to decide if and when to have a baby. Ernestine pulled babies, helped women have abortions, and even sterilized herself to prevent further pregnancy. And she passed this wisdom down to her daughter.
And for enslaved women to have healthy pregnancies and even care for their children under such harrowing conditions, that could mean any number of risks. It's an expectant Rosalee, on the lam, envisioning a free world for her and her loved ones by risking her life as "Black Rose," a guide on the Underground Railroad. It's her wrapping her belly on these treacherous assignments, foraging for food, triaging her own bullet wound and snake bite, and even killing for her freedom and to protect the life of her unborn child. It is Pearly Mae (Adina Porter), an enslaved mother, sacrificing her life so her husband and daughter can run away.
While Underground is historical fiction, don't think for a second that real-life enslaved women didn't endure these things and worse. Slavery is the grisliest true story there is.
Bondage and all of its brutalities were real-life atrocities for generations of Black bodies in this country. And if that's not enough, Underground is adding in storylines on intimate partner violence, substance abuse, and suicide.
Underground also is a history lesson on radical Black feminism and womanism set to a contemporary soundtrack of the likes of Beyoncé, Alice Smith, and executive producer John Legend, who created the song "In America," just for the occasion. This season introduces the legendary Harriet Tubman (Aisha Hinds) as a recurring character. Having Harriet Tubman's story told on TV in all of its fierceness is the stuff Black girl dreams are made of. We need images of her to teach the world that Black women of this period were resisting slavery using guns and military strategy, and leading life-threatening rescue missions too.
The sewing circle that white abolitionist Elizabeth (Jessica De Gouw) joins is a front for interracial anti-slavery organizing and a gun club of sorts. A nod to Sojourner Truth's renowned "Ain't I a Woman?" speech was given as an enslaved man, Daniel (Bokeem Woodbine) who is secretly learning to read, read some of it to his young daughter.
With some of the lushest storytelling and strongest writing around, each episode leaves you gasping for air with little recovery time in between scenes. Jurnee Smollett-Bell's acting chops are full-grown here as she delivers career-best acting as Rosalee; she nails scenes with little to no dialogue, where raw talent is required and silence is her antagonist. Amirah Vann's performance as Ernestine will leave you spellbound as a woman in inner turmoil haunted by regret.
Even so, Underground is a sobering reminder of how little we've come on some fronts. Today, Black women are still fighting for reproductive autonomy whether it be a criminal justice system that disproportionately criminalizes Black motherhood by prescribing jail instead of treatment for Black mothers who suffer from addiction while pregnant. Or a health-care system that disproportionately limits Black communities' access to sexuality education and reproductive health care. See the Hyde Amendment and the attacks on Roe v. Wade. Or the incarceration of Black mothers and children who stand up to their abusers. See the story of Marissa Alexander and Bresha Meadows, respectively.
And in 2017, Black mothers still worry about their teenage and young adult children as they go out into the world where their swag is policed and they are profiled for wearing hoodies and locs. Most Black parents have given their child "the talk" of how to deal with law enforcement if stopped. In this case, the connection couldn't be clearer: Modern-day policing sprang out of the slave patrols. This is no different from Ernestine telling her children to keep quiet and keep their heads down in and around the big house.
In the end, she was unable to protect any of her children. Her son Sam (Johnny Ray Gill) met the fate of his father, being murdered by authority, and she was sold away from her youngest.
Underground airs Wednesdays at 10 p.m. Eastern on WGN America.