Department of Homeland Security Will Continue Contracting With Private Prison Companies
One of the primary reasons cited in the report for the continued use of private companies is to meet "the need for realistic capacity to handle sudden increases in detention."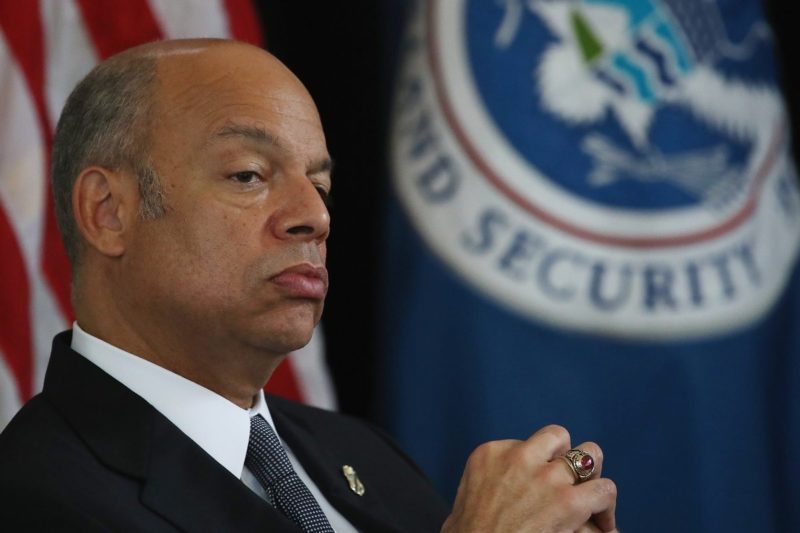 As Rewire reported in August, DHS Secretary Jeh Johnson tasked the Homeland Security Advisory Council (HSAC) with creating a subcommittee to review ICE's use of private prison companies like the GEO Group and Corrections Corporation of America (CCA), which recently rebranded as CoreCivic. Mark Wilson/Getty Images
A Department of Homeland Security (DHS) subcommittee has decided that Immigration and Customs Enforcement (ICE) should continue contracting with private prison companies, which have come under fire for their incidents of preventable deaths and allegations that detainees are abused and mistreated.
This comes a week after the death of Raquel Calderon de Hildago, a Guatemalan migrant taken into ICE custody on November 23. She is the third person in ICE custody to die since the start of fiscal year 2017 on October 1.
As Rewire reported in August, DHS Secretary Jeh Johnson tasked the Homeland Security Advisory Council (HSAC) with creating a subcommittee to review ICE's use of private prison companies like the GEO Group and Corrections Corporation of America, which recently rebranded as CoreCivic. Opponents of private prison companies have pointed to allegations of human rights abuses, including incidents of sexual abuse, as a primary reason for the closure of facilities operated by the GEO Group and CoreCivic.
HSAC released the report on December 1 after conducting interviews with detention experts, executives from the major private detention companies, and representatives from national and local immigration advocacy groups, according to the report. Members of the subcommittee also visited two ICE detention facilities, one owned and operated by ICE and the other owned and operated by a private for-profit prison company.
One of the primary reasons cited in the report for the continued use of private companies is to meet "the need for realistic capacity to handle sudden increases in detention."
President-elect Donald Trump has vowed to deport up to three million undocumented immigrants immediately upon taking office.
A fear among advocates—including Bob Libal, executive director of the Austin, Texas-based immigrant rights' organization Grassroots Leadership—is that ICE will not be held accountable for the growing number of deaths at for-profit prisons. In Raquel Calderon de Hildago's case, she was being held at CoreCivic-run Eloy Detention Center, which is considered by migrants as one of the worst places to be detained, when she had a series of seizures. She was transferred by paramedics to a nearby hospital, where she died on November 27 at the age of 36. As the Arizona Republic reported, "At the time of her death, she was awaiting deportation to Guatemala, ICE officials said. ICE said database checks indicate she had no criminal history in the U.S."
Libal told Rewire in a phone interview that he was "heartened" by HSAC rejecting the report's core recommendation at the hearing this week.
Multiple news outlets have described the public session that took place on Thursday as "contentious," with "more than two-thirds of the council members objecting to the conclusion that the government's use of private facilities should continue," the Washington Post reported. HSAC adopted a dissenting version of the report, according to USA Today, saying that enforcement policy should not mean "deference to the status quo"—meaning, presumably, that ICE does not need to continue relying on private prisons simply because it has been.
It's not just the response from HSAC that sends a mixed message; the report itself does as well. The subcommittee, apparently seeing no way to untangle the detention system from private prison companies, seems to resign ICE to continued reliance on companies that present safety concerns for migrants, while at the same time, calling in the report for expanded oversight to improve "control, responsiveness, and sense of accountability" at detention centers contracted by ICE. This is a large task, as more than half–65 percent—of the more than 400,000 migrants held each year in detention are placed in privately run facilities, according to statistics released by ICE.
Libal said that while it's "somewhat heartening" that the committee dissented, it's important to get to the heart of the "real issue": The reason ICE can't extract itself from contracts with companies like CoreCivic and GEO is because there are too many people in detention—and more expected in the coming months. Any plans for mass deportation, as the president-elect has proposed, require an immediate increase in detention, as migrants awaiting their deportations are placed into detention centers for weeks and sometimes even years. This is an issue that rests squarely on the shoulders of both ICE and the Obama administration, Libal said.
"My hope, and I think a hope of a lot of advocates, was that the report would recommend that ICE reduce the number of people detained, but the report made no such recommendation," the executive director said.
Moving forward, there are a lot of unknowns about the detention system and how it will continue to take shape. This week, the U.S. government argued at the U.S. Supreme Court that certain migrants in detention shouldn't qualify for bond hearings after being detained for at least six months. The American Civil Liberties Union and other advocacy organizations are pushing back against these policies, arguing that all migrants in detention deserve legal protections and due process. Libal said it is this kind of pushback that will be needed more than ever as we enter a new administration intent on further criminalizing and targeting migrants for prolonged detention and deportation.
"We are preparing for what could be one of the darkest times in our nation's history," Libal said. "We are handing over the keys to a human rights violation machine to Donald Trump's immigration force—and that is the fault of this administration. The level of detention dictated why [the subcommittee] felt so beholden to private prison interests. If we had a quarter of people in immigration detention that we do, this would be a much easier problem to solve. And the fact that ICE continues to promote reliance on detention over release from detention or community-supported alternatives is the other reason we have this huge problem."