Pregnancy and Choice Come 'Full Freaking Circle' in 'Gilmore Girls' Revival
The final episode, and for that matter the entire series, is a perfect, inevitable ending to a show that is at once beautiful, smart, and flawed, just like the Gilmore girls themselves.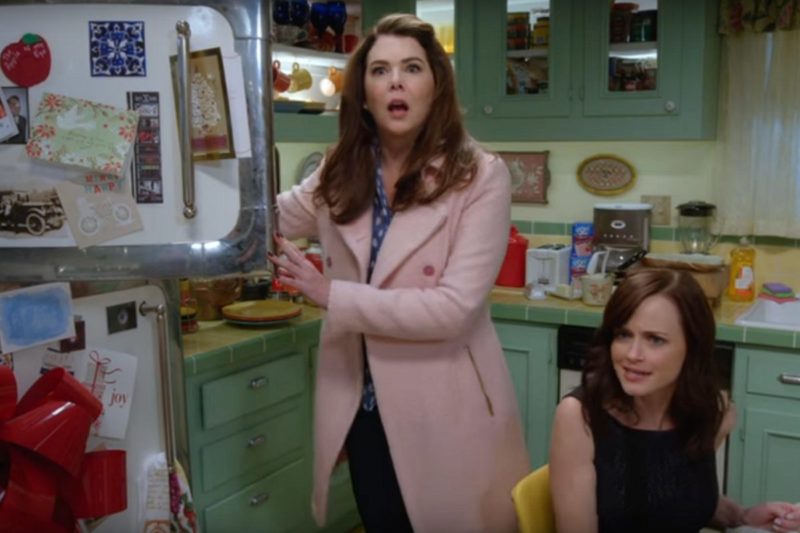 The beauty of Gilmore Girls is that it was a show about female friendships, family, and the complicated lives women lead regardless of the men in their lives. Netflix US & Canada / YouTube
"Mom?"
"Yeah?"
"I'm pregnant."
Those are the highly anticipated final four words of Gilmore Girls. Rory Gilmore (actor Alexis Bledel), the ever-perfect—at least according to the other characters—daughter of Lorelei Gilmore (Lauren Graham), is unexpectedly pregnant, just like her mother was 32 years ago. It's the way showrunner Amy Sherman-Palladino always intended for the series to end before a contract dispute cut her out of the show's final season nine years ago.
Fans have found these words both expected and shocking. They've been met with outrage, confusion, and excitement on social media. Who is the father?! (Almost certainly college flame and heir to a newspaper fortune, Logan Huntzberger, played by Matt Czuchry.) And does this cliffhanger mean Gilmore Girls: Year in the Life will be returning for another season on Netflix?
I hope not. The final episode, and for that matter the entire series, tells us a lot about Rory's plans. It's not a cliffhanger at all. It was a perfect, inevitable ending to a show that is at once beautiful, smart, and flawed, just like the Gilmore girls themselves.
Sherman-Palladino was never subtle about where she wanted her characters to go. The opening song is "Where You Lead," by Carole King. In the series pilot, worried that Rory is going to throw her life away for a boy, Lorelai says, "You're me … someone willing to throw important life experiences out the window to be with a guy. It sounds like me to me."
But what the Gilmore Girls characters tell us and what their actions show are often very different. All the characters praise Rory for her perfection. She's brilliant, beautiful, a great girlfriend, and, most importantly it seems, the "good girl." But their expectations of her gloss over the flaws that bring her character to life—because, let's be honest, sometimes Rory is a little a flat.
All the characters, including Rory and Lorelai, praise their codependent relationship as something untouchable, more like friends than mother and daughter. But the truth is that their stubbornness and immaturity cause their estrangement a few times throughout the WB-eventually-turned-CW series and the Netflix revival.
What fans shouldn't forget is that Lorelai didn't actually throw important life experiences away for a guy. Her parents wanted her to marry Rory's father, Christopher Hayden (David Sutcliffe), when she was 16. But she left to go raise Rory on her own and have her life experiences on her terms. She worked her way up from housekeeper to general manager at the Independence Inn in Stars Hollow, and opened her own successful inn with her friend and business partner Sookie St. James (Melissa McCarthy) by the time she was in her mid-30s. When she was with diner owner Luke Danes (Scott Patterson) in seasons five and six of the original series, she wanted to get married and have a real partnership, but Luke didn't offer that to her, so she left. Rory's teacher, Max Medina (Scott Cohen), did offer Lorelai marriage and a full partnership. But that partnership threatened to get in the way of the girls' secret club, and Lorelai bailed shortly before the wedding.
As Christopher says to Rory in the final episode of the revival, "It was in the cards, Lorelai and you. From the first moment I saw you two together, no one was getting between you guys." The revelation of Rory's pregnancy later in the episode paints that visit in a wholly different light. At first it seems like she's getting information for the book she wants to write about her and her mother. But Rory was really asking for advice about how to best raise her future child. Logan was Rory's Christopher, and this conversation mirrors one from the original series when Rory asks about her father's first kiss with Lorelai, which inspires her first kiss with Logan.
Both men are overly privileged, spending their teens and early 20s partying too hard and shirking responsibilities. But both eventually fall in line and go on to inherit their families' fortunes. In season six, Sherman-Palladino's final year working on the original series, she seems to be setting this parallel up pretty explicitly.
"You've got a good man here," Christopher says to Rory as he and Logan bond over the many boarding schools they've each been kicked out of.
"Interesting yardstick you're using," Rory replies.
The series was always meant to come full circle, or as Lorelai says to her mother after an argument in the first episode of the revival, "full freaking circle."
I've had my own frustrations over the years that abortion doesn't seem to exist in the Gilmore universe, but after watching the revival and reflecting on what Sherman-Palladino wanted for her show, I realize this isn't true. Sookie and Rory's best friend, Lane, both get pregnant in the final season of the original series under very difficult circumstances that seem to go unrecognized, but those storylines were written in season seven, when Sherman-Palladino was off the show.
Immediately after giving birth to her second baby in season five, Sookie sends her husband Jackson into outpatient surgery for a vasectomy. Then in season seven, Sookie is surprised and angered to find out she's pregnant again, and it's revealed that Jackson never got a vasectomy, though he let her believe he did. Sookie resentfully continues the pregnancy, but nowhere in the series does anyone acknowledge that this was the result of anything more than a mild indiscretion or case of poor marital communication, when in fact it was an extreme violation. The fact that Sookie and Jackson are still married in the revival should give fans some pause, given that Sookie was forced to give birth and raise a child that, as far as viewers can tell, she made very clear she didn't want.
Lane's storyline makes a little more sense. She gets pregnant after having sex only once, on her honeymoon, and it was very bad sex. So bad, in fact, that she thinks her religious conservative mother was telling the truth when she said sex was bad for women and simply a chore women have to do to get pregnant.
Rory is the first person Lane tells about the pregnancy. It's a good scene, but nowhere in it does abortion come up as an option. And even if Lane wouldn't have an abortion—because maybe "no sex before marriage" wasn't the only one of her mother's rules that stuck—it seems like a conversation that would have been worth having. After all, Rory has a Planned Parenthood "War on Choice" poster on the walls in her dorm room, signifying to viewers that she is proud to be pro-choice. It's an Easter egg that may have been more poignant if Sherman-Palladino had written those four final words when the series originally ended, as Rory would have been 23 at the time. I think Rory would have continued her pregnancy either way, but perhaps Sherman-Palladino wanted viewers to know that it was a choice, not a life sentence.
The Gilmore girls' pregnancies both seem to have been wanted, however inconvenient they may have appeared at first glance. Lorelai's pregnancy at 16 gave her an excuse to leave her stifling childhood home and grow up on her own terms. She feels free and accomplished in her new life, until the series pilot when she must confront her past and borrow money from her parents to pay for Rory's school.
In a flashback episode in season three, Christopher's father implies that abortion is the preferred option for Lorelai without actually saying the word, possibly because the network wouldn't have allowed them to talk about abortion on primetime. (Though another WB show, Everwood, dealt with abortion explicitly around the same time.) Lorelei's mother, Emily, immediately rejects the suggestion. But whether or not Emily would have supported an abortion, Lorelai never allows others to make important life decisions for her. It would be out of character, despite any obstacles, for Lorelai not to get an abortion if that's what she wanted.
Many fans seem to interpret Rory's pregnancy as unwanted. But perhaps that's because the fans have their own hopes and dreams for the youngest Gilmore girl. Thirty-two isn't so young to have a first child. Even if the series had ended when Rory was 23, her life is completely bogged down by the world's expectations of her and an unfulfilling and rather cyclical romantic life. This pregnancy gives her an opportunity to re-evaluate what she wants and how to get it. It also gives her a tidy but surprising ending for that book she's writing.
Throughout the last few episodes, Rory repeats that journalism isn't working out for her, but in reality, it seems to be working out pretty well for a freelancer in her early 30s. She has a coveted "Talk of the Town" piece in the New Yorker. She says she has a lot of other irons in the fire, and while some of them fall through, that's not unusual. Even Stars Hollow's former bad boy and Luke's nephew, Jess (Milo Ventimiglia), points out that writers have ruts, and it's par for the course. Jess and Rory dated in the WB series, and many fans hoped the two would rekindle their romance in the revival. While they may have not explicitly gotten together, it's clear that Jess is still harboring feelings, and he encourages Rory to write the book.
Rory spends the entire original series talking about how she wants to be a foreign correspondent like Christiane Amanpour, but few of her actions seem to support that. The stories she pursues in both the series and the revival are mostly lifestyle pieces, closer to the memoir she's about to write than something CNN would cover. Having a child at this point in her career without a steady partner probably wouldn't be conducive to being a foreign correspondent. Perhaps pregnancy helped her come to terms with the fact that it wasn't her dream; it was just what everyone else expected.
Rory says it herself when she graduates from the fictional Chilton Preparatory School: "My ultimate inspiration comes from my best friend, the dazzling woman from whom I received my name and my life's blood, Lorelai Gilmore."
Fans have been so caught up in who Rory would choose that they neglected to see that it didn't really matter. The beauty of Gilmore Girls is that it was a show about female friendships, family relationships, and the complicated lives women lead regardless of the men in their lives. Perhaps for Rory and the fans like myself who grew up with her, there was no other way to learn this besides coming "full freaking circle."