Incidents of Voter Suppression Reported Across the Nation (Updated)
"The truth of the matter is, if you actually want to vote, then you can vote," said President Barack Obama during an MSNBC interview with the Rev. Al Sharpton on Friday.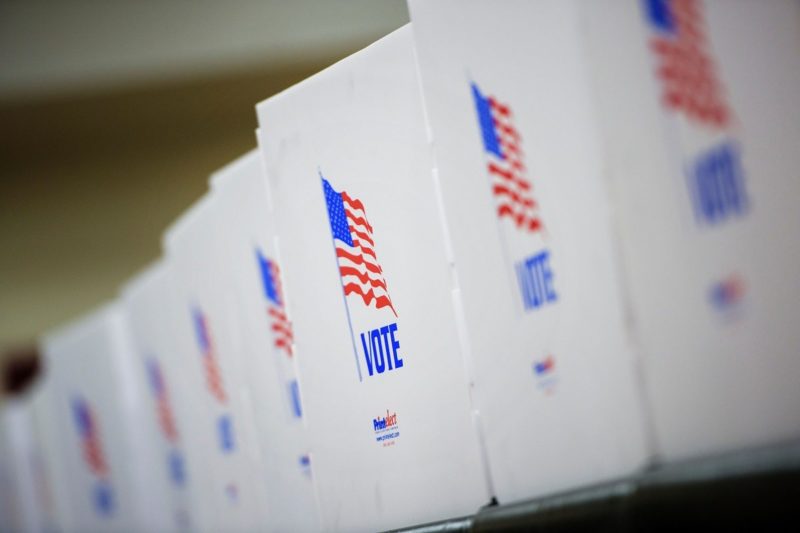 At a time when trust in government is low, Trump and his supporters are fanning fears that U.S. democracy is in peril and that voters can't trust what happens at the ballot box. If Trump loses on November 8, they say, it will be because of a massive conspiracy and media corruption. Brendan Smialowski/AFP/Getty Images
On the eve of Election Day, voter suppression is a major concern among Democrats, especially in battleground states where Republican-led legislatures are trying to alter voting laws.
Republican presidential candidate Donald Trump has continuously pointed to widespread voter fraud on the campaign trail, saying several times that the election is "rigged."
At a time when trust in government is low, Trump and his supporters are fanning fears that U.S. democracy is in peril and that voters can't trust what happens at the ballot box. If Trump loses on November 8, they say, it will be because of a massive conspiracy and media corruption.
The Trump campaign has called on volunteers to sign up as "election observers," stoking fears of voter intimidation and violence at the polls. And Trump supporters and trolls on social media are pushing fake "text to vote" campaigns, ads in the style of official Clinton campaign messaging telling voters to demand paper ballots, and videos spreading misinformation.
A supporter at an Ohio rally told the Boston Globe in October that he planned to look for "Mexicans. Syrians. People who can't speak American."
President Barack Obama countered this narrative during an MSNBC interview with the Rev. Al Sharpton on Friday, reminding registered voters that the "truth of the matter is, if you actually want to vote, then you can vote."
This election is slated to be the most racially diverse ever, and voter intimidation "has traditionally gone hand in hand with the growing political participation of minorities," Leah Aden, a senior counsel with the NAACP's Legal Defense Fund, told Alice Speri of the Intercept.
By our count, incidents constituting voter suppression have been reported in states across the country. Here are just a few examples. (Last updated: Tuesday, November 8, 11:20 a.m.)
ALABAMA
For the first time in a presidential election, voters in the state will be asked to provide a photo ID, such as a driver's license, a passport, a university student ID, or federal government-issued ID, the Tuscaloosa News reported on Monday.
Residents without these documents can still vote if they are positively identified by at least two election workers as being eligible to vote in a precinct, explained the newspaper. Others will still be able to cast a provisional ballot.
In October 2015, the U.S. Department of Justice (DOJ) was called to investigate voter ID issues in the state after it closed 31 part-time driver's license offices due to budget cuts, NPR reported. That left many rural residents without a place to obtain driver's licenses that they could use for ID on Election Day.
As Imani Gandy reported for Rewire, the closures disproportionately hurt already-burdened people, particularly the state's Black residents. Susan Watson, executive director at ACLU of Alabama, said in a statement: "This is all about race and about what communities are most affected by the state of Alabama's bad choices."
ARIZONA
When voters head to the polls Tuesday, they will have 212 fewer polling locations available since the last election.
Almost every county reduced polling in the normally red state after the U.S. Supreme Court gutted the Voting Rights Act in Shelby County v. Holder, according to a recent report.
Voters forced to wait for hours at one of Maricopa County's 60 polling places, a fraction of the usual number, made news in March. Meanwhile, the top closures include Pima County, which cut 62 sites from 2012, and Cochise County, where the reduction is from 49 to 18.
The vast majority of the closures have gone "unnoticed, unreported and unchallenged," the Leadership Conference Education Fund Executive Vice President Nancy Zirkin told the Tucson Sentinel. The fund issued a report Friday, which found "that many counties moved swiftly to close polling places after they were freed from the federal oversight that was aimed at protecting voting rights for minority voters," Adam DeRose reported.
Pima County Elections Director Brad Nelson told the newspaper that he is not worried about Election Day issues "because of the large numbers who have voted early."
In Maricopa County, local news outlets reported that votes for more than 7,000 early-ballot voters may not be counted if their signatures can't be verified by 7 p.m. Tuesday.
The Maricopa County Recorder's office told the Arizona Republic that "these voters either forgot to sign their ballots or their signatures didn't clearly match the signature on the voter rolls."
Steven Slugocki, chairman of the Maricopa County Democratic Party, has also been tweeting about instances of voter suppression. One woman, he tweeted, received her early mail-in ballot just three days before the election. He also reported that there were four-hour waits for early voters in Tempe, and when he called the office of Maricopa County Recorder Helen Purcell, Slugocki tweeted that he was told "the voters shouldn't have waited until the last minute to vote."
FLORIDA
Florida has seen a surge in voter registrations since a federal judge last month overruled Republican Gov. Rick Scott's resistance to extending the state's deadline past October 11 to allow those affected by Hurricane Matthew to access the ballot box.
Democrats felt Scott's stance was in line with previous Republican-led efforts to suppress the vote among marginalized populations, Spencer Woodman of the Intercept reported on Monday.
The deadline extended to October 18 led to more than 100,000 registrations of new voters who otherwise would have been shut out of the election, explained Woodman.
Meanwhile, in Jacksonville on Saturday, Rev. Jesse Jackson warned Democrats against voter suppression.
MAINE
Republican Gov. Paul LePage alleged that college students are ripe candidates for voter fraud and promised consequences Monday.
"Democrats for decades have encouraged college students from out of state to vote in Maine, even though there is no way to determine whether these college students also voted in their home states," he said in a press release.
Casting ballots in two different states is voter fraud and Maine law requires voters to establish residency there, LePage said.
"We welcome college students establishing residency in our great state, as long as they follow all laws that regulate voting, motor vehicles and taxes. We cannot tolerate voter fraud in our state," he said.
His comments contradicted Maine Secretary of State Matthew Dunlap, who said that the fundamental right to vote is not tied to a driver's license or vehicle registration. Claims of fraud are a "phantom menace" and students shouldn't face any barriers to vote, Duncan said in the Portland Press Herald.
"If we get college students to vote once, we're doing good," he said.
LePage's statement comes after fliers were found at Bates College making similar false claims that students were required to register their cars and get Maine driver's licenses before they could vote in Maine.
Rep. Chellie Pingree (D-1st District) and the American Civil Liberties Union (ACLU) of Maine condemned LePage's attack on the civil liberties of students.
"It's very clear here that the Governor is trying to keep college students from turning out to vote in Maine," Pingree said in a statement. "There are already fliers going around giving students false information about their right to vote here—the Governor should be calling out these lies rather than bolstering them."
Zachary Heiden, ACLU of Maine's legal director, said in the Press Herald that the governor is using scare tactics. "Many of these young people are voting for the first time in a presidential election. The governor should be encouraging that civic participation, not doing everything in his power to undermine it," he said.
Maine is currently under divided partisan control, with Republicans controlling the state senate and Democrats the house.
NORTH CAROLINA
Anyone can challenge a vote in many states, and a challenge list compiled by North Carolina Republicans overwhelmingly targeted Black and Democratic early voters in the battleground North Carolina.
Republican leaders celebrated "the significant decrease in Democrat Party performance during Early Voting," according to a press release issued this week by the state GOP.
On Friday, a federal judge barred three North Carolina counties from revoking the voting rights of about 4,500 registered voters whose eligibility to cast ballots had recently been challenged by Republicans.
In July, a federal appeals court voided much of a sweeping "omnibus" election law enacted by the Republican-run legislature, saying it was created to discourage Black people from voting.
Republicans then used their two-to-one edge on electoral boards to slash early voting options and force long lines at the few early voting locations in urban centers like Charlotte, Raleigh, and Winston-Salem. Almost 9 percent fewer Black voters took advantage of early voting than had in 2012, ThinkProgress reported.
Last week, a judge also ordered provisional ballots for voters who said they tried to register at state motor vehicle offices, public assistance centers, and other agencies, but whose names were not on the rolls.
PENNSYLVANIA
A judge extended the deadline to return ballots last week after hundreds of voters in Montgomery County, outside Philadelphia, complained they did not receive their absentee ballots, the Philadelphia Inquirer reported.
About 70 percent of the absentee ballots issued in Montgomery County have been completed and returned.
More than 29,000 voters, a record number, asked for absentee ballots for the November 8 election, which were due on Friday. That's up from 23,069 ballots requested in the 2012 general election, when more than 84 percent voted using them.
By late Monday morning, about 21,000 of the more than 29,000 ballots issued had been returned, the Inquirer reported.
However, a majority of Pennsylvanians vote in-person on Election Day, as there is no early voting in the state and absentee ballots account for a small percentage of voters, according to ProPublica.
TENNESSEE
The American Civil Liberties Union of Tennessee sent a letter to Tennessee Secretary of State Tre Hargett last week requesting that voters who have been "wrongfully purged" from voter rolls due to inactivity be allowed to cast provisional ballots.
"Federal law is clear: Voters cannot be removed from the rolls simply because they haven't voted in a few elections," Hedy Weinberg, ACLU–TN executive director, said in a news release.
The release added: "While Tennessee law allows purging of voters who miss several regular November elections in a row, the United States Court of Appeals for the Sixth Circuit recently struck down the practice of purging voters from the rolls based on their failure to vote in prior elections as a violation of the National Voter Registration Act."
A recent NewsChannel 5 investigation found that more than 19,000 people had been purged for inactivity over a three-year period in Davidson County alone, excluding people who have been convicted of a felony or have died.
TEXAS
The DOJ announced Monday it would be placing election monitors in Dallas, Harris, and Waller counties to protect the rights of voters. As Rewire reported, the DOJ plans to send more than 500 personnel to 67 jurisdictions across 28 states to monitor the polls on Election Day.
After early voting problems involving IDs and misleading posters, election officials and civil rights advocates hope Texas has ironed out issues in time for Election Day.
Republican Texas lawmakers adopted the nation's strictest voter ID law in 2011, claiming it aimed to prevent voter fraud. As the Texas Tribune noted, opponents have argued that the law was intended to suppress voting by Latinx voters and others who lean Democratic and are unlikely to have a qualifying ID.
WISCONSIN
Police officers will periodically check polling locations Tuesday for "disruptions, excessive demonstrations and interference with citizens voting," according to the Milwaukee Journal Sentinel.
A stringent voter ID law has hampered some Black residents from voting in the Midwest state, Ari Berman of the Nation reported. In one incident, the DMV failed to issue a state ID to a resident who didn't have his birth certificate but had several other documents to confirm his identity and residence.
Last month, a Wisconsin city clerk raised concerns about opening an early voting site on the state university's Green Bay campus, partly because she feared it would encourage more Democratic-leaning students to vote, reported Amanda Hoover of the Christian Science Monitor.
Other infractions reported include DMV workers reportedly giving out the wrong voter ID information and a July lawsuit that found parts of the state's voter ID law violated residents' voting rights.
Tina Vasquez contributed to this report.