We Had Abortions, and Here's What That 'Jane the Virgin' Story Line Meant to Us
We Testify abortion storytellers Jack Qu'emi Gutiérrez, Sam Romero, and Daniela Diaz—all Latinxs who have had abortions—sat down to discuss the Jane the Virgin abortion story line and the effects of Latinx representation on network television.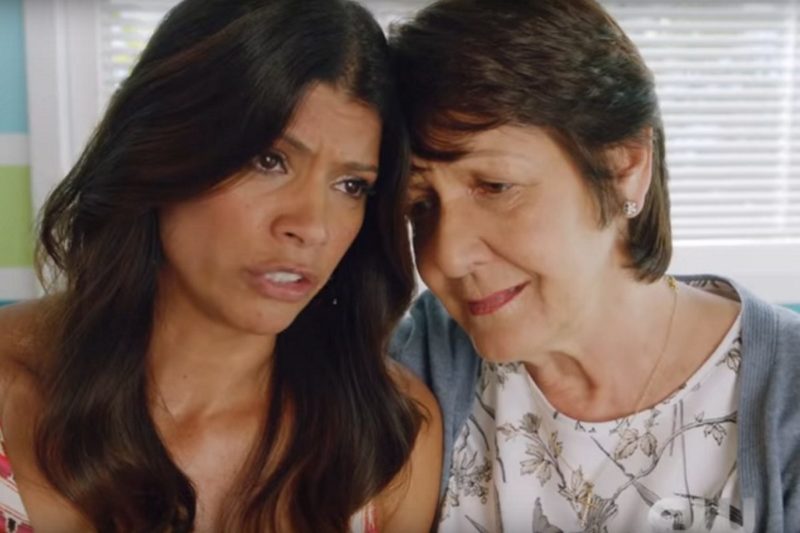 If you haven't been watching the CW's Jane the Virgin, you're missing out. It's the hit adaptation of the Venezuelan telenovela Juana la Virgen that details the life of Jane (Gina Rodriguez) a young, religious Latina who became pregnant after accidentally being artificially inseminated during a routine exam. The CW Television Network / YouTube
If you haven't been watching the CW's Jane the Virgin, you're missing out. It's the hit adaptation of the Venezuelan telenovela Juana la Virgen that details the life of Jane (Gina Rodriguez) a young, religious Latina who became pregnant after accidentally being artificially inseminated during a routine exam. The show has delved into many sensitive topics regarding family, sexuality, and religion, particularly because Jane was actively waiting until marriage to have sex.
The topic of abortion isn't foreign to the show—Jane, her mother Xiomara or "Xo" (Andrea Navedo), and her grandmother Alba (Ivonne Coll) previously discussed it when a doctor was concerned about one of Jane's prenatal tests. However, the third season broaches the topic in a new way, since it's not just a discussion of abortion—a character actually has one.
In the previous season, Xiomara has a one-night stand. In this third season, Xo's decision to have an abortion and the procedure itself aren't shown, but the fact that she had one is made clear when Alba finds Xo's doctor bill, to which Xo lies and says the cramping she had experienced was the stomach flu. The narrator of the show nonchalantly informs the audience that this is not true and that Xo had a medication abortion. Cramping alibi aside, Xo is suspicious her mother knows she had an abortion, and since abuelas are traditionally religious, she fears the worst if Alba were to find out.
Like many television shows recently, Jane the Virgin's discussion of abortion is nuanced and tries to dispel myths and stereotypes. The showrunners worked with Planned Parenthood to ensure the information shared was medically accurate and rooted in real people's experiences. But the depiction stands out for two specific reasons: A Latinx had an abortion and she was already a parent. According to the Guttmacher Institute, Latinxs make up about 25 percent of people having abortions, and roughly two-thirds of people having abortions are already parents. And yet, very few story lines show either. In fact, research from the University of California San Francisco found less than 20 percent of characters having abortions were already parents and only four plotlines involving Latinxs and abortion since 2005. Gretchen Sisson, one of the co-authors of that study, said that this is the first show featuring a Latina having an abortion on network television in over 30 years.
A recent poll conducted by the National Latina Institute for Reproductive Health found two-thirds of Florida's Latinx voters believe that abortion should remain legal, and three-quarters believe that private and government-funded insurance should cover abortion care. This shows that Latinx communities have a nuanced view of abortion, and it deserves to be visible.
While the show's depiction is a welcomed change in what we see on television, how well did the show do? We Testify abortion storytellers Jack Qu'emi Gutiérrez, Sam Romero, and Daniela Diaz—all Latinxs who have had abortions—sat down to discuss the episode and the effects of Latinx representation on network television.
Sam Romero: What attracted you two to Jane the Virgin?
Jack Qu'emi Gutiérrez: It's a show set in Miami about Latinxs. Being that I'm a Latinx originally from Miami, I figured I'd give the show a shot. The style of the show is reminiscent of the actual novelas that my mother loves. The pumped-up drama and ridiculousness was familiar while the nostalgia for telenovelas charmed me into watching. It's like how Ugly Betty was a novela prior to the English-language series. The drama is extra funny in English!
Daniela Diaz: The moment I heard a Venezuelan telenovela was getting an American makeover, I knew I had to watch it. I'm from Venezuela and, like Jack, grew up in the Miami area in full telenovela culture. My Friday nights started after the novela, watching with my family and discussing the drama over the dinner table. I was curious as to how telenovela culture was going to be translated for an American audience. Many years ago, I watched the Colombian novela Yo Soy Betty, La Fea, but didn't take to the English version, Ugly Betty.
I was also curious about what the cast was going to look like, since the Latinx community is so diverse. And, well I'm hooked. I get the same telenovela feels and reactions that I get from watching a good telenovela in Spanish. While I identify with aspects of the story line and love the references to Cuba and Venezuela, the narrator is where it's at for me. Through the narrator, the show has intelligently addressed issues of immigration, the power of voting, and the importance of our reproductive choices, all while leveraging social media, hashtag culture, and overt telenovela humor. Even the writers get in on the fun—they tweet during the show and keep up with audience reactions. #MeEncanta!
SR: Yes, I admit, at first I was skeptical about watching a show about a pregnant virgin. The whole premise sounds unrealistic, which ironically, I think, is what makes the show magical. You have these very real characters found in dramatic situations with an omnipotent narrator who lets you see beyond the story at hand. It reminds me of the magic realism found in Latin American literature. The way the show includes literary elements in the form of a novela to portray three generations of strong Latina women in the United States, using common tropes and Latinx culture, is really special.
DD: What did you all think of the episode's depiction of abortion? How accurate did it feel for you?
JQG: I really appreciated how casually the topic was brought up. The narrator states pretty plainly that Xo had an abortion, that it was a medical one, and what that meant for her alibi when Alba finds a hospital bill in their mail. Many people choose a medicinal procedure because the mifepristone and misoprostol can be taken at home, making the process less invasive. It's what I had.
The narrator in Jane the Virgin also explains that the procedure can cause cramping, which is what Xo uses as an excuse for her hospital visit. I don't know why the writers decided to explicitly portray Xo's character as having taken the abortion pill, but it's the first time I've seen an abortion plotline reflect my own experience. Most TV shows depict a surgical abortion, which is more common and only takes about five minutes, while the medication abortion can take a few hours.
SR: Xo spends most of the episode worried about what her mother will think, even though she's confident in her decision and her daughter isn't fazed by it in the least. Having an abortion doesn't define a person. Sometimes that decision is easy and unapologetic. It's nice to see the issue of abortion depicted without hesitation by mainstream television, but what's even better is to see supporting characters who can accept a person's decision with compassion and without judgement. This isn't easily done in real life and even harder to re-create on screen. That support was very clear and unwavering from Jane, Michael [Jane's husband], and Rogelio [Xo's ex-partner and Jane's dad]. I know it was the judgement that was my biggest fear.
DD: I was moved to see Xo, who was a Latina teen mom, openly discussing her decision and sharing her feelings with her daughter. It showed the support in their relationship and how it goes both ways. Xo already knows what it takes to be a parent and doesn't want to do it again. Seeing Xo share her decision with Rogelio, who offers her his full support, that was a true telenovela moment of surprise. For me, it was a particularly pleasant surprise because I'd never seen support around abortion and the Latinx community like this on television. The episode also made me think of home, Venezuela, where abortion is illegal, in most cases, and where Xo or I would not have that choice.
SR: What effect, if any, did it have on you to see a portrayal of a Latinx family navigating abortion? Did you all see yourselves, your experience, and your families reflected?
For me, telling my family about my abortion was easier than telling them I was queer. I told them about the abortion first, then about my partner a month later. My sister was offended I never told her about the abortion. She didn't understand when it happened, how it happened, and if I had the support of my partner at the time. There were lots of questions I felt relieved to answer for her. I let her tell my parents. It took a while for them to soak it up. I think they were really shocked about my abortion and somehow less shocked by my queerness. Luckily, I do have amazing parents, and they let me know that they are proud of me.
Later, having the opportunity to talk to my grandmother, a conservative Jehovah's Witness about my abortion was absolutely mind-blowing. She didn't make me explain myself to her or call to question my future child rearing plans. She talked about how she didn't understand how people were so blind by their beliefs that they could ignore their family. It was definitely a different reaction than Alba, but I think it's important that all reactions are depicted and that love for family is most important.
JQG: For me, the Miami Latinx family dynamic in Jane the Virgin is SPOT ON. I had the exact same fears as Xiomara when I finally decided to tell my mother about my abortion. The way she talks about her mother dropping hints that she knew when she first started having sex is EXACTLY what my mother was like. I don't come from a particularly religious background, but my mother always had her own relationship with her Catholic upbringing. There was one point in the episode where Alba tells Xiomara she shouldn't have gotten pregnant in the first place so she wouldn't have had to even consider abortion. That rang too true because I feared my mother would react the same way to me, since I had seen her voice her disappointment at "irresponsible" pregnant teens on shows like Maury. I was 20 and in college when I became pregnant, but the fear of a Latinx mother's chancleta is deeply ingrained in me.
DD: Growing up Catholic, in Miami, and in matriarchal family, I relate so much with the family dynamics in Jane the Virgin. I identified with the same fears and concerns Xo had, and it's why I have yet to tell my grandmother about my abortion. My mother and my aunt were very supportive of my decision, and were there for me through the process. However, my grandmother is very Catholic, and much like Alba, she's a loving abuela; but you don't mess with abuelas. Jack is right—in the Latinx community, Alba's comments to Xo about not getting pregnant in the first place, is something I've heard frequently from women of all ages. However, I trust that when the moment comes for me to share my story with my abuela, her love for me will take precedence and, like Alba, she too will come around.
SR: Was there anything that felt off to you in the episode?
JQG: The only thing that threw me was how quickly Xo's mother admitted fault. I feel as if I come from a culture of stubbornness that can take years to resolve, if ever. There are people in my family who have declared they would never speak to their former spouse again, and didn't. Not even on their deathbeds. While I realize it's a show that only has a limited amount of time to resolve issues and is generally light-hearted, the real fear of ostracization, rejection, and disownment from telling family members about your abortion experience is very poignant. It took me two years to say anything to my mother, and I was very lucky that she wasn't upset at all. In fact, she told me that a psychic had given her a heads up on it and that she was expecting big news from me.
[Laughs]
You're laughing and I laughed, but hey, we're Caribbean; superstition is very strong with us!
DD: I was surprised Alba came around in the same episode. I was expecting the tensions between Alba and Xo to last over several episodes, which would depict what we grow up imagining would happen if we were to be real, honest, and vulnerable about our abortion stories. We fear ostracization, rejection, and disownment. I know that doesn't always happen, but sometimes in our families it does—making it a real fear for some of us. Just like these fears are big in real life, they are also strong themes of telenovela culture and in the Latinx community. I grew up in a family full of women; I am certain I'm not the only one who has had an abortion, legal or not, and yet, I'm the only one who shares my story with my loved ones. Due to these very real fears, I have yet to share my story with my own abuela.
I do wish we could have seen a scene of Xo in the clinic speaking to her medical provider to help dispel more myths and educate the audience, and one to show caring and supportive abortion providers. But I liked that it focused on the relationships after the abortion rather than the abortion itself.
SR: Interesting! I think my [conservative, Jehovah's Witness] grandma supports me because she understands what it's like to be in a bad relationship, to be financially insecure, and knows for sure what it's like to be a mom. Despite her conservative views, my grandmother knows the struggles of Latinxs, of women, and can support a person who decides that an abortion is the best option for them.
There is much perseverance and strength in the women in my family. We have all had to make some hard decisions, whether it's leaving the father of your children for a chance at happiness, having an unplanned family at a young age, or having an abortion, those decisions were rightfully ours to make. We have all made the decisions that were best for us, which is a big source of our strength. We had the independence and the autonomy to live our lives. I think, for me and my family at least, being Latinx means there will be many times of disagreement, chaos, argument, and differences, but in the end, we love and support each other no matter what. It's important to see those stories reflected on TV.