Why Women Shouldn't Write Off Golf as a Worthwhile Sport
While golf and I have always had a love-hate relationship, playing competitively in college and professionally empowered me, not just in my athletic pursuits, but in my everyday life—and the sport has the potential to do so for other young feminists as well.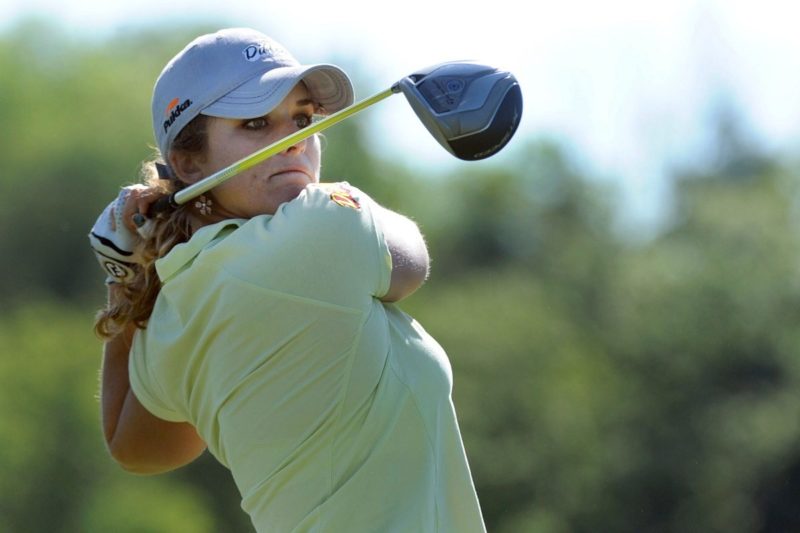 This sport taught me resilience and confidence, which women need in this world that often feels positioned against them. Because golf is stupidly hard, it taught me to remain patient and kind with myself, not to judge myself for the progress I've made in golf and in other aspects of my life. Steve Dykes/Getty Images
When playing a college golf tournament in California, I remember being confronted with a sign on the range that read: "Men not allowed to hit drivers, women permitted to." In theory, the sign was an attempt to keep golfers—those the management thought capable of doing so, anyway—from hitting balls outside the permitted area using clubs called "drivers."
But the range spanned no more than 240 yards. I could easily hit past the edge of it, and so could a couple of my teammates. I grabbed my driver and started pounding golf balls. My fellow female competitors saw me hitting my driver and followed suit.
My rebellion only lasted a minute or so, until my coach asked me to stop. But that moment has stayed with me, as it reflects my feelings about golf as a sport rooted in sexism. However, it's through such unfriendly views toward women that I have found myself in an interesting position: As I've learned more about feminism, I've fought against stereotypes about women's athletic abilities, which has led me to find strength in other parts of my life where boldness was needed. While golf and I have always had a love-hate relationship, I learned important values while playing competitively in college and professionally: one, that if I work hard, I can beat anyone, including men and, two, that the stereotypes regarding female athletes are baseless. This empowered me not just in my athletic pursuits, but in my everyday life—and it has the potential to do so for other young feminists as well.
I recently ran across an article on Jezebel criticizing the notion that women are encouraged to use golf as a way get to ahead in business and life: "Fancy ladies of business: Do you suffer from headaches because you're always accidentally bumping your heads against the glass ceiling? Well, the good news is that there might be away for you to break through it once and for all. The bad news is that the way to do that is by learning how to play golf. Booooooo."
While the article was written in 2013, the dislike of golf among some of my feminist friends is strong. Their main argument tends to be tied to the facts that women were historically banned from playing golf, that male-only clubs still exist, and that sexism is still very prevalent at golf clubs.
I have never denied the historical and current patriarchy inherent in golf. And quite frankly, it seems likely that progress will be slow. Right now, women make up less than 19 percent of the population that plays golf regularly. Women who work in the industry are also scarce: Currently, only 948 of the 23,000 members of the Professional Golf Association of America, the main education course taken to become a golf pro, are female. This divide is exacerbated for golfers of color. According to the National Golf Foundation, Black, Asian, and Latino people comprise only 21 percent of golfers in the United States; Black individuals make up less than one-half of 1 percent of the nation's pros.
I have faced discrimination within my own sport on a regular basis, despite people knowing I played on the Ladies Professional Golf Association, a worldwide tour for the top women competitors. I have received eye rolls when stepping up to play recreationally from the gender-assigned "men's tees," which are much farther back than the women's tees. Men continuously feel the need to challenge me to "duels" with certainty they will win, only to have me beat them.
Still, golf opened doors for me that otherwise I might not have been able to open so easily, like attending college debt-free. Through golf I had the opportunity to attend the University of Washington, a great university, with top professors in a beautiful city. I did not appreciate the fact that I played golf in exchange for tuition, a living stipend, and books until I made friends with students who worked two or three jobs, knowing they would still have to dig themselves out of the hole after graduation.
My older sister also attended college on a golf scholarship, went on to attend law school, and opened her own human rights and immigration law practice, where she now has 12 full-time employees (all women). To this day, she still uses golf as a leverage for her profession by playing with judges and other attorneys who help further her fight for equality. She benefits from golf because so many men in higher positions play, so she has the ability to get direct access to them and build a relationship outside of the courtroom.
Through golf I have also connected with intelligent and driven women, who are business owners, social activists, and all-around kickass. These women have helped me in my current career as a writer and with other projects.
Beyond the professional advantages to learning and playing golf, it's an activity that has promoted my health and wellness. If you choose to walk a course rather than ride in a cart, you'll walk an average of about five miles. Considering that heart disease is the leading cause of death for women in the United States, choosing a sport that is easy on your joints and good for your heart seems like a positive endeavor.
And these benefits can extend to others as well. An important fact often overlooked is that almost 200 female golf scholarships go unused each year for Division I and Division II schools. While the choice of school for someone certainly improves depending on their skill level, there exists an opportunity for young women to receive an athletic scholarship, whether partial or full. Studies have also confirmed that adolescents, particularly young women, who play sports tend to perform better in school and have higher self-esteem. When these young women enter the professional working world after college, having golf as a skill can be an unbelievable asset to network and build relationships, depending on the industry.
However, as previously mentioned, golf can be an unwelcoming sport for girls and women, particularly those of color. One study from the research firm Catalyst found that 46 percent of women surveyed felt exclusion from informal networks was one of the biggest impediments to reaching their corporate career goals—in particular, some mentioned feeling excluded from golf events. With this fact at hand, different organizations have started to make efforts to change that.
Wake-Robin Golf Club (WRGC), which bills itself as the "oldest African American women's golf club in the United States," began in 1937 to give Black women a place to play golf when courses were still segregated. Now, WRGC is a registered nonprofit that introduces golf to women of color. Another organization, Black Girls Golf, founded by Tiffany Mack Fitzgerald in 2011, puts on golf clinics and outings for women and girls of color, providing a community for them to learn the sport.
Golf Women Mean Business, founded by Patrina King, holds golf clinics to teach women how to play and provides educational resources to teach women how to use golf as leverage for their careers. Meanwhile, the Executive Women's Golf Association, which boasts more than 12,000 active members in 100 different cities in the U.S. and has had more than 100,000 members since its founding in 1991, connects female professionals to build relationships not just for work, but also friendships.
For younger golfers who may feel limited by the sport's expenses, there exist programs like The First Tee, a junior golf program specifically designed to reach low-income students. The cost to participate ranges from $20 to $100. With more than 1,000 chapters nationwide, The First Tee reached more than four million children in 2015; nearly 40 percent of the participants were female.
Of course, these are small movements in a long journey toward changing the face of golf and the attitudes frequently embedded in it; however, they are steps all the same.
As I continue to look back on what golf has given me, I realize it helped lay the foundation to find fortitude in this world. When men would make gender-qualified statements such as, "You hit it far for a girl," I would reply, "Well, you hit it short for a guy." Having the resolve to respond to statements such as these gave me the realization I had a voice, even in a male-dominated sport.
This sport taught me resilience and confidence, which women need in this world that often feels positioned against them. Because golf is stupidly hard, it taught me to remain patient and kind with myself, not to judge myself for the progress I've made in golf and in other aspects of my life. It gave me an understanding that as long as I continue to apply myself, I will see results, maybe not right away, but they will come with due diligence.
It may seem trivial, and of course women can learn these traits and qualities without golf, but why discourage them from exploring different ways where they can learn that resolve?
Instead of dissuading women from partaking in the sport, why not encourage them to find out for themselves if they like golf? Because in the end, if they do enjoy the sport; if it helps someone go to college debt-free; if it helps open doors for them; if it helps build self-esteem; or helps with their physical health, does it really matter that golf may not have started with women in mind?
In order for progress to take root, women will continue to have to put themselves in places where people have said they don't belong. Whether that means putting ourselves in a board room or on a golf course, we should not be afraid to make our presence known.