Have a Problem With Black-Only Spaces? Get Over It.
As the parade of police killings of Black people continues, Black people have a right to mourn together—and without white people.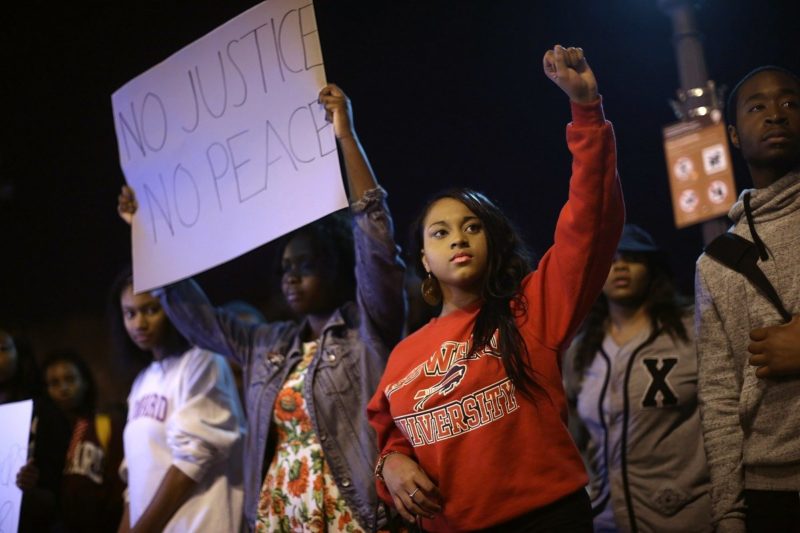 Our communal responses to pain and healing are not about you. And non-Black people can't determine the agenda for Black action—or who gets a seat at our table. Chip Somodevilla/Getty Images
For more anti-racism resources, check out our guide, Racial Justice Is Reproductive Justice.

This piece is published in collaboration with Echoing Ida, a Forward Together project.
Dear Non-Black People:
If you hear about a healing space being organized for Black folks only, don't question or try to be part of that space.
Simply, DON'T.
After again witnessing the recorded killings of Black people by police, I am trying to show up for my family, my community, and victims such as Alton Sterling and Philando Castile. I am tired of injustice and ready for action.
But as a Black trans youth from the Miami-based S.O.U.L. Sisters Leadership Collective told me, "Before taking action, we must create space for healing." With this comment, they led us in the right direction.
Together, this trans young person, my fellow organizers, and I planned a Black-only community healing circle in Miami. We recognized a need for Black people to come together and care for each other. A collective space to heal is better than suffering and grieving alone.
As we began mobilizing people to attend the community circle, our efforts were met with confusion and resistance by white and Latinx people alike. Social media comments questioned why there needed to be a Black-only space and alleged that such an event was "not fair" and exclusionary.
We know the struggle against white supremacy is a multiracial movement and needs all people. So we planned and shared that there would be spaces for non-Black people of color and white people at the same time. We explained that this particular healing circle—and the fight against police violence—must be centered on Blackness.
But there was still blowback. One Facebook commenter wrote,
Segregation and racial separation is not acceptable. Disappointing.
That is straight bullshit.
To be clear, Black-only space is itself acceptable, and there's a difference between Black people choosing to come together and white people systematically excluding others from their institutions and definitions of humanity.
But as I recognize that Black people can't have room to mourn by ourselves without white tears, white shame, white guilt—and, yes, white supremacy—I am angry.
That is what racist laws have often tried to do: control how Black people assemble. Enslaved people were often barred from gathering, unless it was with white consent or for church.
Even today, we see resistance when Black folks come together, for a variety of reasons. Earlier this year, in Nashville, Black Lives Matter activists were forced to move their meeting out of a library because it was a Black-only meeting. Last year, students at the University of Missouri held a series of protests to demand an end to systemic racism and structural racism on their campus. The student group, Concerned Students 1950, called for their own Black-only-healing space, and they too received backlash from their white counterparts and the media.
At our healing circle in Miami, a couple of white people tried to be part of the Black-only space, which was held in another room. One of the white youths came late and asked why she had to be in a different room from Black attendees. I asked her this question: Do you feel like you are treated the same as your Black peers when they walk down the street?
When she answered no, I told her that difference made it important for Black people to connect without white people in the room. We talked about how to engage in political study that can shape how we view—and change—this world.
She understood. It was simple.
I have less compassion for adults who are doing social justice work and who do not understand. If you do not recognize your privilege as a non-Black person, then you need to reassess why you are in this movement.
Are you here to save the world? Do you feel guilty because of what your family may have done in the past or present? Are you marching to show that you are a "good" person?
If you are organizing to shift and shake up white supremacy but can't understand your privilege under this construct, then this movement is not for you.
For the white folk and non-Black people of color who are sincerely fighting the anti-Blackness at the root of most police killings, get your people. Many of them are "progressive" allies with whom I've been in meetings, rallies, or protests. It is time for you to organize actions and events for yourselves to challenge each other on anti-Blackness and identify ways to fight against racial oppression, instead of asking to be in Black-only spaces.
Objecting to a Black-only space is about self-interest and determining who gets to participate. And it shows how little our allies understand that white supremacy gives European-descended people power, privilege, and profit—or that non-Black people of color often also benefit from white supremacy just because they aren't Black in this anti-Black world.
Our critics were using racial privilege to access a space that was not for them or by them. In the way that white supremacy and capitalism are about individualism and racing to the top, they were putting their individual feelings, rights, and power above Black people's rights to fellowship and talk about how racism has affected them.
We deserve Black-only community healing because this is our pain. We are the ones who are most frequently affected by police violence and killings. And we know there is a racial empathy gap, which means that white Americans, in particular, are less likely to feel our pain. And the last thing Black people need right now is to be in a room with people who can't or won't try to comprehend, who make our hurt into a spectacle, or who deny it with their defensiveness.
Our communal responses to that pain and healing are not about you. And non-Black people can't determine the agenda for Black action—or who gets a seat at our table.
To Black folks reading this article, just know that we deserve to come together to cry, be angry, be confused, and be ready to fight without shame, pain, or apologies.
And, actually, we don't need to explain this, any more than we need to explain that Black people are oppressed in this country.