'I'm Not Slow': Black Girls Tell Their Experiences of School 'Pushout' in New Book
If Dr. Monique W. Morris makes anything plain in this book, it's this: Black girls shouldn't have to rely on their own resilience to stay in school.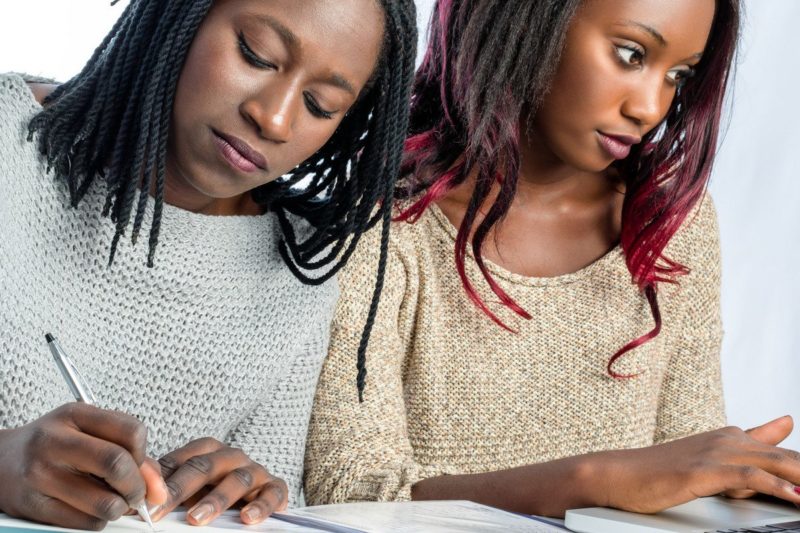 Department of Education statistics from 2011 show that Black girls are six times more likely than white girls to be suspended, even higher than the disparity between Black boys and their white counterparts. Shutterstock
This piece is published in collaboration with Echoing Ida, a Forward Together project.
For Black girls, the very schools charged with educating them reinforce and reproduce a dangerous, though often invisible, form of racial and gendered inequality, explains Dr. Monique W. Morris in her new book, Pushout: The Criminalization of Black Girls in Schools.
Among the young girls the reader meets in Pushout, there's "Mia" (not her real name, as Morris used pseudonyms for all girls interviewed). Mia talked about how a "juvie" teacher assumed that when she asked for other tasks in class, that the girl didn't complete her work. But Mia told Morris that she had raced through the assignment. Said Mia: "Then I'm like, 'Can I write or draw?' Something? I mean, it's a whole hour to go.' She was like, 'No, you can't do anything. You're always getting done before the whole class. You know what, get out.' …. I'm like, 'Because I do my work, I'm actually trying to do my work now, and now you want me to get out? Hella shit.'"
What Mia wanted was positive recognition. Instead, she got written up.
Though Morris did not coin the term, the word "pushout" is an intentional reframing of the word "dropout." It acknowledges that young people leaving school do so for a variety of reasons, many not of their own making. Poverty demands they work. Predatory "boyfriends" induct underage girls into selling sex with promises of love, clothes, and cash. Chaotic schools can make a motivated student dread going to class. LGBTQ teens who don't conform to gender norms get bullied by peers and labeled "distracting" by adults.
The reasons abound, but each year, millions of U.S. students face expulsion or suspension. According to research from the Department of Education Civil Rights Data Collection, seven million of the almost 50 million U.S. students faced in-school or out-of-school suspension in 2011-2012, the most recent year for which data is available. About 130,000 were expelled.
An education scholar and co-founder of the National Black Women's Justice Institute, Morris focuses on implicit bias—a term from experimental psychology for the unconscious ideas that influence how we think and interact. Implicit bias can affect when police officers shoot, how managers making hiring decisions, and as Morris demonstrates with devastating clarity, when educators suspend students.
Teachers and administrators often bring racialized and gendered assumptions about what it means to be a "good" girl to the classroom, Morris explains in her book. Notions of appropriate girlhood—nonsexualized though heterosexual, compliant, and quiet—are often the opposite of historical stereotypes that have cast Black girls as sexually precocious, uncooperative, and disrespectful. If a person believes the idea that every Black girl is a Jezebel-in-training or hates school, it's hard for them to see beyond that.
And, in many cases, affected girls understand this.
Largely absent throughout much of Pushout are Black girls' parents or guardians. Morris departs from the long tradition of punditry and social science that churns out study after study about what's "wrong" with this mythical, monolithic, and immutable Black family. It's a refreshing absence that will make some readers ask about parental involvement. That's a fair question—but an easy and familiar default that inevitably veers into talk about personal responsibility without taking structural inequality into account.
Interviewing almost 40 pushed-out girls in urban areas, including Mia, Morris uses their own words to assert that Black girls are worth study, attention, and equity in education.
"Shai" from Chicago noted different responses to her and white peers that she calls "little Suzie": "When little Suzie gets the question wrong, it's like, 'Aww, you got the question wrong.' It's funny." In contrast, when Shai made an error, "it's like, 'Oh, she's slow.' … I get so angry, number one, because I already told them I'm bad at math. Number two, because I'm not slow."
Girls can be tossed from schools for fighting or so-called "status offenses"—actions such as skipping school that are punishable only for a certain class (in this case, minors).
But pushout occurs all too often when Black girls are labeled unruly. They talk too loud and too often, according to a teacher. Maybe a girl is wearing the "wrong" clothes to school (which might have to do as much with fashion, size, gender identity, or access to the right clothes as a desire to thumb a nose at authority). An authority figure says they have an "attitude."
On any given day, girls of all races push boundaries on their way to adulthood. But white girls' behaviors, interviewees said, are seen as temporary actions, not inevitable or part of their identities.
In high school, I too was guilty of these bogus offenses: cursing, wearing my older sisters' too-grown-for-me clothes, occasionally sassing teachers. On the first day of my senior year of high school, my history teacher stopped me at the door and said, "I know you're used to getting A's. But that won't happen in my class." In the subsequent yearlong tug of war, I blatantly ignored his lectures—uninspired regurgitations of the textbook—by reading dusty classroom encyclopedias. He'd ask, "Why don't you listen?" My response: "Why don't you make it interesting?"
I was a "good kid": straight A's and well-rounded, with professional parents and from a neighborhood where more kids were college-bound than not. If I failed, my parents and other teachers at my 99 percent Black high school would cry foul. They expected me to succeed, just as my teacher—who sometimes mused aloud about his dreams to work at a high-performing school—expected me to struggle under his sad, uncreative teaching.
As Morris points out through this book, talking back, simply asking genuine questions, or expecting a teacher to teach can set a girl on a short path to school separation. She could face suspension, expulsion, being moved to an alternative school for troubled youth, house arrest, and even detention or incarceration in juvenile hall (and sometimes adult corrections facilities).
Department of Education statistics from 2011 show that Black girls are six times more likely than white girls to be suspended, even higher than the disparity between Black boys and their white counterparts.
Pushout can have long-term consequences. As Morris points out, many girls struggle to return to school, and others land in the juvenile justice system due to an incident that began in a place of learning. Today, Black girls make up the fastest growing population in the juvenile justice system.
Concerns about Black girls and school discipline have not risen as quickly as the statistics, though groups such as the African American Policy Forum and many Black women scholar-activists are persistently sounding the alarm. Otherwise, it's a quiet crisis silenced by Akeelah and the Bee logic that Black families don't value education and are continually falling down on their most important job: raising well-adjusted, healthy children. Or it's muffled by a comfortable patriarchy that, whenever attention focuses on Black children in education, centers on Black boys like the White House's My Brother's Keeper initiative.
While Morris sounds the alarm that Black girls experience different racial and gender biases, she writes compellingly about the persistence of segregation after legal segregation supposedly ended. There are many segregations described in Pushout: the segregation of higher-performing students from those considered at risk in almost every school in the nation; the separation of "troubled" girls in juvenile facilities; and the concentration of Black and brown children in schools with few whites and few resources. Morris' account raises the question of whether school demographics make a difference in this era of school resegregation. If teachers, administrators, and the broader society is disinterested in schools where students of color predominate, the picture doesn't look much better for Black girls in majority-white schools.
I should note that Pushout largely focuses on urban girls in cities such as Chicago, Milwaukee, and San Francisco. What happens to girls in the rural South? Where there may be one high school in a county, alternative schools are rarely an option; if they are options, they may be in an adjacent county or farther, separating detained youth from their family and support network.
Despite this omission, Pushout pushes us to think about different kinds of personal, professional, and social responsibility. "Implicit bias" may sound like a more benign cousin to racism or "racism light" (and to be clear, implicit bias is not merely about race or gender, and it's not confined to any one race or ethnicity).
If we accept that implicit bias lies at the root of pushout, how do we root out the bias at the levels of the self, the individual teacher, the school, and the educational and criminal justice systems? In a final addendum to the book, Morris points to two models: positive behavioral intervention systems (an approach that many educational institutions use to modify behavior and increase positive feedback) and restorative justice, which stresses communication and healing between the person who committed an offense and those affected. In the right circumstances, each approach can lead to change.
If Morris makes anything plain, it's this: Black girls shouldn't have to rely on their own resilience to stay in school. We need a sophisticated toolbox with multiple programs that doesn't blame low-performing schools for their problems, that invests in Black girls specifically, and that takes aim at implicit bias.
But that's easier said than done. We can spot the people wearing Klan hoods at Trump rallies, but implicit bias is a sneakier opponent that looks like and dresses like us.