Six Months of Fury: Attacks on Planned Parenthood See Sharp Increase After Misinformation Campaign
Since the CMP videos came out this summer, numerous Planned Parenthood clinics have been vandalized or subjected to arson, starting with an attack on a health center in the Chicago suburb of Aurora on the morning of July 19.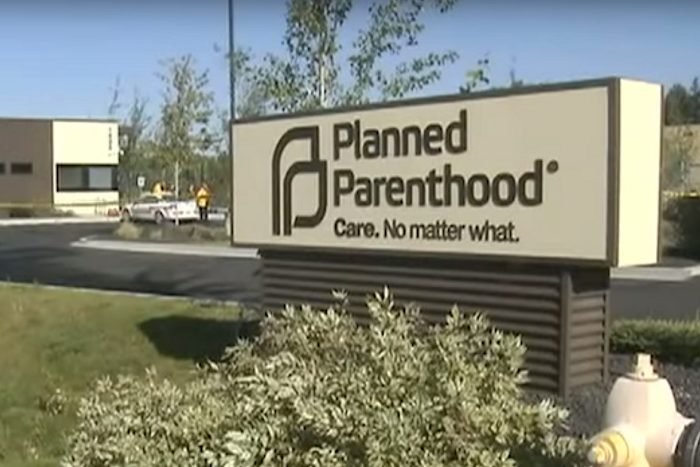 Since the CMP videos came out this summer, numerous Planned Parenthood clinics have been vandalized or subjected to arson, starting with an attack on a health center in the Chicago suburb of Aurora on the morning of July 19. KXLY / YouTube
Read more of our articles on the Colorado Springs Planned Parenthood shooting here.
When 500 anti-choice demonstrators gathered outside the small Planned Parenthood health center in Pullman, Washington, on August 22, locals were taken by surprise at the size of the gathering. Until that day, the Pullman clinic, which enjoys widespread community support, had only ever seen the occasional stray protester or two, and even larger Planned Parenthood facilities in the Greater Washington and North Idaho area had never before witnessed a crowd larger than 100 people.
Demonstrators, who waved signs saying "Planned Parenthood Sells Baby Parts," were responding to a call put out weeks earlier by a coalition of anti-choice organizations urging citizens to take to the streets in a national day of protest against the health-care provider.
The impetus for that call came in July, when the Center for Medical Progress (CMP), an anti-choice front group, began releasing a series of deceptively edited videos purporting to expose Planned Parenthood officials engaging in illicit trafficking of fetal tissue and organs. These videos, and the unethical ways in which the footage was obtained, were quickly discredited, while a federal investigation turned up absolutely zero evidence that the organization broke any laws on fetal tissue donation.
These facts, however, were not enough to deter anti-choice crusaders from capitalizing on the misinformation to drum up opposition towards the health-care provider. A few miles away from the Pullman clinic, in the city of Moscow, the radical evangelical Christ Church evoked some of CMP's falsehoods in order to garner support for the August 22 rally.
Less than two weeks later, on September 4, the Pullman clinic was firebombed. The attack happened in the early hours of the morning when arsonists threw a rock through a front window and then lobbed an explosive into the interior of the health center.
"It lit the entire inside of the building on fire very quickly," Tanya Riordan, vice president of community outreach for Planned Parenthood of Greater Washington and North Idaho, told Rewire in a phone interview. "Every single thing inside the center was destroyed or damaged and 100 percent of the inside of the building has had to be replaced and rebuilt."
Situated in a college community, close to Washington State University, the Pullman clinic is a small operation. It serves about 2,000 patients annually, including many college students who rely on the provider for STI testing, breast and cervical cancer screening, birth control, and pregnancy tests. Financial damage from the arson attack exceeded $500,000, with Planned Parenthood paying $250,000 out of its own pocket.
But the financial burden is only a single piece of a very grim picture. The arson on September 4 was one of many recent violent attacks that culminated last week in the carnage at the Planned Parenthood clinic in Colorado Springs, where Robert Lewis Dear Jr.—who, in interviews with investigators, repeated the same anti-choice rhetoric heard in the CMP videos—allegedly gunned down three people and injured nine others in the deadliest anti-choice attack since the murder of Dr. George Tiller in 2009.
Since the CMP videos came out this summer, numerous Planned Parenthood clinics have been vandalized or subjected to arson, starting with an attack on a health center in the Chicago suburb of Aurora on the morning of July 19.
According to Carole Brite, president and CEO of Planned Parenthood of Illinois, the arsonist poured five gallons of gasoline around the front door and lit it on fire, causing an explosion.
"We were very fortunate that the fire did not breach our front door," Brite told Rewire. "We have security glass in place that really minimized the damage, and we were able to open the next day, Monday, at 8 a.m. like we always do."
She noted that other threats and acts of vandalism have occurred at clinics throughout Illinois, including "impostors trying to gain access to health centers and administrative offices," which staff members prevented.
In August, she said, there was an attempt to hack the Planned Parenthood website, a national platform that hosts every single one of the organization's regional and local websites. While the cyber attack was aborted, it did cause disruption to patient care, Brite said, since many patients now utilize the online appointment scheduling system.
Also in August, firefighters in New Orleans discovered that a car had been set alight at the construction site of a future Planned Parenthood facility, the Guardian reported, adding that police had beefed up security in the area due to an anti-choice protest that took place on that very site a year earlier.
"All summer we saw extremists creating a poisonous environment that feeds domestic terrorism," Brite said. "The videos that came out in July were clearly a smear campaign … and people have latched on to it. We fully believe that this rhetoric has led to an increase in violence, and that violence itself is feeding more of the same."
The Pullman attack happened next, and was followed some weeks later by an act of arson at the Thousand Oaks Planned Parenthood clinic in California, according to a news report in the Los Angeles Times. That facility provides some 7,000 patients annually with a range of services such as cancer screenings, sexually transmitted infection testing and treatment, and birth control.
October also saw a string of attacks, most notably at the Claremont Health Center in New Hampshire, a state the National Journal has referred to as "ground zero" in the legal and political battle to defund Planned Parenthood.
In the first week of August, New Hampshire joined Alabama and Louisiana as the first states to slash funding for the health-care provider, despite the fact that 66 percent of New Hampshire voters opposed the defunding. In 2014, the state led the nation in terms of public support for safe, legal abortions with a 78 percent support rate (compared to the national average of 57 percent) according to the American Values Atlas.
Christopher Sununu, a Republican, cast the deciding vote on August 5 in the executive council to prevent Planned Parenthood of Northern New England from receiving a $639,000 state contract, just weeks before announcing his 2016 gubernatorial bid.
Planned Parenthood of Northern New England's New Hampshire Vice President for Public Policy Jennifer Frizzell told Rewire that the blocking of the contract was a shift from past Republican support in a state which, in the spring of 2015, defeated a legislative bill to defund Planned Parenthood with a strong bipartisan caucus.
A few months after the executive council's decision, in early October, a vandal spray-painted the word "murderer" on the outside of a Planned Parenthood clinic in Claremont, a city of about 13,000 people in Western New Hampshire, the Associated Press reported.
It prompted the Claremont Police Department to keep a close watch on the clinic, conducting additional drive-bys during patrol hours. Thanks in large part to their heightened vigilance, law enforcement officials were able to catch a vandal in the act of severely damaging the inside of the facility on October 21, Frizzell said.
She said the culprit, a juvenile male, spent several hours in the health center with a hatchet, "systematically going from room to room causing extensive damage." Before the cops apprehended him, the youth smashed the water and sewer lines, cut computer and data lines, smashed medical equipment, and spray-painted the walls inside the facility, forcing it to shut down. It eventually reopened on November 30.
The tab for repairs has already run into the "high tens of thousands," Frizzell told Rewire in a phone interview, a price tag that does not even include lost revenue from the six weeks during which the clinic was inoperable, and additional security measures that may need to be implemented to protect it against future attacks. All told, the total cost will "likely exceed six figures," she added.
These heavy financial costs come at a time when Republican lawmakers are doing their utmost to break the spine of Planned Parenthood, which serves an estimated 2.7 million men and women annually. In this timeline, Rewire traces the progression of anti-choice rhetoric from the CMP video smear campaign, through the Colorado shooting, up to last week's Senate decision to defund Planned Parenthood, which would essentially strip the provider of hundreds of millions of dollars in federal assistance that goes toward such preventive services as HIV testing and cancer screenings.
Reproductive health-care providers across the country are united in their belief that CMP's smear campaign, and the subsequent legislative and political attacks on Planned Parenthood—from the federal level down to the local level—are responsible for the surge in violence.
"It's hard not to infer that rhetoric doesn't have consequences, including potentially having connection to the motivation for these attacks," Frizzell said. In fact, following the November 27 shooting in Colorado, Sen. Dianne Feinstein (D-CA) urged her fellow politicians to stop the "poisonous rhetoric" that was creating a climate of terror for "doctors, nurses and patients." Activists and advocates allege that, all across the country, elected officials have fanned the flames of the violent anti-choice movement, creating a hostile environment for those seeking to access or provide reproductive health care.
While fears of more anti-choice terrorism are running high, particularly in the aftermath of the tragedy in Colorado last weekend, patients and providers say the incidents have only strengthened their determination to keep clinics open, and continue to access necessary care. All of the Planned Parenthood staff that spoke with Rewire said that patient numbers, even immediately following the attacks, remained steady—though some, as in the case of the Claremont health center, had to be referred to other locations.
"Despite the unwelcome consequences of funding loss and the extensive damage, these attacks have led to an outpouring of community support," Frizzell said. "The cumulative effect of all these events has motivated many of our supporters to engage at a higher level—be they activists, donors, or our patients, who've all been raising their voices and telling their stories."
In Pullman, Riordan said, community members came out in droves in an overwhelming show of support for the clinic, organizing fundraisers and tacking notes of support to the fences outside the ravaged facility. This past weekend, scores of people took to the streets in a national day of solidarity with Planned Parenthood.
"We realize the intent [of the attacks] is to silence us, drive us away from this work, and limit resources but this only deepens our resolve to continue the work to destigmatize women's health," Riordan stated. "If we do this, it won't be possible for politicians to continue making fanatical and false representations about women's health."