Nearly 9,000 Rhode Islanders Lose Abortion Coverage Thanks to Democratic Governor
Thousands of Rhode Islanders have lost comprehensive abortion coverage through their insurance plans, thanks to a budget bill signed by Democratic Gov. Gina Raimondo in June—and some of them may not be aware of the change.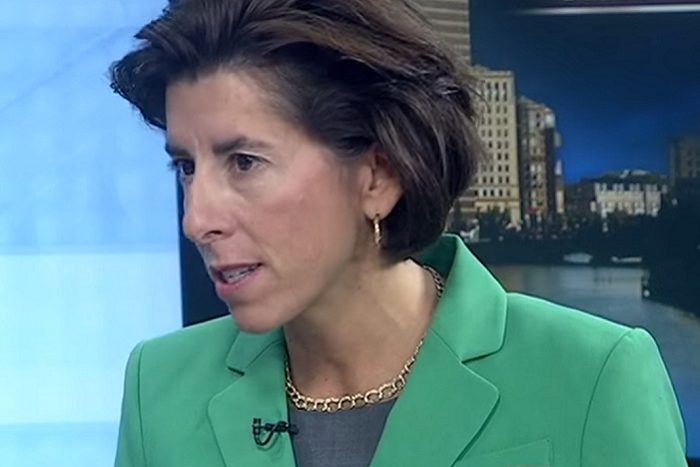 Thousands of Rhode Islanders have lost comprehensive abortion coverage through their insurance plans, thanks to a budget bill signed by Democratic Gov. Gina Raimondo in June—and some of them may not be aware of the change. WPRI / YouTube
Nearly 9,000 Rhode Islanders have lost comprehensive abortion coverage through their insurance plans, thanks to a budget bill signed in June by Democratic Gov. Gina Raimondo—and some of them may not be aware of the change.
Article 18 of the 2016 budget appropriations bill requires health insurers that offer plans on Rhode Island's health insurance exchange to also offer plans that exclude coverage for elective abortions.
As of November 7, according to a press release issued by Rhode Island's health insurance exchange, HealthSource RI, 30,680 individuals had signed up for coverage through the exchange for plan year 2016. Almost all of those people are enrollees whose plans were automatically renewed for next year through a common process called "mapping," by which HealthSource RI either keeps enrollees in their same health plan, or switches them to a comparable one.
Many of these "comparable" plans offer only minimal coverage for abortion—in cases of rape, incest, or if the mother's life is in danger—as required by law. 
Close to 9,000 HealthSource RI customers were automatically re-enrolled in plans that exclude abortion coverage, according to Rhode Island Public Radio.
These customers have until December 23 to switch plans. If they don't, they may not become aware that their plans do not cover elective abortions until they need one.
Customers who lost abortion coverage will be notified by letter, according to Maria Tocco, spokeswoman for HealthSource RI. "We are taking steps to ensure that all customers are being adequately notified," Tocco told RIPR. Whether or not customers receive such notification remains to be seen.
The provision in the appropriations bill that led to this change represents the first anti-choice legislation passed in Rhode Island in more than 15 years, according to the ACLU of Rhode Island. And it happened with the approval of a Democratic governor who had been widely supported by two pro-choice political action committees, Planned Parenthood Votes! Rhode Island and EMILY's List.
The new provision allows non-religious employers that offer insurance plans from the exchange to their employees to select a plan from that excludes abortion coverage. Employees of non-religious organizations will still have access to plans that include abortion coverage, but they must make their employer aware that they want such a plan, and they must pay for the abortion coverage out-of-pocket.
Abortion rights activists have pointed out that there are problems with the law. First, it essentially allows employers to choose the level of reproductive health care their employees may obtain. 
Second, the law may open up employees to discrimination. Because an employee who wants a health insurance plan that covers abortion must inform their employer, there's nothing to stop employers from terminating those workers on the basis of their reproductive health-care choices. "Opting out of the employer's health plan may serve as a signal to employers that the employee is pro-choice," wrote Steve Ahlquist at the progressive political blog RIFuture. "This may have an effect on a woman's ability to secure raises, promotions, or other workplace benefits if an employer chooses to act on this assumption in a biased or bigoted manner."
The new law was the result of a settlement in Doe v. Burwell, a suit filed by anti-choice advocates at Alliance Defending Freedom (ADF) on behalf of a plaintiff who chose to remain anonymous due to his HIV-positive status, according to the complaint.
In Doe v. Burwell, John Doe sued HealthSource RI and the Obama administration, alleging that Rhode Island's failure to offer health insurance plans that exclude coverage for abortion violated his religious freedom rights under the state and federal constitutions, as well as the state and federal Religious Freedom Restoration Acts.

With the passage of the Affordable Care Act in 2010, and the subsequent establishment of the health insurance exchanges, abortion has remained a sticky issue in the states. Abortion foes have objected that individuals should not be forced to pay into health insurance plans that cover the procedure. In order to appease them, federal law mandates that by 2017, every state that has set up an insurance marketplace under the ACA must offer at least one plan that excludes abortion coverage except in cases of rape, incest, or when the mother's life is in danger.
For John Doe, however, 2017 wasn't soon enough.
In his lawsuit filed in January of this year, Doe alleged that his religious beliefs preclude him from contributing to a health insurance plan that includes abortion coverage. He further alleged that because of his HIV status, he is in critical need of health insurance and could not wait until 2017 to buy into a plan that excluded coverage for abortion.
In response to the lawsuit, the state sprang into action.
Rhode Island enrolled Doe in a special plan that excluded coverage for abortion. The state also paid Doe's monthly premiums for the period of time during which he would have purchased a health insurance plan if not for the fact that by doing so, he would be contributing money to plans that offer abortion coverage thus violating his religious convictions. The state also agreed to dismiss the hefty fines Doe would have been required to pay under Obamacare's hotly contested individual mandate provision since he failed to purchase health insurance coverage during the enrollment period. (In 2012, the U.S. Supreme Court upheld the ACA's individual mandate provision as constitutional.) 
In addition, Rhode Island moved quickly to make sure that in 2016, one year before the federal deadline, a health insurance plan excluding elective abortion coverage would be offered at each of the three "metal tier" levels of coverage—bronze, silver, and gold—that HealthSource RI offers. This requirement goes beyond the mandate under the ACA that a state need offer only one insurance plan excluding coverage for elective abortion.
After Rhode Island agreed to accommodate Doe's moral and religious objection to abortion, ADF and Doe withdrew their lawsuit. Ten days later, Raimondo added language restricting access to abortion coverage to Rhode Island's proposed budget. Shortly after that, in June, Raimondo signed the budget deal into law.
Pro-choice advocates have argued that Raimondo's actions in this case conflict with her previous statements on reproductive rights. Raimondo once said that women are "smart enough" to make their own health care decisions without interference from government or their employer, according to the Providence Journal. But, as Ahlquist pointed out, "[l]aws that allow employers to make unilateral decisions about a worker's reproductive healthcare options cut against candidate Raimondo's claim."
"[T]hose who supported Gina Raimondo's bid for Governor of Rhode Island may want to seriously reconsider their support," Ahlquist wrote.