Brewing Hatred: Coors Beer Company Markets to Women, Latinos, LGBTQ Communities as Coors Family Attacks Their Rights
As women, the LGBTQ community, and Latinos gain political and consumer power, Coors and its competitors have scrambled to target these groups. But the family behind the company continues to pump millions of dollars into powerful anti-choice, anti-immigrant organizations.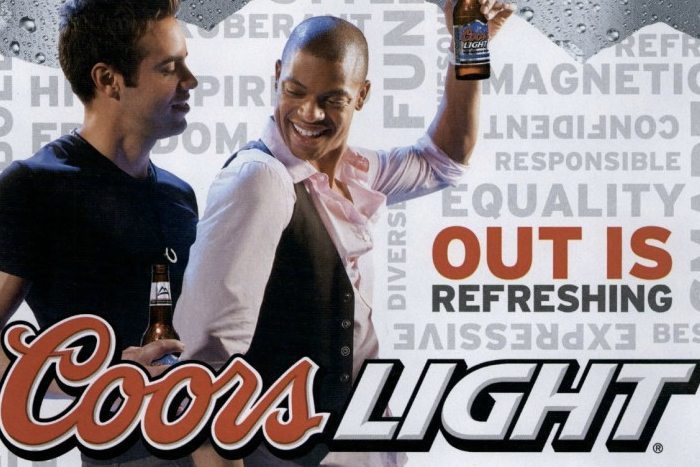 As women, the LGBTQ community, and Latinos gain political and consumer power, Coors and its competitors have scrambled to target these groups. But the family behind the company continues to pump millions of dollars into powerful anti-choice, anti-immigrant organizations. We Know Memes
In a Coors beer ad released in 2011, two men dance suggestively behind the familiar script of the Coors Light logo. One of them, wearing a pink button-down shirt, holds his beer can aloft with one hand and his dancing partner's thigh with the other. A small blue box near the bottom corner boasts that Coors was named by the Human Rights Campaign as one of the best places to work for LGBT Equality. In the center of the page, above the dancing men, Coors boldly proclaims: "Out Is Refreshing."
Coors Light is the second most popular beer in the United States, bringing in more than $2.3 billion of the $101.5 billion beer market in 2014, according to the market research firm IRI. The Coors family is one of America's oldest and largest beer dynasties, and the brewing companies that still bear their name—MillerCoors and Molson Coors—rake in billions each year. (Coors merged with Molson, a popular Canadian brewing company, in 2005, and the two companies created a joint venture called MillerCoors in 2008.) Molson Coors had $4.15 billion in net sales in 2014 alone.
To maintain that success, Coors has recently developed product lines and ad campaigns designed to cater to three key increasingly profitable markets—women, the LGBTQ community, and Latinos. As these groups gain political and consumer power, Coors and its competitors have scrambled to transform beer, once a blue-collar, bro-identified product, into a multicultural cash cow.
But a new Rewire investigation shows that although the Coors marketing messages and company policies have changed, the family behind the company continues to pump millions of dollars into powerful anti-choice, anti-immigrant groups, financing efforts that are directly hostile to the diverse customer base the Coors companies are trying to win over.
Coors Foundational Giving 2009-2014
Conservative groups to which the Coors foundations have contributed at least $50,000 between 2009 and 2014.
Blue denotes anti-immigrant organizations
Red denotes anti-choice organizations
Green denotes anti-LGBT and anti-choice organizations
Orange denotes anti-immigrant and anti-choice organizations
* Individual contributions from Jeffrey Coors and John Coors, not family foundations
| Organization | Total |
| --- | --- |
| Independence Institute | $2,768,403 |
| American Enterprise Institute | $900,000 |
| Heritage Foundation | $800,000 |
| Institute for Justice | $540,000 |
| Pacific Legal Foundation | $510,000 |
| The Becket Fund for Religious Liberty | $380,000 |
| Cato Institute | $375,000 |
| Donors Trust | $372,000 |
| Philanthropy Roundtable | $360,000 |
| Mountain States Legal Foundation | $355,000 |
| Ethics and Public Policy Center | $335,000 |
| Leadership Institute | $335,000 |
| Federalist Society for Law & Public Policy Studies | $270,000 |
| ALEC | $240,000 |
| Institute for American Values | $200,000 |
| Independent Women's Forum | $190,000 |
| State Policy Network | $185,000 |
| Landmark Legal Foundation | $170,000 |
| Reason Foundation | $150,000 |
| Texas Public Policy Foundation | $150,000 |
| Barry Goldwater Institute | $160,000 |
| Property & Environment Research Center | $140,000 |
| Intercollegiate Studies Institute | $130,000 |
| Crisis Pregnancy Centers (CO) | $120,000 |
| Southeastern Legal Foundation | $110,000 |
| Americans for Prosperity Foundation | $100,000 |
| James Madison Institute | $100,000 |
| Media Research Center | $100,000 |
| Competitive Enterprise Institute | $90,000 |
| Young America's Foundation | $90,000 |
| American Studies Center | $80,000 |
| Prometheus Institute | $80,000 |
| Institute for Energy Research | $75,000 |
| Heartland Institute | $70,000 |
| Center for American Values | $65,000 |
| National Center for Public Policy Research | $60,000 |
| Cascade Policy Institute | $55,000 |
| National Catholic Bioethics Center | $55,000 |
| Commonwealth Foundation for Public Policy Alternatives | $50,000 |
| Women Speak Out PAC (SBA List) | * $50,000 |
| Center for Equal Opportunity | $50,000 |
| Foundation for Government Accountability | $50,000 |
| Independent Institute | $50,000 |
| National Center for Policy Analysis | $50,000 |
The Coors family foundations have contributed at least $12.5 million to conservative organizations in the past six years alone, making the Coors one of the most formidable right-wing donor families on the national stage today.
Much of the family's money is channeled through two private foundations: the Adolph Coors Foundation (founded in 1975) and the Castle Rock Foundation, which merged with the Adolph Coors Foundation in 2011. The foundations gave approximately $36.8 million total in grants in the past six years, meaning their conservative spending made up at least a third of their overall giving.
According to Kellie McElhaney, founding director of the Center for Responsible Business at the University of California, Berkeley's Haas School of Business, the public messaging from the Coors companies is in clear conflict with the private giving of the Coors family members.
"If the company is truly investing in women and minorities, which is going to cost the company money as an investment strategy, and the [Adolph Coors] Foundation is investing in things that appear counter to supporting women and minorities, then that's a conflict," she told Rewire. "You can't invest in women and minorities on the one hand, and do anything that appears to be divesting from women and minorities on the other hand."
The Coors beer companies and the Coors family say there is no conflict—because they operate separately. The family foundation's website reads, "The Adolph Coors Foundation is a family foundation and not connected in any way to the brewery."
And a spokesperson for Molson Coors echoed that message in an email to Rewire.
"We respect the rights of the family members or their foundations to choose their own political affiliations and activities," the spokesperson said. "However, their contributions are their own and are not connected to the activities of the company. The culture at Molson Coors is based on respect, integrity and diversity."
Rewire did not receive a response to our questions from MillerCoors, the other major Coors brewery. The Adolph Coors Foundation declined to comment.
Despite this asserted independence, public records show that Coors family members—including those who control the family's charitable foundations—retain substantial ownership and control of the for-profit companies that carry their name.
Marcel Kahan, a professor of corporate law at NYU Law School, reviewed the most recent Molson Coors proxy filing for Rewire. He estimated that Coors family members and their entities own about 27 million of the total shares outstanding, or approximately 15 to 20 percent of the total votes in the company.
"They clearly are the most powerful single shareholders here," he told Rewire. "They have significant influence because they are the directors, and they are the largest shareholders."
In addition to owning large chunks of the Coors companies, Coors family members are involved in both the company and the foundation at leadership levels.
While some family members work at the companies, and others serve on the foundation, Peter H. Coors and William Coors hold senior positions at both. Peter H. Coors is the chairman of the MillerCoors Board, the vice-chairman of the Molson Coors Board, and the president and chairman of the Adolph Coors Foundation, according to 2014 tax filings. (A spokesperson for Molson Coors told Rewire that although Peter H. Coors fills these roles on the Adolph Coors Foundation board, John Jackson, a Colorado native and former consultant, actually leads the foundation. Tax filings list Jackson as the executive director/secretary of the foundation.) William Coors sits on the board of the Adolph Coors Foundation and is a director emeritus of Molson Coors, a position through which he provides consulting and advisory services, according to a 2015 proxy filing.
Four other Coors family members are on the board of the Adolph Coors Foundation, including Jeffrey Coors, CEO of Graphic Packaging Company, a major supplier of packaging for Molson Coors and MillerCoors.
At least three Coors family members—Christi Coors-Ficeli, Peter J. Coors, and David Coors—are currently employed by the brewing companies. All three are the children of Peter H. Coors (the chairman of the Adolph Coors Foundation) and the siblings of Melissa Coors Osborn, another family foundation member.
These ties undermine the claims that the company and the family are unconnected, said McElhaney, of the Haas Business School.
"There's no question that optically, the family is very inter-linked with the actual company itself, particularly because it's a family-owned company," she said.
A Model Corporate Citizen
Just as the nation's political parties have been forced to reckon with America's shifting demographics, the nation's major beer companies now have to appeal to the same groups if they want to stay profitable.
"We and our US joint venture with SABMiller—MillerCoors—have increased our marketing to both women and minorities in recent years because they represent key consumer groups that will help drive the future growth of the beer industry," Molson Coors spokesperson Colin Wheeler said in an email.
The increasing buying power of Latinos, women, and the LGBTQ community offers potentially major windfalls for beer companies. With nearly 33 million people of legal drinking age, and an estimated $1.5 trillion in buying power in the United States, Latinos represent a market that has until recently been underserved by mainstream brewers. According to the U.S. Census Bureau, Latinos are a relatively young and growing population; by 2045, they will make up 25 percent of the population of legal drinkers in the country. The preferred adult beverage of the Latino population is beer, as noted in a recent report from the research firm Technomic.
In 2014, the U.S. LGBTQ community's buying power was an estimated $884 billion and rising, according to Witeck Communications.
Women also have growing purchasing power, controlling $5 to $15 trillion in annual consumer spending in the United States, as reported by Nielsen. But as a group, they currently make up only one-fifth of the beer drinking population around the world.
In light of these numbers, Coors and its competitors have devoted themselves to a straightforward, and exceptionally profitable, goal: Get women, Latinos, and gay people to drink more beer.
The goal has spurred new marketing strategies by the major players in the beer industry. In 2008, one such competitor, Anheuser-Busch, introduced Budweiser Chelada, a version of the "michelada," a popular Mexican drink that combines beer, tomato juice, lime, and spices. A press release promised, "The beers also pair well with traditional Latino dishes such as ceviche, chicken enchiladas and tamales."
Molson Coors also launched its own special beer lines targeting these new demographics.
In 2011, Molson Coors released a beer in the UK specifically for women, called Animée (French for "lively"). Based on almost three years of research about what women want, the beer was sparkling, pink, and advertised as "bloat resistant."
Melissa Cole, a beer critic for the Guardian, wrote at the time: "Despite having some pretty pictures of hops on the bottle, if anyone can identify anything even approaching a normal beer flavour in any of these drinks I'll eat my hat." The brand was taken off the market 12 months after it was released.
Although that particular strategy failed, the company was undeterred from its fundamental goal of getting more women to drink Coors beer.
"Animée was only one part of our plan to attract more female drinkers to beer, and attracting female drinkers remains a priority to get the category back into growth," a spokesperson told Marketing Week when the brand was pulled.
Coors' attempts to win Latino consumers have met with more success. In 2014, MillerCoors released the Coors Light Summer Brew, a citrus-flavored beer specifically targeting Latino drinkers. Coors also started including bilingual packaging on Miller Lite and Coors Light brands and running Spanish-language beer ads.
The company's efforts have gone well past marketing, to encompass a range of real-world corporate policies and efforts directed at these three key groups. 
Coors extended benefits to same-sex couples long before equal marriage was legal, and supports trans employees wishing to transition, both with medical care and paid time off. MillerCoors is a corporate partner of the National Gay and Lesbian Chamber of Commerce, sponsors Pride parades around the country, and was the first national sponsor of the Matthew Shepard Foundation, according to its website. Earlier this year MillerCoors chairman Peter H. Coors backed out of an event hosted by an anti-gay organization.
In recognition of the company's work, the Human Rights Campaign has awarded MillerCoors a "100" rating in their Corporate Equality Index ten years in a row. EDGE Media, a network of LGBTQ publications, called Coors a "model corporate citizen."
The Coors companies have donated thousands of dollars to Latino community groups, including the Coors Hispanic Employment Network, a nonprofit based in Golden, Colorado that works to "support Hispanics in career development and employment opportunities." Another program, called "Coors Lite Líderes," provides grants, networking events, and online resources "to help up-and-coming Latino leaders to go further." Each year the organization awards a $25,000 grant to a leader and his or her project, which must benefit the Latino community.
The Coors companies have introduced gender-inclusive workplace policies, as well.
In 2009, Molson Coors launched the Violet Initiative, a task force led by senior women in the company to increase the number of women ready to move into leadership positions and to make Molson Coors a desirable place for top-level women in the industry.
According to an annual report, the company introduced "flexible work arrangements" in 2010 to encourage work-life balance. MillerCoors has its own program to cultivate female leaders, including an annual Women's Development and Networking Summit for women across the beer industry.
In a video, MillerCoors lays out its gender-related goals for the next five years. In 2014, 28 percent of managers were women, it explains; by 2020, the company hopes to have 34 percent of managers be women.
"This is a got-to-do if we're going to be successful as a corporation now," Scott Whitley, the president of the company, says in the video. "I think with the strong pipeline of talent we have among our female employees, we have a great opportunity. We've got to make sure we're removing the obstacles and the challenges that might get in the way of people realizing their aspirations."
"Learn to Speak English"
At the same time as the Coors companies are prioritizing outreach to women and Latinos, the Coors family is funding some of the most influential anti-choice, anti-immigrant organizations in the country.
The family's support for right-wing causes is longstanding.
In 1973, Joseph Coors helped establish the Heritage Foundation, one of the nation's most famous right-wing think tanks, which has taken credit for many of George W. Bush's policies. Around the same time, the Coors family helped establish and fund the Free Congress Foundation, a conservative think tank that used anti-gay organizing to build political power for the Christian right.
And the family's politics were squarely reflected in company policies.
Throughout the '70s and '80s, a broad coalition of unions, members of the gay and lesbian community, and immigrant rights activists boycotted the company because of its low wages and discriminatory hiring. Consumers, activists, and the press summarized these practices in a single menacing symbol: the Coors polygraph test.
"Prior to my employment, I was required to submit to a polygraph (lie detector) test," David Sickler, an organizer of a 1977 brewers strike, said in a sworn affidavit. "Have you had sex with one or more persons?" Sickler recalled being asked. "What kind of sex?"
"I felt degraded, humiliated, and angry at this unwarranted invasion of my privacy," Sickler said.
Other employees remembered similar questions. "What is your sex preference?" one recalled. "Have you ever done anything with your wife that could be considered immoral?" "Did you have relations with your wife last night?"
Many of the questions danced around one fundamental concern: "Are you a homosexual?"
The polygraph tests, which were used to screen job applicants in a company that had more than 10,000 workers by the time the practice stopped, were deployed to intimidate non-white applicants as well.
In a sworn affidavit from 1977, Frank Abeyta spoke about the multiple polygraph tests he was forced to take as a prospective employee because, he suspected, the company could not believe he had no criminal record as a Chicano man.
"I feel that this whole month of harassment was unnecessary and I was subjected to it because I am a Chicano and they were trying to discourage me from seeking employment with their Company," he said.
The polygraph tests helped fuel the boycotts. While they raged, the Coors family foundations continued to support religious-right groups like the Institute for American Values, an organization dedicated to the values of heterosexual marriage, thrift, and anti-gambling; the Moral Majority, Jerry Falwell's conservative Christian organization; and Intercessors for America, a Christian fundamentalist group that focuses on prayer and fasting to end abortion and the "gay agenda," among other things.
The AFL-CIO boycott ended in the late 1980s, after the company agreed to remove some obstacles to union organizing, but the family's conservative spending continued, along with generalized pushback from other groups. Throughout the 2000s, the Castle Rock Foundation continued to support political positions that were increasingly opposed to the companies' public relations messages and internal policies.
According to Allyson Brantley, a PhD student at Yale writing her dissertation on the Coors boycott, the first significant public break between the political stance of the company and the family came in 2004, when Peter H. Coors, then 58, ran for Colorado Senate. As a candidate, Coors opposed abortion without exception, defined marriage as a union between a man and a woman, and supported Bush's war in Iraq.
Brantley says that the senate run represents a turning point, because for the first time, the company sought to distance itself publicly from members of the Coors family.
"The company was very explicit about how they were unconnected from Peter Coors and his senate run," Brantley told Rewire. "Although, the family was always involved in the money of the company and also the operations of it. It was hard to know where one ended and one began."
Another turning point came in 2009, when the Adolph Coors Foundation appears to have shed any reticence caused by the controversies of prior decades, and began once again to aggressively fund national conservative organizations, according to Rewire's analysis of tax filings and other public documents.
Since then, the family has become one of the major funders behind some of the right's marquee battles in the culture wars, including the fight against the Affordable Care Act's birth control benefit.
Between 2009 and 2014, the Coors family foundations contributed $380,000 to the Becket Fund for Religious Liberty, the nonprofit law firm that masterminded many of the challenges to the Affordable Care Act. That represents around 2 percent of the overall giving to the Becket Fund—one of the nation's largest right-wing nonprofit groups—during that time, according to Rewire's research.
The Becket Fund's most famous client is Hobby Lobby, the arts and crafts supplies store that brought its objections to insurance coverage for contraception to the U.S. Supreme Court last year, and won. The Becket Fund has also represented other religiously affiliated nonprofits, such as Wheaton College, in an effort to eliminate insurance coverage for birth control for employees of religious institutions.
The Coors family, though, did not have just one horse in the anti-birth control race. Between 2009 and 2014, the family foundations also contributed $335,000 to the Ethics and Public Policy Center, a neoconservative group dedicated to "applying the Judeo-Christian moral tradition to critical issues of public policy." The center filed an amicus brief in the Hobby Lobby case as well, arguing that for-profit corporations can exercise religious freedom, and therefore deny their employees access to birth control.
Molson Coors told Rewire that although the company's health-care benefits vary by country, most employees have health care that provides birth control benefits and covers abortion.
The Coors family has also contributed thousands to right-wing women's groups that seek, among other things, to eliminate legal abortion. In 2014, Jeffrey Coors and John Coors each gave $25,000 to Women Speak Out PAC, the super PAC arm of the anti-choice Susan B. Anthony List. The group's stated goal is to "reduce and ultimately end abortion."
Between 2009 and 2014, the family foundations also gave $190,000 to the Independent Women's Forum, which the New York Times editorial board described as "a right-wing public policy group that provides pseudofeminist support for extreme positions that are in fact dangerous to women." The IWF sent a spokesperson to testify against gun control laws in the aftermath of the shooting at Newtown, Connecticut's Sandy Hook Elementary School, claiming "guns make women safer"; opposed the Violence Against Women Act, arguing that it has been a source of "waste, fraud, and abuse of taxpayer resources"; and defended Rush Limbaugh when he called a college student a "prostitute" and a "slut" for her support of the birth control benefit.
In addition to funding anti-choice political groups, between 2009 and 2014, the Adolph Coors Foundation contributed nearly $120,000 to crisis pregnancy centers (CPCs), many located in the Coors' home state of Colorado. CPCs are anti-choice facilities that try to persuade women not to get abortions, often by claiming that abortion causes breast cancer or sterility (it doesn't). CPCs tend to use deceptive advertising to trick women into thinking they may be able to get an abortion if they make an appointment.
And, as much as Coors marketing spokespeople tout the benefits of bilingual advertising and scholarships for Hispanic students, the Coors family has a very different idea about how to spend the profits reaped from such careful multicultural advertising.
Between 2010 and 2011, the Castle Rock Foundation contributed $50,000 to the Center for Equal Opportunity, a small conservative think tank fiercely opposed to bilingual education. In testimony before the House Judiciary committee, the president of the Center for Equal Opportunity said that to achieve assimilation, there are "ten basic principles" to which all Americans must subscribe. They included "learn to speak English"; "don't have children out of wedlock"; "don't demand anything because of your race, ethnicity, or sex"; and "don't hold historical grudges."
From 2009 to 2014, the Coors family foundations also contributed $800,000 to the Heritage Foundation, the conservative think tank founded by Joseph Coors, which in recent years has become increasingly hostile to immigration. In 2013, a Heritage senior policy analyst named Dr. Jason Richwine wrote a study that argued against amnesty for undocumented immigrants. Dr. Richwine was subsequently fired when reporters discovered that he had written a dissertation arguing that Hispanic immigrants had I.Q.s that were "substantially lower than that of the white native population," something he said should be taken into account when drafting immigration policy.
Between 2011 and 2014, the Coors family foundations contributed $60,000 to the National Center for Public Policy Research, another conservative think tank devoted to a white vision of America. In 2012, the group announced the creation of a "Voter Identification Task Force," to push forward voter ID laws, which disproportionately affect Black and Latino voters. And between 2009 and 2014, the Coors gave $510,000 to the Pacific Legal Foundation, which has fought against bilingual education and state tuition rates for undocumented students in California.
"California taxpayers should not be forced to subsidize the post-secondary education of adult illegal aliens," the Pacific Legal Foundation wrote in an amicus brief.
The individual family members also have a long track record of contributing to anti-choice politicians, according to federal election commission records. Between 2008 and 2015, they gave at least $57,000 to Mike Coffman, a Colorado congressman who opposes abortion including in cases of rape or incest, and between 2005 and 2015, they gave $50,700 to Scott Tipton, another anti-choice Colorado congressman.
Though the family hasn't publicly stated which Republican they'll be supporting in the election season, Peter H. Coors gave $5,000 to the Right to Rise PAC, connected to Jeb Bush, in February. Last month, Bush told the Southern Baptist Convention in Nashville, "I'm not sure we need half a billion dollars for women's health issues."
To be sure, not all of the family's spending has a political bent: Between 2009 and 2014, the Coors foundations gave approximately $19 million to various community organizations, schools, and nonprofits.
But when it comes to supporting groups that undercut the inclusive stance of the Coors companies, the Coors family seems to maintain a position that was most clearly articulated by Peter H. Coors in 2004, when he was asked about Coors' pro-LGBTQ practices.
That's "just good business, separate from politics," he said.
Sharona Coutts contributed to this report. Follow her on twitter: @sharonacoutts
CORRECTION: Due to a copy-editing error, a version of this piece incorrectly noted the location of Newtown. The piece has been updated to correct this.