Fracking Titans Spend Millions Proselytizing School Children
Conservative radio host Dennis Prager's eponymous website seeks to insert religious and political right-wing propaganda directly into schools, and he has the generous backing of two of the richest men in the United States—Dan and Farris Wilks.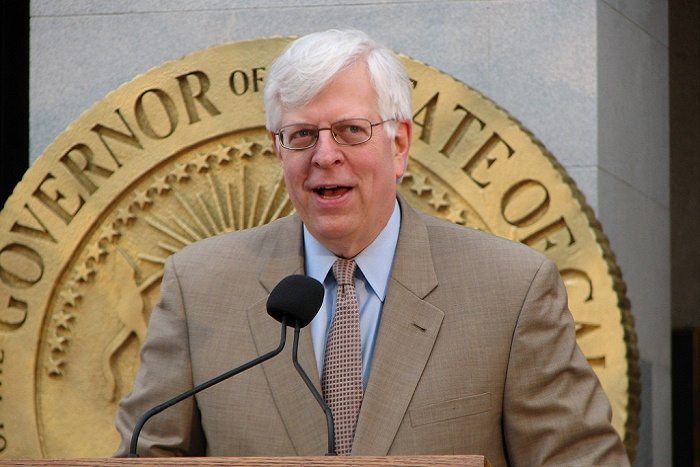 Dennis Prager Lon R. Fong/ Flickr
For more than 30 years, Dennis Prager has been a conservative radio host and author. His broadcasts air three hours a day, five days a week across the country, beating the conservative drums against what he sees as a host of "liberal" evils—marriage equality, feminism, and multiculturalism. He has called campus rape culture a "gargantuan lie to get votes" promoted by the "feminist left."
More recently, Prager has developed an ingenious method of getting his conservative opinions to a new kind of audience, one harder to reach via traditional media channels.
Starting in 2011, Prager founded Prager University, an online resource that produces short videos on Prager's favorite extremist tropes. While the program claims it is directed toward all students, including those at college, many of the videos are clearly aimed at middle school and high school children, including those attending public schools. The website is not accredited as an academic institution, nor does it offer certifications or diplomas. Instead, courses are offered for free in the form of five-minute animated video lectures. PragerU was started with the intent to promote Prager's version of Judeo-Christian values and combat the "liberal bias" conservatives believe is so prevalent in America's education system.
The website covers a variety of topics from economics to philosophy with some of the "world's best thinkers." PragerU also supplies religious material, from videos about Genesis to a series on Bible passages.
One video features Tammy Bruce, a Los Angeles-based conservative radio host who contributed a political science course, Feminism 2.0, in which she reminds students that women have men to thank for feminist progress.
"It is easy for feminists to forget this, but it was men who gave up their monopoly on political power and gave women the right to vote," Bruce says in the video. "Men who invented birth control, the refrigerator, the washing machine, and so many other devices that liberated women."
In recent years, the religious right has worked assiduously to erode the separation of church and state that has traditionally been a cornerstone of American society. Last year's U.S. Supreme Court decision in Hobby Lobby is perhaps the most high-profile example of this effort. In that case, the Court decided that the Constitution allowed private companies to dodge public policy if they claim that policy violates their religion.
But Prager University is noteworthy in two respects: the program seeks to insert right-wing religious and political propaganda into schools by providing content directly to teachers and students; and it has the generous backing of two of the richest men in the United States.
Prager University's largest donors, Dan and Farris Wilks, have spent the last few years using the fortune they made from the fracking boom to fund extreme right-wing causes.
The brothers sold off their Frac Tech shares a few years ago, but they still manage Interstate Explorations, an oil and gas field services company based out of Texas. The two are reportedly worth an estimated $1.4 billion apiece.
Their families reside in Cisco, Texas, where Farris serves as a pastor at Yahweh 7th Day Church, which draws its teachings from both the Old and New Testament. By financing Prager University, the Wilks apparently hope their beliefs will reach a wider, younger, and more impressionable audience.
Prager University declined to respond to Rewire's questions for this article, saying that this is "a very busy time for us and due to time constraints we won't be able to fulfill your request."
PragerU could be encouraging schools to violate the U.S. Constitution, David B. Cruz, professor of law at the University of Southern California's Gould School of Law, told Rewire.
"The basic constitutional principle is that public schools may teach about religion, but they may not teach religion," Cruz said.
"If a school assigns (or gives credit for watching) multiple videos with explicit Christian content, even if there's secular content too, that could lead a court to conclude it has violated the Establishment Clause. Even assigning or giving credit for watching a single video conveying a message that a student watching it should accept Jesus Christ as their personal Lord and Savior, whatever secular content it may also have, would almost certainly be held unconstitutional by a court if the school were sued."
Attempting to Bring Right-Wing Content Directly to Students and Educators
Prager has been vocal about his fears that American children are taking on progressive, modern values.
"It's sad when a parent who believes, for example, in the American Trinity of 'Liberty,' 'In God We Trust,' and 'E Pluribus Unum' has a child who believes that equality trumps liberty, that a secular America is preferable to a God-centered one, and that multiculturalism should replace the unifying American identity," he wrote in 2013 for the National Review.
In a later column he went on to describe different ways in which to raise your child so they won't become a liberal. His first step was to "explain to your children—repeatedly—what America and you stand for." Prager says this sentiment was the reason he started Prager University.
According to its curriculum, PragerU has over 160 courses planned. Topics of instruction include economics, policy, foreign affairs, the left/right divide, government, culture, environmental studies, United States, Constitution, Europe, religion, character and a topic called "male/female," which appears to relate to one of Prager's regular radio segments by the same name. Courses already available cover life studies, religion/philosophy, political science, history, economics, and the Ten Commandments.
At present, there are over 70 courses available for viewing, with an additional course uploaded every Monday. Videos are available for anyone to watch at the Prager University website or on YouTube. The PragerU website allows the viewer to download transcripts for each course. If you register with the site, PragerU will keep track of the courses you have viewed and award you "credit."
Current course offerings have titles such as, Who Are the Racists: Conservatives or Liberals?; The World's Most Persecuted Minority: Christians; Feminism vs. Truth; and War on Boys. Classes listed but not yet available include Abortion and Morality, The Case for Having Children, The Poverty Myth, and The Welfare State and the Selfish Society.
This past year, PragerU embarked on an aggressive marketing campaign to bring more attention to its website. The website uses social media and advertises each new course through YouTube, Facebook, and Twitter. According to its own metrics, the site accumulated over 24 million unique video views last year. The number was 1.6 million in 2013. But social media isn't the only way PragerU is acquiring more viewers and students.
A major priority for PragerU is developing relationships with educators "in college, high school, middle school and homeschools," according to its 2014 annual report. The website launched two partnership programs last year in an attempt to reach young students across the country. With PragerU's Educator Program, educators who sign up receive free study guides and lesson plans to go along with the course videos. Prager University is also partnering up with high school teachers and college professors to bring Prager courses into the classroom through the PragerU Academic Partnership program. With this program, according to PragerU, "educators from California to South Carolina to Australia award their students extra credit for watching PragerU videos." Teachers simply register their class on the website, have their students sign up, and then are able to monitor their student's progress.
So far, more than 3,000 educators have signed up for the Educator Program, with another 200 educators enrolled in the Academic Partnership Program. While Prager University doesn't have a public listing of those enrolled in the Educator Program, it does provide a list of schools and classes participating in its Academic Partnership program. The majority of the schools listed appear to be private Christian schools or home school programs. Out of the 200 schools listed, Rewire was able to identify 14 public schools, from elementary through high school. It is unclear how many of the 3,000 educators using the Educator Program are from public schools.
To learn about their involvement with the program, Rewire attempted to reach out to the public school teachers who were listed as participating educators. Of the two that actually responded, each claimed they hadn't signed their students up for the program and only used the videos sparingly to garner debate. The remaining teachers listed as participants did not respond to Rewire's requests for interviews.
The faculty list includes many well-known conservative talk-show hosts, columnists, professors, and think-tank specialists.
Christina Hoff Sommers from the American Enterprise Institute decries the recent wave of "feminist propaganda" in Feminism vs. Truth. In War on Boys she laments the boy-averse trends prevailing in grade school classrooms.
"As our schools become more feelings centered, more competition-free and more sedentary, they move further away from the needs of boys," Sommers said. Eliminating zero-tolerance policies, bringing back recess, and inspiring the male imagination are just a few reforms Sommers believes would help young boys perform better in school.
Conservative writer and economist, George Gilder has provided three lectures, two about capitalism and the third about what he terms, the Israel Test. According to Gilder, the best way to determine a society's success is its attitude toward Israel. If you admire and try and emulate their success, your own success will follow. "People who resent achievement, who fail the Israel Test, tend to become poor and violent."
In a move that should make Prager's fracking donors happy, the site recently launched a fundraising campaign to support a five-part video series "investigating the truth behind climate change hysteria." The series, according to the site, will attempt to "end the debate between science and sensationalism" in regards to global warming. Another video filed under "political science" is entitled, Why You Should Love Fossil Fuel.
According to the curriculum, there are 16 courses (two series) planned on the subject of religion. Videos currently available include: a ten-part series on the Ten Commandments; Does God Exist? 4 New Arguments; God and Suffering; God vs. Atheism: Which is More Rational?; and Is Evil Rational?
Videos still to be released include:
The Most Important Verse in the Bible
What Would Make You Believe?
The Rational Case for God's Existence: Design
Why Believe?
The Genius of Genesis
Difficult Bible Passages: A Seven-Part Series
Does the Bible Condone Slavery?
Is the Bible Sexist?
Why Are the Jews "Chosen"?
Good, Evil, and God
Recently, the site held a Ten Commandments Student Essay Contest, complete with cash prizes of up to $1,500.
The conservative content goes well beyond religion courses. In a Life Studies course, entitled What Every Graduate Should Know, Prager says:
The ultimate statement of counterculture and individual strength in America today is to take the God of Judaism and Christianity seriously. If you want to be an individual and to be strong, affirm a higher value system that enables you to say no to the prevailing culture. When you know to whom you are accountable and when you march to the beat of that Higher Drummer, you will lead a more peaceful, happy and good life.
This type of supplemental curriculum is perfectly acceptable in homeschools and private schools. Public schools, however, must adhere to the Religion Clauses of the First Amendment.
"Public school officials shouldn't be encouraging students to 'take the God of Judaism and Christianity seriously,'" Daniel Mach, director of the ACLU Program on Freedom and Religion and Belief, recently explained to Rewire. "Those sentiments might well be suitable for Sunday school, but certainly not public school. Decisions about the religious upbringing of children should be left in the hands of parents, not public school officials."
It is unclear how many public school teachers are actually having their students view Prager courses, let alone the videos with religious content. One thing is certain: using this type of material under the guise of extra credit or voluntary participation does not mean the teachers are exempt from the Religion Clauses.
"Making the materials optional does not shield them from First Amendment scrutiny," says Mach. "Of course, it would be even worse if they were mandatory. But the courts have made clear that curricular materials that endorse and encourage religious devotion in public schools are unconstitutional, even if the courses are elective, rather than mandatory."
Fracking Billionaires Give Millions to PragerU
In 2013, at a Pastors and Pews event sponsored by the American Family Association, Dan Wilks had this to say about education: "I just think we have to make people aware, you know, and bring the Bible back into the school, and start teaching our kids at a younger age, and, uh, you know, and focus on the younger generation."
His brother Farris went on to add: "They're being taught the other ideas, the gay agenda, every day out in the world so we have to stand up and explain to them that that's not real, that's not proper, it's not right."
In total, Prager University has received $6,550,000 from the Wilks family. Fifty thousand dollars came from the Heavenly Father's Foundation. Run by Dan Wilks and his wife, Staci, Heavenly Father's Foundation usually limits its contributions to churches and local crisis centers—including a drug and rehabilitation center and one crisis pregnancy center. The rest came from Farris and JoAnn Wilks through the Thirteen Foundation, with $250,000 in 2013 and $6,250,000 approved for future payments.
Prager University is an exempt 501(c)(3) organization, so it is difficult to know who else is funding it because it isn't required to publicly name its donors. The $300,000 from the Wilks in 2013 accounted for a quarter of the public support received by the Prager University Foundation, with its total revenue for the year at $1,198,251. Searching through the 990s of various foundations, Rewire was able to identify additional contributors. The Lynde and Harry Bradley Foundation supplied $215,000 between 2010 and 2013. Other sizeable contributions (greater than $20,000) came from the Robert and Nina Rosenthal Foundation and the Millstein Family Foundation.
Still, the $6,550,000 awarded to Prager University Foundation from the Wilks is almost double what the site took in from public contributions from 2010 and 2013 combined ($3,662,704).
According to recent 990s from the Thirteen Foundation and Heavenly Father's Foundation, the Wilks family has continued to provide millions to their usual anti-choice groups and anti-LGBT organizations. Combined, their foundations contributed $11,325,270; with an additional $21,575,913 scheduled in future payments. A majority of the contributions from the Thirteen Foundation go to extreme religious right groups. Groups such as Online for Life (Media Revolution Ministries), Liberty Counsel, Life Dynamics, Focus on the Family, and the American Family Association have all benefited from the generosity of the Wilks.
The millions awarded to Prager University are a first for the Wilks and further highlight the right's attempt to reform education by reinforcing conservative values in children before they reach college. For years, conservatives have been trying to push legislation regarding the privatization of public schools; whether through expanding charter schools or supplementing voucher programs. Conservatives claim that a free market and "school choice" provide for a superior form of education. It doesn't hurt that a majority of private schools also have a Christian or Catholic affiliation or integrate religion into their curriculum.
Prager once described conservatism as being based on "what is right" rather than "how do I feel?" He went on to explain:
That is why a religious woman who is pregnant but does not wish to be is far less likely to have an abortion than a secular woman in the same circumstances. Her values are higher than her feelings. And that, in a nutshell, is what our culture war is about—Judeo-Christian values versus liberal/leftist feelings.
The religious right seems to believe that the education system is the perfect battlefield to win this "culture war" taking place in America. While conservatives continue to push for privatization, efforts on public schools center around curriculum. Whether by pushing creationism, lowering comprehensive sexual education standards, or refusing Common Core, with resources like Prager University and financial supporters like the Wilks, their efforts have been enormously strengthened.