Colorado Activists Rally Against Personhood USA-Backed Ballot Measure
Abortion rights organizations in Colorado launched a campaign Tuesday opposing a proposed constitutional amendment on the November ballot that would add "unborn human beings" to the state's criminal code.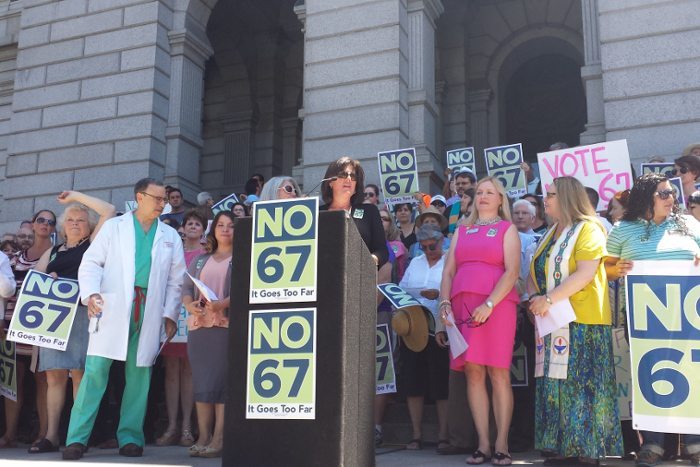 Opponents of Amendment 67 rally at the Colorado State Capitol Monday. Jason Salzman
Abortion rights organizations in Colorado launched a campaign Tuesday opposing a proposed constitutional amendment on the November ballot that would add "unborn human beings" to the state's criminal code.
Speakers at a rally on the west steps of the state capitol warned that the initiative, called Amendment 67, would go much further than allowing prosecutors, for example, to file murder charges against a drunk driver who hits a pregnant woman and terminates her pregnancy without killing her.
Instead, the "deceptive measure" is "truly an attack on family planning and women's health," Vicki Cowart, president of Planned Parenthood of the Rocky Mountains, told the crowd. With "unborn human beings" left undefined, the measure would lead to a ban on all abortion, even in cases of rape or incest, and restrict access to birth control, she said.
"Amendment 67 would do exactly the opposite of protecting women and their babies from drunk drivers," Cowart said.
"Amendment 67 would eliminate a woman's right to make personal and private decisions about her health," said Cristina Aguilar, interim executive director of the Colorado Organization for Latina Opportunity and Reproductive Rights (COLOR), who delivered her speech in both Spanish and English. "For a woman who has suffered a miscarriage, this allows the government to investigate."
"Amendment 67 is, put simply, bad medicine for women and for Colorado," Dr. Ruben Alvero, professor of obstetrics and gynecology at the University of Colorado, told the crowd. "We want to protect pregnant women from harm, but Amendment 67 is not the way."
Before being shuffled off by police to a public sidewalk near the "Vote No 67" rally, backers of Amendment 67 said the warnings about far-reaching impacts of their measure were unfounded.
Similar "fetal homicide" laws in other states have "never led to an abortion ban," Personhood USA spokesperson Keith Mason told Rewire. Personhood USA supports Amendment 67.
"Who looks at Brady and says he wasn't a person?" asks Mason, referring to a fetus killed by a drunk driver who slammed into Heather Surovik two years ago. A photo of Brady is on the campaign materials of backers of Amendment 67, which they refer to as the Brady Amendment.
Colorado law allows abortion throughout pregnancy, and a fetus doesn't receive legal protection under state law prior to birth. A 2013 Colorado law, passed after Surovik's tragic loss of her pregnancy, allows prosecutors to file charges if a pregnancy is terminated due to reckless acts of violence, but murder charges cannot be brought because the fetus is not considered a person under state law.
"Amendment 67 is just about protecting babies like my son Brady," said Surovik, who wants murder charges to be filed in cases like hers.
Asked whether the passage of Amendment 67 could lead to government investigations of miscarriages, Surovik said, "My intent is that babies are protected."
November will be the third time Colorado citizens vote on "personhood" amendments, which were defeated overwhelmingly by voters in 2008 and 2010. Activists fell just short of gathering enough signatures to place a "personhood" amendment on the ballot in 2012.
The 2010 "personhood" measure, like the similarly worded 2008 proposed amendment, would have defined a "person" in the Colorado Constitution as "every human being from the beginning of the biological development of that human being."
This year's ballot question asks if voters want to protect "pregnant women and unborn children by defining 'person' and 'child' in the Colorado criminal code and the Colorado wrongful death act to include unborn human beings."
The presence of Amendment 67 on November's ballot could intensify the election-year debate about abortion and contraception issues.
Already, Sen. Mark Udall has been pounding his opponent, Rep. Cory Gardner, for his previous support of a personhood ballot initiative and for his ongoing co-sponsorship of a federal "personhood" bill.
ProgressNow Colorado Director Amy Runyon-Harms sent an email to Gardner Tuesday, asking him, in light of his decision this year to un-endorse state personhood amendments, to attend the Vote No 67 rally.
You may have read that the NO on Amendment 67 campaign is kicking off their opposition to this year's Personhood abortion ban amendment with a rally at the Capitol today. Can I tell them you'll be joining us?
Runyon-Harms told Rewire she did not hear back from Gardner, who's run TV advertisements emphasizing that he's withdrawn his previous support for "personhood" bans.
In fact, Gardner has not withdrawn his support for the federal "personhood" bill. To do so, Gardner would have to make a brief speech from the floor of the U.S. House of Representatives.
This month, Gardner's spokesperson stated, erroneously, that the federal "personhood" legislation, co-sponsored by Gardner, "simply states that life begins at conception" and does not aim to confer legal protections on fertilized human eggs.