Pennsylvania's 'Revenge Porn' Bill Heads to Governor's Desk
The Pennsylvania Women's Health Caucus is poised to celebrate its first legislative victory: On Wednesday, the state house passed a law criminalizing "revenge porn."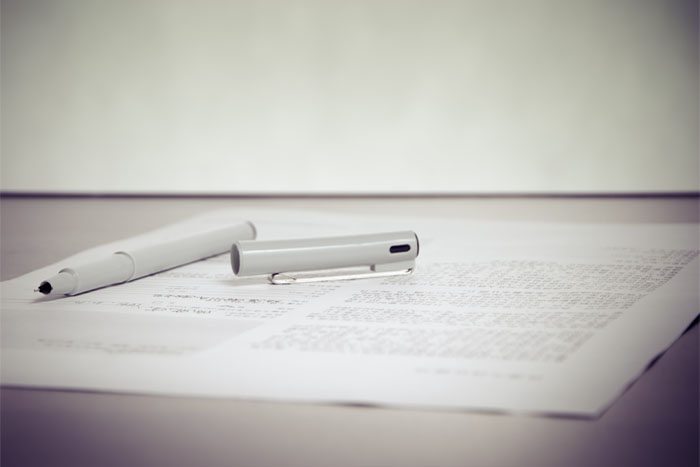 The Pennsylvania Women's Health Caucus is poised to celebrate its first legislative victory: On Wednesday, the state house passed a law criminalizing "revenge porn." Papers desk via Shutterstock
Last year a group of progressive Pennsylvania lawmakers formed the Women's Health Caucus in response to the tidal wave of anti-choice bills rolling through the Pennsylvania legislature and across the country. In December, the caucus introduced a package of bills to pro-actively address women's physical health, financial security, and personal safety, and in June the caucus followed up with a second wave of bills.
Now the Pennsylvania Women's Health Caucus is poised to celebrate its first legislative victory: On Wednesday, the state house passed a law criminalizing the practice commonly known as "revenge porn."
Revenge porn is most often described as the posting of a photograph of another person who is naked or engaged in a sexual act without their approval. The photos are often posted alongside personal information. Sometimes retaliation by a bitter ex is at play. Other times, victims are exposed and humiliated on the Internet after they took photos of themselves and their computers or online accounts were hacked, as was the case with the 24-year-old daughter of anti-revenge porn activist Charlotte Laws.
However the image is obtained, the results can be devastating. According to a survey conducted by the Cyber Civil Rights Initiative, an anti-revenge porn advocacy group, 93 percent of victims say they have experienced "significant emotional distress," and 49 percent say they have been stalked or harassed by people who saw their images. The group notes that 90 percent of revenge porn victims are women.
Revenge porn is an increasingly common problem, and politicians and courts are struggling to address how to appropriately punish its practitioners, called "misery merchants" in a recent article in The Economist:
At least 3,000 porn websites around the world feature the revenge genre, and the number is rising, says John Di Giacomo of Revision Legal, a Michigan-based law firm. Women's charities in Britain and America say more victims are contacting them for help all the time. (Men are occasionally targeted, too.) In Japan the number of cases reported to police more than tripled, to 27,334, between 2008 and 2012.
Pennsylvania's bill, sponsored by Rep. Thomas Murt (R-Montgomery/Philadelphia), amends the state's sexual offenses statute to provide for unlawful dissemination of "intimate image."
"This is a disgraceful practice that must be stopped," Rep. Murt said in a recent statement. "What we are talking about is cyber extortion and cyber humiliation, and it must end."
From the bill:
A person commits the offense of unlawful dissemination of intimate image if, with intent to harass, annoy or alarm a current or former sexual or intimate partner, the person disseminates a visual depiction of the current or former sexual or intimate partner in a state of nudity or engaged in sexual conduct.
In cases where the person depicted is a minor, the assailant will be charged with a misdemeanor of the first degree. If the person is an adult, the charge is a misdemeanor of the second degree.
A person may be convicted of these crimes if either they, or their victim, live in Pennsylvania. The charge does not apply if the person depicted consented disseminating the image.
In January, Rewire reported on a similar initiative introduced in the senate by Sen. Judy Schwank (D-Berks). Murt's now replaces Schwank's bill.
Now that it has passed both the state senate and house, the bill heads to the governor's desk, where Rep. Murt expects it to be signed into law. Once signed, the law will take effect in 60 days.