What Is Going on With Admitting Privileges Legislation in Pennsylvania?
The Pennsylvania Department of Health recently asked Planned Parenthood facilities in the state to submit transfer agreement and admitting privileges information, even though the state currently does not require clinics to have admitting privileges at a nearby hospital. A spokesperson said a department employee was acting on his or her own.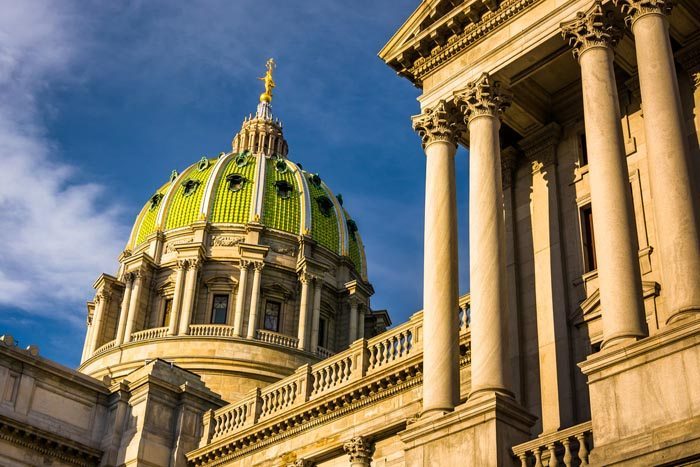 The Pennsylvania State Capitol Pennsylvania Capitol via Shutterstock
Strange things have been happening with the admitting privileges bill being considered in Pennsylvania. First, it's odd that such a bill was introduced in Pennsylvania at all, since state law already requires that all freestanding clinics in the state have transfer agreements with local hospitals. Second, when Rewire reported on the bill in November, the chair of the Pennsylvania House Pro-Life Caucus, of which the bill's sponsors are leaders, refused to reveal the list of its members.
And now, things have gotten stranger.
Last week, the American Family Association of Pennsylvania issued a statement declaring that the admitting privileges bill, HB 1762, had stalled because the Pennsylvania Pro-Life Federation and the Pennsylvania Catholic Conference didn't support the bill, citing fears of going to court.
It's a valid concern. Similar pieces of legislation have been challenged in courts in Alabama, Kansas, Mississippi, Missouri, North Dakota, Texas, and Wisconsin.
But then a spokesperson for the Pennsylvania Catholic Conference told Rewire she was "not familiar" with the American Family Association, and that the Pennsylvania Catholic Conference doesn't oppose admitting privileges legislation.
"I don't know why they feel they can represent our positions," Amy B. Hill, the group's director of communications, said in an email to Rewire.
The Pennsylvania Pro-Life Federation has not returned a request for comment.
Now, over the past few days, all three Planned Parenthood affiliates in the state—which each operate numerous clinics—have been contacted by the state health department, requesting information about admitting privileges.
"One affiliate in particular has been asked to provide information regarding whether or not our physicians have admitting privileges, and where, for multiple health centers," Meghan Erikson Roach, director of policy for Planned Parenthood Pennsylvania and Advocates, told Rewire.
From the fax that the affiliate received from the health department:
Please email a copy of your facilites [sic] transfer agreement with your local hospital… We also need to know if your physicians have priveleges [sic] at any of the local hospitals and the name of the [doctor and] hospital.
Under the state's "Abortion Control Act," all Pennsylvania abortion clinics must maintain transfer agreements at local hospitals. The difference between transfer agreements and admitting privileges is that transfer agreements are between a facility and a hospital, while admitting privileges are between a specific doctor and the hospital. Admitting privileges have no medical benefit, and in Pennsylvania, because all clinics already have transfer agreements, they're also redundant.
The inquiry drew concern from clinic adminstrators; anti-choice politicians around the country have recently been using admitting privileges legislation as a stealth way to close clinics and limit legal abortion access.
The basic strategy goes like this: Anti-choice politicians pass an admitting privileges law, and activists mobilize to threaten hospitals with "negative publicity" if they issue privileges to abortion providers.
This worked in Texas, where a third of clinics shut down after the state's admitting privileges rule was enacted.
Like other anti-choice politicians, Rep. Bryan Cutler (R-Lancaster), sponsor of Pennsylvania's latest admitting privileges bill, has called the proposed requirements "a health issue."
But if doctors having admitting privileges improved women's health, why would "pro-life" advocates urge hospitals not to grant them?
From the Tribune-Democrat:
Mike McGonagle, president of the Pennsylvania Pro-Life Coalition, has calculated that more than half of the abortions in the state are performed by just a handful of doctors.

"Some of them might be able to get admitting privileges," he said. "But not all of them will."
Essentially, anti-choice advocates leverage admitting privileges requirements to shut down abortion clinics by preventing doctors from being able to work. Hospitals sometimes reject doctors because of residency requirements. Doctors don't always live in the state where they practice, especially if, like many people, they work in a city but live in suburbs in another state.
While advocating for admitting privileges legislation, a Pennsylvania anti-choice group published the name of a specific doctor, and noted it would be difficult for her to obtain the proposed license, since she does not live in Pennsylvania.
Finally, to grant privileges, some hospitals require that a doctor bring in a certain number of patients per year. In this case, the fact that abortions so rarely result in complications that require a hospital visit works against the doctor. In this scenario, clinics close for being too safe to qualify for admitting privileges.
So is the admitting privileges bill moving in Pennsylvania? It's unclear. When asked about the request for information from Planned Parenthood facilities, Pennsylvania Department of Health spokesperson Aimee Tysarczyk said the department's "intent was not to ask for physician admitting privileges information."
"An employee proactively [asked] without receiving directive to do so," said Tysarczyk.
Meanwhile, Republican Gov. Tom Corbett faces re-election in the fall. He has been consistently called one of the country's most vulnerable governors, and ranks particularly poorly with female voters in a year that single female voters have been deemed all-important. Letting the bill go to the floor for debate could further damage his reputation among these voters at a politically inexpedient time.
However, advocates pushing for admitting privileges in Pennsylvania are the same groups angry about Corbett's recent decision to not appeal the ruling of a federal judge who overturned Pennsylvania's ban on same-sex marriage, and these voters are a part of Corbett's base.
It seems admitting privileges legislation is a crisis waiting to happen in Pennsylvania, but it is not happening this week.
"We have a great working relationship with the Department of Health and know they share our goal of providing high-quality care to our patients in a safe environment," Planned Parenthood Pennsylvania and Advocates' Meghan Erikson Roach said in a statement. "Planned Parenthood will continue to fight attacks on women's health that undermine our mission, including politically motivated bills like HB 1762, which would require physicians that provide abortions obtain medically unnecessary admitting privileges at a local hospital."