Standing Our Ground: Reproductive Justice for Marissa Alexander
The over-policing and over-criminalization of pregnant women and mothers is becoming a major issue in this country, and the safety of mothers is at stake.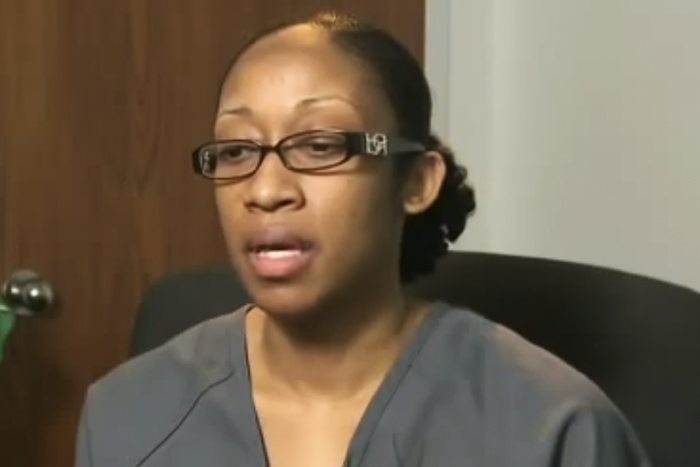 Marissa Alexander CNN / YouTube
Marissa Alexander did not get a chance to see her youngest daughter take her first step. She didn't get a chance to hear her say her first word, or blow out the candles on her first birthday cake. These and many more memories that mothers are excited to photograph or catch on film weren't possible for Alexander because she was living behind bars—all because she fired a warning shot in the air, harming no one, to ward off Rico Gray, her abusive estranged husband and the father of her youngest child.
Each year, approximately 1.5 million women in the United States are raped or physically assaulted by an intimate partner, the National Coalition Against Domestic Violence has found, and of that number, 324,000 were pregnant when the violence occurred. Unfortunately, according to a recent report by the Violence Policy Center, Black women like Alexander experience intimate partner abuse 35 percent more than their white counterparts. Moreover, the Urban Justice Center found that when Black women use deadly force to defend themselves from abusive partners, they are less likely to succeed at using as their defense being a battered spouse, making it more likely they will be convicted and sentenced for homicide.
Gray beat Alexander repeatedly over the course of their relationship, even head-butting her and giving her a black eye while she was pregnant with his child. Her youngest daughter was born premature, and just nine days after Alexander gave birth, Gray attacked her again. This time he strangled her and threatened to have her murdered. It was this incident that led her to defend herself and her family by firing a warning shot upward into the wall. Alexander was arrested and sentenced to 20 years in prison. She was forcibly removed from her children's lives, including her breastfed infant.
According to Barbara Bloom in her testimony before the Little Hoover Commission in 2004, approximately 70 percent of people in women's prisons are mothers, and the majority of them were the primary caretakers of their children before they were sent to prison. The over-policing and over-criminalization of pregnant women and mothers is becoming a major issue in this country, and the safety of mothers is at stake.
From women dealing with substance abuse issues, to women living with HIV and AIDS, to women who are abused, incarceration rates among some of the most marginalized communities are increasing and even more harmful legislation is being enacted, causing more women to lose their freedom and thus lose their parental rights.
Incarcerated mothers are leaving behind children to be cared for by family members who are forced to deal with the emotional and financial strains from the addition to their lives, or these now parentless children are left to be raised by the state. But as the report Children of Incarcerated Parents, prepared by the Council on Crime and Justice, notes, children who have imprisoned parents are more likely to end up in the juvenile justice system and prison themselves, which furthers the dismantling of families across the country.
Unlike many of the women who are serving time, Alexander was given a second chance. Last November, due to national attention resulting from statewide protests to repeal the "stand your ground" law, Alexander was released on bond and granted a retrial.​
Not only has Alexander been granted a second chance, but we as activists are given another opportunity to organize across movements in political solidarity to support her, and to demand an end to violence against women and the over-criminalization of mothers. This is a reproductive justice issue that cannot be ignored.
Alexander's case is the epitome of a reproductive justice issue. It was because of these types of human rights violations, coupled with the ways reproductive oppression continues to be perpetuated in our communities and within racist and sexist legislation, that Black women came together 20 years ago to create a new, more intersectional framework that stretched beyond the narrow focus on legal access and choice to a more broader analysis of racial, economic, cultural, and structural constraints on our power and ability to protect our bodies, our families, and our lives.
Alexander's prosecutor, Angela Corey, has threatened to increase Alexander's sentence from 20 to 60 years if convicted in her retrial. Black pastors in her hometown are encouraging her to take a plea deal as opposed to going to trial. These pressures—along with an understanding of the costs associated with maintaining her freedom and the emotional strain of being isolated from her children, who reside with the person who abused her—are the exact reasons SisterSong and the Free Marissa Now Campaign have partnered to host "Standing Our Ground: Raising Our Voices Against Reproductive Oppression and Violence Against Women" July 25-28 in Jacksonville, Florida.
The weekend will begin with a community-wide "Reproductive Justice 101" training, followed by a full-day institute, where SisterSong's national member organizations as well as activists across social change movements, human rights advocates, academics, and scholars will address the intersections of reproductive justice and the criminal justice system, child welfare system, and the violence against women movement and how race, gender, and sexuality play out in legislation such as the "stand your ground" laws. The weekend will culminate with a march on July 28, the day of Alexander's retrial, to the Duval County Unified Courthouse to stand in solidarity with Alexander and in opposition to the reproductive injustices that this case and legislation has made public.
Alexander's case reminds us of the very reason the reproductive justice framework was needed. It also gives reproductive justice activists an opportunity to lean into the intersectionality of our framework and to take another bold step forward in eradicating reproductive oppression.