Free Market Groups: The Invisible Hand in the 'Hobby Lobby' Case
New research reveals the Hobby Lobby and Conestoga Wood cases are a product of deep coordination between anti-choice and free market groups.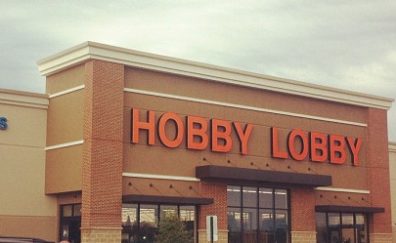 The Hobby Lobby and Conestoga Wood cases will be heard together before the Supreme Court this Tuesday. DerekTGreen/flickr
Read more of our coverage on the Hobby Lobby and Conestoga Wood cases here.
In the world of big lawsuits, they call it "air traffic control": One person, or organization, becomes the point person for recruiting plaintiffs, coordinating multiple legal briefs, and ensuring that everyone submits their filings on time.
And in the landmark case going before the U.S. Supreme Court this Tuesday, challenging the contraception mandate in the Affordable Care Act—the Hobby Lobby and Conestoga Wood cases, which are being heard together—the role of air traffic controller was played by some of the nation's most radical anti-choice and free-market groups on the political right, according to emails obtained by Rewire through public records requests.
The documents consist of emails between dozens of anti-choice and free-market groups, and high-level state employees in Ohio, Michigan, Alabama, and West Virginia. They reveal that the role of air traffic control in the Hobby Lobby and Conestoga litigation was played by the Alliance Defending Freedom, an Arizona-based nonprofit with just over $40 million in assets, according to its most recent auditor's report.
"My name is Anna Hayes, and I'm a legal assistant at Alliance Defending Freedom working with Matt Bowman and Greg Baylor on the HHS Mandate cases," read one email dated August 16, 2013. The "mandate" refers to the health law's requirement that insurance policies cover a range of primary preventive care, including contraception, without a copay. The inclusion of contraception in policies—irrespective of who pays the premiums—is at the center of the Hobby Lobby and Conestoga Supreme Court cases. "Greg asked me to contact you letting you know that he will be coordinating the amicus efforts for the Conestoga Wood case."
Hayes sent her email to senior government staff in three states—Ohio, Alabama, and Michigan—and kick-started a chain of correspondence that culminated in Ohio and Michigan taking the lead in submitting briefs, along with 18 other states, in opposition to the contraception mandate.
The Hobby Lobby case has become one of the most watched on the Supreme Court's calendar this year. It pits conservatives against progressives and the public health community over the Obama administration's signature healthcare law, as well as a range of hot-button issues that span the spectrum of the conservative movement—contraception, whether corporations can be said to have religious rights, and the different rights of nonprofit and for-profit entities.
As a result, groups from diverse political and philosophical backgrounds have weighed in, with many filing what are known as "amicus curiae" briefs, a type of filing submitted by experts in the particular topic being considered by the court. In fact, with 84 such briefs filed, Hobby Lobby has become one of the biggest amicus cases to date.
"There's been an alliance and a symbiotic relationship between the religious right and corporate America," said Stephen Spaulding, policy counsel at Common Cause, a nonpartisan group dedicated to government transparency. "And an amicus strategy is the tactic they're using."
It's not unusual for groups, and even individuals, to submit amicus filings, and indeed, many of the amici briefs filed in the Hobby Lobby case were written in support of the contraception mandate.
What is unusual, however, is for the public to gain an insight into how these efforts are coordinated behind the scenes.
Though not widely known, the Alliance Defending Freedom's influence has grown rapidly in recent years. The group's model is to participate in litigation directly, as well as to give grants to other groups and individuals to pursue other lawsuits. According to the group's most recent tax filings, it made more than $4 million in grants in 2012, supporting litigation and other conservative activities by groups and individuals all over the world.
And the Alliance has also played a key role in corralling the conservative push to defeat Obamacare.
The email from Anna Hayes—the Alliance's legal assistant—was sent to Frederick Nelson, Andrew L. Brasher, and Eric Restuccia, senior officials in the offices of the attorneys general or solicitor general in Ohio, Alabama, and Michigan, respectively.
Nelson—who is the senior advisor and director of major litigation for Ohio's attorney general, Mike DeWine—replied:
Thanks. We had talked with Matt [Bowman] about Ohio and Michigan taking the lead on the cert amicus regarding this issue that we've briefed in a variety of other cases; Eric and I will follow up with Andrew, too, and get a sense as to what his thoughts are as well. We look forward to moving ahead.
By "cert," Nelson was referring to a petition asking the U.S. Supreme Court to hear a case—that type of petition is known as "certoriari," or "cert" for short.
As indicated in that email, Ohio and Michigan did take the lead; the names of those states are at the top of the amicus brief submitted along with 18 other states.
Three months later, Matt Bowman sent another email to Restuccia, suggesting changes to the arguments Michigan had made in its brief.
"Your less-religion-friendly counterparts from California etc filed this brief in support of the government," Bowman wrote on November 4, 2013, referring to the amicus brief filed by California, Massachusetts, and 14 other states. "Perhaps you might tailor some of your state-policy arguments to what these states had to say."
And it wasn't always the Alliance reaching out to state attorneys' offices.
Just a few days after Anna Hayes sent her note to the staffers in Ohio, Alabama, and Michigan, a new member of West Virginia's solicitor general's office wrote to Bowman, asking whether the Alliance could include that state in any "new amicus opportunities."
"Greetings from West Virginia!" wrote Julie Marie Blake, a former corporate lawyer at Baker Botts in Washington, D.C. "I started in the [solicitor general's] office here just this mid-month, after a crazy month of moving and bar study. … I'm working as a law clerk here until my bar admission goes through, hopefully some time in October. (Fingers crossed that I passed the exam + prayers welcome). I hope you have been doing well since I saw you in June."
Blake told Bowman that West Virginia was "really looking to ramp up its amicus practice."
"If you or allied friends ever have cases that need state amicus or party support in the future, please keep the WV [Solicitor General] in mind and reach out to us."
In response, Bowman wrote Blake that the Alliance would "love to work with you on amicus opportunities," but indicated that Ohio and Michigan had already taken the lead on the Hobby Lobby and Conestoga briefs.
Blake replied, "We'll get in touch with them about joining. Please do keep WV in mind for any future briefs you need a state to take the lead on (SCOTUS or otherwise.)"
West Virginia is one of the states that signed the amicus brief filed by Ohio and Michigan.
Blake did not respond to Rewire's questions about her association with the Alliance Defending Freedom, or whether the tone and content of her notes suggested an inappropriate degree of coziness between the state solicitor general, and an outside group.
But Spaulding, from Common Cause, said the nature of the communications raised concerns.
"The solicitor general swore an oath to uphold the Constitution and the rule of law, and from time to time that's going to mean taking amicus interests," he said. "But the public interest always needs to be the first priority, not advancing the interests of third party outside groups, with their own interests and agendas."
It wasn't just states who were included on these emails. Amongst the 72 recipients of a December 9, 2013, email sent by Casey Mattox, a senior counsel at the Alliance, were congressional staffers, including a staffer from Sen. Ted Cruz's office. Other groups with staff on the list were the Texas Justice Foundation, the Heritage Foundation, the Cato Institute, as well as a partner from the international law firm Jones Day.
And the recipients list included James Bopp Jr., a lawyer who was involved with the Citizens United case, as well as with a group called Committee for Truth in Politics, which drew criticism for refusing to file returns with the Federal Elections Commission.
To be sure, the parties who support the contraception mandate would have engaged in similar cooperation and strategic coordination of their briefs in the Hobby Lobby case. Rewire is not suggesting any illegal conduct based on the contents of these documents.
But in light of the high stakes of Tuesday's hearing, there is added interest in knowing who is really involved in generating the arguments that are ostensibly submitted by the states.
"There's clearly a coordinated strategy going on," said Spaulding. "This is a Supreme Court that found that corporations are apparently entitled to spend unlimited amounts of money on elections notwithstanding the fact that the Constitution protects the rights of human beings. Now it's considering arguments that corporations have religious freedoms. Both the religious right and corporate America stand to benefit from that."
With reporting by Sofia Resnick.