The Problem With Obamacare for Some Transgender Policyholders
Despite the gender-identity nondiscrimination provision of the Affordable Care Act, doctors say some insurance companies are rejecting coverage of basic preventive care.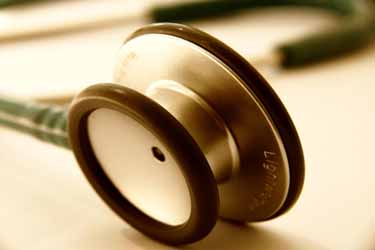 Despite the gender-identity nondiscrimination provision of the Affordable Care Act, doctors say some insurance companies are rejecting coverage of basic preventive care. health care - Stethoscope via Shutterstock
There's no doubt that the Affordable Care Act (ACA) benefits transgender people, who have been historically marginalized in the mainstream health-care system through rampant discrimination and a disproportionate likelihood of living in poverty. And while having insurance is key to improving health outcomes, Rewire found anecdotal evidence suggesting that a subset of new policyholders may still encounter difficulty getting basic preventive care and treatment for sex-specific diseases under the ACA.
First, the good news: The ACA bans discrimination that has prevented many transgender people from having health insurance coverage. The Department of Health and Human Services has explicitly stated that the civil rights provision in the ACA prohibits discrimination "based on gender identity or failure to conform to stereotypical notions of masculinity or femininity."
The problem is that interpreting what is and isn't discrimination has been so far left to the states.
"The question is, what is gender identity nondiscrimination?" said Kellan Baker, associate director of the LGBT Research and Communications Project at the Center for American Progress. "Does it mean you can't hang up the phone on a trans person? Does it mean that you can't cover their cervical cancer treatments unless [a policyholder is] listed female? Does it mean that transition care has to be covered?"
Much of the conversation around gender-identity nondiscrimination and the ACA has centered on whether or not insurance companies have to cover transition-related care. So far, the answer depends on where you live: Only six states and the District of Columbia have formally issued bulletins clarifying that they are interpreting the gender-identity nondiscrimination provision to mean coverage of transition-related care.
California, Colorado, Oregon, Vermont, and Connecticut have all issued formal statements, according to a spokesperson for Gay and Lesbian Advocates and Defenders (GLAD). Maryland has issued what advocates are calling a "partial statement," meaning the Maryland Insurance Commission has reaffirmed nondiscrimination while stating "the exclusion should be narrowly applied to items and services that are directly related to the gender reassignment process."
The District of Columbia just issued a bulletin last week.
"I don't think people understand almost every insurance policy issued, unless it's a state that issued a bulletin, excludes all transition treatment," said Zack Paakkonen, staff attorney at GLAD.
Historically, insurance companies have leveraged the exclusion of transition-related care as an opportunity to further discriminate against transgender policyholders. Advocates say insurers have used the exclusion to justify denying transgender policyholders coverage of not only hormone replacement therapy and transition-related surgery, but also mental health services and treatment for physical injuries that have nothing to do with gender at all, such as a broken arm.
The systemic marginalization of trans people has resulted in creating a population suffering profound health disparities that are exacerbated by a discriminatory health-care system.
Trans people suffer much higher rates HIV infection and drug and alcohol abuse. In the biggest survey of trans people conducted to date, 61 percent reported being victims of physical assault, while 64 percent reported being victims of sexual assault. Forty-one percent of respondents reported that they had attempted suicide, compared to 1.6 percent of the general population. What's more, transgender people of color fare worse than white transgender people across the board.
So there's another issue that needs to be clarified: In states that don't issue a bulletin, does that mean insurance companies can deny transgender policyholders basic preventive care that doesn't match the gender box checked on their policy application?
Baker from the Center for American Progress says this denial of preventive care is a form of discrimination that ACA was in part intended to outlaw.
"There is a lot of discussion around what kind of transition-related care needs to be covered," said Baker. "But when it comes to preventative services or services for conditions such as cancer that are more or less traditionally gendered, that is something that I would see very strongly as falling under the very clear and U.S.-wide nondiscrimination protections of the ACA [also]."
But, thanks in part to a loophole in the process of signing up for coverage through the ACA, doctors are still seeing it happen.
The Loophole
Transgender people were denied preventive care long before the ACA, but the fact that these denials are still happening is significant since health reform was intended in part to ban discrimination. It's also significant, though, because the problem may disproportionately affect one subset of trans policyholders.
Under the ACA, most single people earning less than 400 percent of the federal poverty line per year qualify for advanced premium tax credits to help offset the cost of insurance. (This is true for qualified applicants who enroll until March 31.) To obtain the subsidy, applicants must sign up for insurance through the online state marketplace. Here's the problem: To funnel the subsidy, the gender marker on the health insurance policy must match the gender marker on their social security record associated with their social security card.
So now transgender people who have already gone through the trouble, and expense, of transitioning all of their identity paperwork to reflect their gender expression, and who purchase a subsidized policy through the state exchange, are the population most likely to find preventive care or sex-specific treatment rejected by their insurance company.
For example, a transgender man whose social security card and health insurance policy reflects that he is a man may be denied coverage of routine health care like a Pap test. Worse, he could be denied treatment of a sex-specific disease such as cervical cancer. (Doctors say mammograms are less of a problem, since men already get screened for breast cancer.)
"It's happening a lot more now because so many more people have insurance," says Dr. Robert Winn, medical director of Mazzoni Center in Philadelphia, the city's only community health center focused on the needs of the LGBT population.
Ironically, at a trans-friendly community health center like Mazzoni, it could be easier to get a transgender man a Pap test when he didn't have insurance. "Before, if you were a trans guy coming in for a Pap smear, it could be covered under our family planning grant," said Winn.
But now that he's billing insurance companies more often, it's getting more complicated. "Now, a trans man will come in and get their annual gyn[ecological] exam, but it might get rejected because they'll say, 'This is a male and this diagnosis and the procedure code is female, so were not going to pay for it,'" he said.
With health reform still so new, Winn is just starting to navigate these issues. So far, he has been able to find "workarounds."
But trans patients certainly can't count on finding a culturally competent doctor like Winn who is dedicated to advocating on their behalf. With stories like the doctor who didn't even bother telling his trans patient he had breast cancer (he then told the patient he had a "real problem" with him), it's little wonder 28 percent of trans people have to postpone medical care due to discrimination.
"If [a transgender patient goes] to a regular doctor, likely they will just get a bill with a claim that's rejected and likely won't have any recourse," said Winn.
If workarounds don't work, the result can be fatal.
Winn had a patient, a trans man, who was suffering a medical problem that required examination by transvaginal ultrasound.
"We really needed to get a look at his uterus and ovaries, and he has insurance. And he's male on insurance, on everything. And to be honest, we didn't even think about it. We did the procedure and I billed it off," Winn told Rewire. "And it got rejected, saying, 'This is a male. You can't do a transvaginal ultraound on a male.'"
Winn is still working to resolve the situation.
"This is good litmus test," he said. "[Is the insurance company] really going to say that [they're] not going to cover someone with a procedure that [they] cover who has these [body] parts?"
Despite the gender-identity nondiscrimination provision, the answer seems to be: sometimes.
At Capitol Hill Medical, a medical practice serving LGBT patients in Seattle, Dr. Jessica Rongisch says she has seen insurance companies reject screenings for prostate cancer. "I have had those rejected because the gender marker is female," said Rongisch.
Finn Brigham, director of special populations services at the Callen-Lorde Community Health Center in New York City, says it's too soon to tell if this procedural glitch will cause an increase in rejections of preventive treatments for trans policyholders.
"It's a bit complicated. It remains to be seen how [the ACA] will play out with the gender marker issue, but we've definitely seen that in the past it really comes down to a case-by-case basis," said Brigham. "Which is obviously not an ideal situation."
Finding the Right Coverage
Katie Keith of Out2Enroll, a coalition of organizations dedicated to helping LGBT people sign up for health insurance, says that she fields requests "all day" from trans people trying to figure out what plan will work best for them.
"We get emails from states across the country asking 'Which plan do I enroll in? Which plan doesn't have the exclusion?'" said Keith. "It's hard to answer."
Keith says there's no uniform way to examine the fine print of each plan; different companies use different exclusionary language.
The language varies—some deny coverage for "sex assignment," some say "gender transition," and some say "treatment related to gender transition," depending on the particular insurance policy and company—but the remaining states all allow insurance companies to exclude coverage of transition-related care.
"We're trying to document how hard is it to even get this information, so we've had people in Tennessee sending us all their emails with insurance companies trying to get to the bottom of whether there's an exclusion or not," said Keith.
Advocates hope that ultimately the Department of Health and Human Services will clarify their position on transition-related care so that quality of care is not a matter of geography. (Calls to the Department of Health and Human Services to clarify their position were not returned by publication time.) In the meantime, the burden to clarify what is and is not covered may fall on a person denied coverage who is willing to file appeals to the company, and then if necessary, file a lawsuit to push the courts to interpret the nondiscrimination provision.
Winn told Rewire another story. A patient of his is a trans man with a trans man partner. The patient's partner was diagnosed with a case of aggressive cervical cancer, and was initially denied treatment because of his gender marker. Frightened, the patient—who had already gone through the complicated and expensive process of changing all of his paperwork to male—changed his gender marker back to female as a preventive measure, because he feared the repercussions of a delay or rejection of treatment if something went wrong with his cervix too.
Now that his social security record and the insurance company identify him as female, though, the insurance company may reject covering the testosterone he takes.
"So basically," said Winn, "you can't win one way or another."
Transgender patients who believe they are receiving discriminatory treatment that violates the civil rights provision are encouraged to file complaints with the Office for Civil Rights.