Legal Wrap: Protections for Pregnant Workers Advance in States, But Where's Congress?
Slowly but surely pregnant workers are gaining more workplace protections, but Congress still needs to act.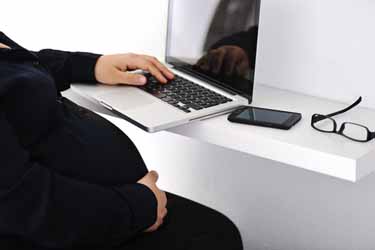 Slowly but surely pregnant workers are gaining more workplace protections, but Congress still needs to act. Pregnant business woman via Shutterstock
Legal Wrap is a weekly round-up of key legal reproductive rights and justice news.
It's not that often we report on Republicans and Democrats working together on policy proposals that actually help women, but Emily Martin of the National Women's Law Center has this piece on the wave of bipartisan measures passing that require employers to make reasonable accommodations for pregnant workers. This is great news in places like West Virginia and Philadelphia, but until Congress passes similar protections at the federal level far too many families risk falling through the gaps that currently allow employers to discriminate against pregnant workers.
For more on this point, read Sheila Bapat's piece, which argues that while increasing support for beneficial family policies is a good sign from lawmakers, it's time the private sector steps up its commitment to those same policies on its own.
Debo Adegbile is a superbly qualified candidate to lead the Department of Justice's important Division on Civil Rights. Too bad racism sunk his nomination.
The Supreme Court won't take up a school district's appeal over attempts by administrators to ban breast cancer awareness bracelets that read "I Heart Boobies."
The Massachusetts Supreme Court issued a decision that taking "upskirt" pictures was not a violation of a woman's right to privacy. Thankfully, lawmakers got right on it and pushed a legislative fix. Martha Kempner has the latest here.
West Virginia advances a 20-week abortion ban, which is especially terrible considering the legislature is run by Democrats.
A Montana abortion provider was severely vandalized and is closed indefinitely in what some have called a coordinated effort to intimidate the clinic from no longer providing abortion care.
Reproductive rights advocates filed a lawsuit challenging new regulations in Arizona that threaten to make medication abortion unavailable in the state.
Irin Carmon has this great piece on the reproductive rights revolution that is expanding access in California.
Meet America's most-hated doctors.
In unrelated news, this judge seems nice.
And lastly, Republicans managed to filibuster, again, Sen. Kirstin Gillibrand's military sexual assault bill. But yeah, Sarah Palin, you're right: The "war on women" is a total fiction.