New Hampshire Introduces Abortion Clinic Buffer Zone Bill
Though the fate of buffer zone laws now rests with the Supreme Court, New Hampshire legislators decided not to wait to try to protect patients.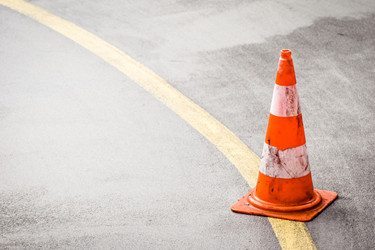 Though the fate of buffer zone laws now rests with the Supreme Court, New Hampshire legislators decided not to wait to try to protect patients. Traffic cone via Shutterstock
A new bill in the New Hampshire state legislature would establish a 25-foot buffer zone outside reproductive health clinics to protect patients from harassment by protesters.
The bill, SB 319, comes as the Supreme Court is debating the constitutionality of a similar law in Massachusetts. The bill has bipartisan support in the state's small 24-member senate, which has a slim Republican majority—though not necessarily an anti-choice one given the state's libertarian bent. Donna Soucy (D-Manchester) is the lead sponsor, along with Lou D'Allesandro (D-Manchester), Senate Majority Leader Jeb Bradley (R-Wolfeboro), Bob Odell (R-Lempster), and Nancy Stiles (R-Hampton).
"We've had some Republicans who might normally characterize themselves as more anti-choice indicate that regardless of where they are on abortion, they believe that women ought to be able to enter health-care facilities to obtain a legally protected service without harassment and intimidation," Jennifer Frizzell, senior policy advisor at Planned Parenthood of Northern New England, told Rewire.
New Hampshire has five health centers that provide abortion services, and patients have reported that protesters verbally harass them, take photos of them, and obstruct walkways, driveways, roads, or nearby parking meters to block patients' paths or force them to walk through a gauntlet of protesters. The Pray for Life Center, an anti-choice organization, is located directly across the street from the Planned Parenthood in Manchester, and the group's blog exhaustively documents the comings and goings of women at the clinic.
The sponsors of the new bill are all aware that the pending Supreme Court case may force them to alter their bill, Frizzell said, but they opted to start the process now to give patient safety the best chance. Waiting until the court ruling is handed down would have made legislators miss the filing deadline for this session, delaying the process by another 12 to 18 months. Given escalating harassment against patients in the city of Manchester especially, legislators of both parties who have clinics in their districts felt the need to act quickly.
"[The sponsors have] a clear awareness of the impermanent constitutional ground around this issue, but not a willingness to ask permission from the U.S. Supreme Court to do what they think is appropriate for protecting public safety," Frizzell said.
Frizzell said the bill is on solid legal ground because it is content-neutral and narrowly tailored to protect the rights of both patients and protesters. New Hampshire also has similar laws already that restrict electioneering too close to polling places on election day. But if the Supreme Court ruling strikes down some aspect of the Massachusetts law, New Hampshire's could still be tinkered with to make it constitutional.
The new bill states that recent protests outside of reproductive health-care facilities in New Hampshire have "resulted in the fear and intimidation of patients and employees" and "have caused patients and employees of these facilities to believe that their safety and right to privacy are threatened."
Sixteen states and the District of Columbia have some form of protection for people trying to enter abortion clinics, but only three—Colorado, Massachusetts, and Montana—prohibit any protest activity within a specified distance from the clinic. Some cities—notably Burlington, Vermont, and Portland, Maine—have also enacted buffer zone laws that keep protesters outside a bubble.