Study Reveals Dramatic Rise in Share of Women Accessing Contraception Without a Co-Pay
A new study finds that the Affordable Care Act is responsible for a dramatic rise in the share of privately insured women in the United States who have gained access to contraception without a co-pay.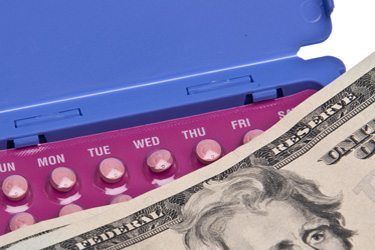 Lawsuits by Hobby Lobby and Conestoga Wood challenge the contraceptive coverage requirement under the Affordable Care Act, which says that certain preventive health-care services like contraception must be covered without copay or cost sharing. Birth control money via Shutterstock
A new study reveals that the Affordable Care Act (ACA) is responsible for a dramatic rise in the share of privately insured women in the United States who have gained access to contraception without a co-pay.
The study, conducted by Guttmacher Institute researchers Lawrence B. Finer, Adam Sonfield, and Rachel K. Jones and published in the journal Contraception, found that the share of privately insured women who had no co-pay for oral contraceptive pills rose from 15 percent to 40 percent after the ACA's birth control benefit went into effect in January 2013. The authors report a similar increase, from 23 percent to 52 percent, among privately insured users of the vaginal ring.
"Our analysis provides the first quantitative evidence that the cost-sharing protection under the ACA is indeed working as intended," said Finer, director of domestic research at the Guttmacher Institute and lead author of the study, in a statement. "Large numbers of women who couldn't previously do so are now obtaining birth control without co-pays or deductibles, which allows them to more easily attain contraception's well-documented health, social and economic benefits."
The study draws on data from an ongoing, nationally representative survey of women ages 18 to 39, comparing women's responses in fall 2012 (before the birth control benefit took effect for most women) and spring 2013, when millions were able to access contraception using the benefit.
Hormonal birth control is used for any number of reasons, including to practice safer sex and avoid unwanted or unintended pregnancy, to address medical needs, and for menstrual regulation. Data analyzed by Guttmacher show that most U.S. families want two children. "To achieve this [goal], the average woman spends about five years pregnant, postpartum or trying to become pregnant, and three decades—more than three-quarters of her reproductive life—trying to avoid an unintended pregnancy," Guttmacher notes in a recent fact sheet on unintended pregnancy in the United States. Roughly half of all pregnancies in the United States are unintended. For many women, the high cost of birth control has proven to be a major barrier, one the ACA was intended to remove.
"That the benefits for pill and ring users have accrued so rapidly is remarkable, showing that the contraceptive coverage guarantee is meeting a real demand," said Adam Sonfield, senior public policy associate at Guttmacher, in a statement.
Moreover, notes Sonfield, the share of those benefiting will only continue to rise as more insurance plans come into compliance. "The ACA's impact is certain to grow significantly as its protections, including for contraceptive coverage without out-of-pocket costs, are phased in across the country," he said. "The number of covered workers enrolled in 'grandfathered' plans—existing plans given a temporary reprieve from many of the ACA's new rules—has been declining rapidly, as Congress intended, from 48 percent in 2012 to 36 percent in 2013."
The study found no significant change over time in the share of privately insured users of injectable contraception or intrauterine device (IUD) users who paid nothing out-of-pocket. According to the authors, this could indicate that some private health plans are not actually applying the ACA's required cost-sharing protections to the "full range" of female contraceptive methods approved by the Food and Drug Administration.
"Unfortunately, anecdotal evidence from media reports and from health insurance companies' own publicly available documents suggests that some plans are improperly requiring patient cost-sharing in circumstances where they shouldn't," said Sonfield, who also authored a related policy analysis. "This is unacceptable, and state and federal policymakers should step up enforcement as needed."
Despite these successes, the birth control benefit remains under attack by right-wing religious and corporate groups who want to control whether health insurance earned or paid for by their employees will include coverage for contraception.