Gillibrand Starts Final Push to Reform Military Sexual Assault Prosecutions
The senator is optimistic that her amendment, the Military Justice Improvement Act, could reach even the 60 votes needed to break a filibuster.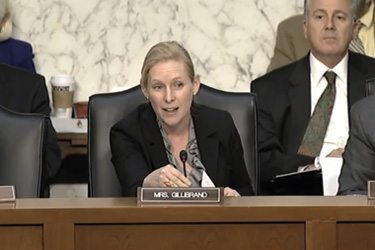 KirstenEGillibrand / YouTube
Sen. Kirsten Gillibrand (D-NY) kicked off a final two-week push Wednesday to remove prosecution of sexual assault and other serious civilian crimes from the military chain of command.
Sen. Gillibrand spoke with a bipartisan group of senators, advocates, and former military members in favor of passing her Military Justice Improvement Act (MJIA) as an amendment to the 2014 defense spending bill.
The MJIA, which is heavily opposed by the Pentagon, is being offered as an amendment after failing to pass the Senate Armed Services Committee.
"Critics say moving the decisions out of the chain of command would diminish good order and discipline," Gillibrand said at Wednesday's press conference. "I have news for you: With 26,000 cases of sexual assault, rape, and unwanted sexual contact last year alone, we don't have the good order and discipline that our military needs."
Gillibrand says 46 senators have already expressed public support for the bill, and told Rewire that she is confident about reaching the 60 votes needed to break a possible filibuster. Sen. Lindsey Graham (R-SC) has said he would do "whatever it takes" to stop the bill.
"We have a lot of undecided members who are leaning with us," Gillibrand said. She noted that some of her fellow Armed Services Committee members who voted against the bill initially "may well change their views" in light of recent endorsements from three retired generals and the prominent Defense Advisory Committee on Women in the Services.
Ariana and Ben Klay, a married couple who are former Marines, both offered emotional testimony about Ariana's ordeal with trying to report a sexual assault.
Ariana said she experienced repeated harassment, and was told by officials that she deserved it because of what she wore or the fact that she complained about it. Requests for transfers were ignored before she was sexually assaulted, and she experienced a degrading hearing process.
Ben Klay said that rape was compared to prostitution or marrying a rich man during the military hearings, and that he was not asked a single question relevant to Ariana's assault during the hearing on grounds that it would be "distracting to the court."
"That's what the entire process felt like, a distraction, and it is organized to be that way," Klay said. "Military justice is a secondary duty for a commander. Something he didn't sign up for, and a distraction from his mission to fight wars."
Other speakers emphasized that the MJIA would only strengthen military readiness because it frees commanders from legal duties they are not trained for, and that such reforms are necessary because sexual assault victims don't trust their chain of command to defend them or take meaningful action. About one quarter of all military sexual assault victims reported being assaulted by someone in their chain of command.
An unusual bipartisan combination of senators, including Ted Cruz (R-TX) and Rand Paul (R-KY) along with Barbara Boxer (D-CA), Chuck Grassley (R-IA), Lisa Murkowski (R-AK), Richard Blumenthal (D-CT), Mazie Hirono (D-HI), and Jeanne Shaheen (D-NH) also showed their support at the conference.
Veterans organizations Service Women's Action Network (SWAN), Iraq and Afghanistan Veterans of America (IAVA), and Vietnam Veterans of America (VVA) released an open letter to Congress on Tuesday urging the passage of the MJIA.
"The proposed changes in the MJIA are not radical. They are carefully crafted and have earned the support of many former military officials and organizations with expertise on military issues," said Nancy Duff Campbell of the National Women's Legal Council.
A proposal by Claire McCaskill (D-MO), which did pass the Armed Services Committee and is part of the defense bill, does not remove prosecutions from the chain of command, but would disallow commanders from overturning jury verdicts. McCaskill is one of three female Senators to oppose the MJIA, and the only female Democrat.
The defense bill is expected to receive a vote before Thanksgiving recess.