House Republicans Take Aim at Birth Control in Quest to Scuttle Senate Shutdown Deal
To the House Republicans, who are hostage to their party's Tea Party faction, there's probably no dirtier word than "bipartisan"—except, perhaps, for the words "birth control."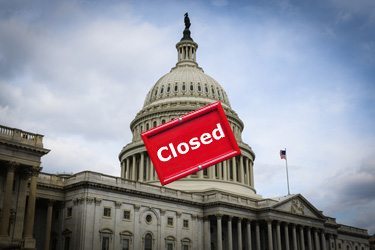 To the House Republicans, who are hostage to their party's Tea Party faction, there's probably no dirtier word than "bipartisan"—except, perhaps, for the words "birth control." Capitol hill via Shutterstock
It was predictable, perhaps, that House Republicans would respond to word of a bipartisan Senate deal in the works with an attempt to scuttle it. And what better way to do so than to make a doomed attempt to remove the contraceptive benefit from the Affordable Care Act (ACA)?
The deal that Senate Majority Leader Harry Reid (R-NV) and Minority Leader Mitch McConnell (R-KY) huddled to hammer out on Tuesday aims to reopen the government—at least temporarily—and prevent the United States from going into default on its debt, as it is likely to do on Thursday, October 17, unless the Congress acts to raise the debt ceiling.
As Rewire reported, House Budget Committee Chairman Paul Ryan (R-WI) seems to be taking orders from the U.S. Conference of Catholic Bishops, who sent their lobbyist, Richard Doerflinger, to the right-wing Values Voter Summit this weekend to demand that Republicans attach to such "must-pass" legislation language that would allow any employer, on the basis of a moral or religious objection, to deny their employees coverage of birth control under employee-earned insurance plans. (The ACA mandates coverage of contraception as part of an essential package of health care; the law also requires the provision of those prescription methods without a deductible or co-pay.)
To the House Republicans, who are hostage to their party's Tea Party faction, there's probably no dirtier word than "bipartisan"—except, perhaps, for the words "birth control." So, as Republican members of the House gathered to put together their own plan to ostensibly reopen the government and avert the debt default, they began bandying about potential amendments to such a bill, amendments—including one that would revoke the birth control provision from Obamacare—that are guaranteed to fail in the Senate and prolong the crisis. Both the bishops and the Republicans refer to this proposal as a "conscience clause." (Other ideas, according to the Washington Post, include "eliminate[ing] employer health-care contributions for White House staff and members of Congress," making cuts to Social Security or Medicare, or other spending cuts.)
"It is incredible that a narrow group of far-right politicians want to take away women's access to birth control in order to re-open the federal government," said Cecile Richards, president of the Planned Parenthood Federation of America, in a written statement. "This is the same group of politicians that pushed for the government shutdown in the first place—not the ones working to avoid a debt default and reopen the government."
Richards noted in her statement that the benefit, once the health-care law goes into full effect, would be available to some 47 million women.
In case you're wondering just who those politicians are, Mother Jones' Tim Murphy has a rundown here. Notable among them is a certain congressman from Utah. From the Mother Jones report:
"There are a lot of people, and I'm one of those, who are really pushing for a conscience clause to be included," said Rep. Chris Stewart (R-Utah), a former consultant and End-Times novelist who was elected last fall. "They want to have some principle that they could go home and say, 'we fought for this, and we got this.'"
At the time this story was published, Senate leaders were still negotiating a proposal for a bill to avert a default on the U.S. debt and to reopen the government. House leaders gave a press conference in which Majority Whip Kevin McCarthy (R-CA) restated a demand for changes to the health-care law.