'Personhood' Backers to Submit Signatures to Qualify for 2014 Ballot in Colorado
Despite repeated setbacks since 2010, including two overwhelming losses at the polls, anti-choice activists are planning to submit signatures Monday to put another "personhood" amendment on next year's election ballot in Colorado.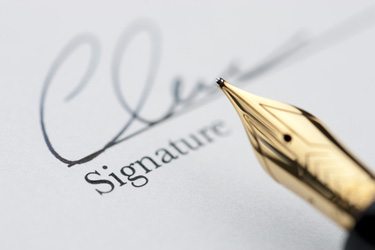 Anti-choice activists are planning to submit signatures Monday to put another "personhood" amendment on next year's election ballot in Colorado. Signatures via Shutterstock
Anti-choice activists in Colorado are rushing to meet Monday's deadline to submit 86,105 signatures required to place an amendment on the 2014 election ballot that would change the definition of "person" and "child" under Colorado law to include "unborn human beings."
Backers of the vaguely worded measure describe it among themselves as "personhood" and say it would ban all abortion, even though the measure is promoted to the public as an effort to protect "pregnant mothers and their unborn babies from violent and dangerous criminals."
If it makes next year's ballot, Colorado citizens will have their third chance to vote on "personhood" amendments, as two measures were defeated overwhelmingly in 2008, when Colorado was the first state in the country to vote on the "personhood" concept, and again in 2010.
Last year, a "personhood" initiative didn't qualify for the ballot after Colorado's Secretary of State rejected 23,873 of the 106,119 signatures submitted, leaving a shortfall of 3,859 signatures.
"People have said, 'When are you going to give up?'" Colorado Right to Life spokesperson and talk-radio host Bob Enyart told his radio audience Monday. "What do you mean give up? If they are killing Jews, when do you give up? I mean, you don't give up, right? You fight for the innocent. You fight for the Lord."
Enyart is confident that he and his allies have corrected signature-gathering mistakes that led to the disqualification of so many signatures last year.
"Over the years, we've lost tens of thousands of signatures because the notaries were disqualified," he told his radio audience, explaining that this year "every one of the petitions that has been turned in has gone through a quality-control system, and many have been returned to notaries or to the circulator to get them re-notarized correctly."
Backers of this year's initiative, including Personhood USA, hope that, if their measure makes the ballot, it will have a better chance of being approved because the ballot language focuses on "pregnant mothers and their unborn children."
Pro-choice groups reportedly spent a total of $2 million fighting "personhood" amendments in 2008 and 2010, and they say they are ready to fight again next year, if necessary.
"If Personhood Colorado has collected enough signatures to be placed on the ballot in 2014, we will again fight to make sure Coloradans know the truth that this measure punishes women who are victims of rape or incest and who become pregnant by these violent acts," said Cathy Alderman, vice president of public affairs for Planned Parenthood Votes Colorado, in a statement.
For now, "personhood" backers aren't thinking about next year's fight with Planned Parenthood and its allies. Their focus is Monday's deadline for submitting their petitions, which they're collecting at their office in a Denver suburb.
"No signature left behind," Enyart chanted to his radio audience. "No signature left behind."