Finally, Domestic Workers Get Basic Labor Protections
On Tuesday, the White House approved regulations extending basic labor protections for domestic workers. A confluence of events enabled these regulations to come about—some political, but more movement-driven.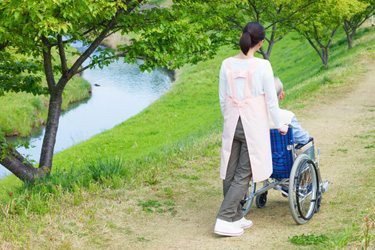 The White House approved regulations extending minimum wage and overtime protections to home care workers. Wheelchair with caregiver via Shutterstock
Evelyn Coke, a Jamaica-born domestic worker, spent her career caring for the elderly in New York, earning $7 an hour with no overtime pay. Coke fought to change an old law that excluded her and millions of other caregivers, most of them immigrant women, from earning fair wages, but the Supreme Court rejected her plea in 2007. On Tuesday, years after her 2009 death, her efforts—and the efforts of many others in the domestic workers' movement—finally paid off when the U.S. Department of Labor (DOL) approved regulations extending wage and overtime protections to domestic workers.
As the New York Times reports, the new rules will mean that "[i]f an aide or companion provides 'care' that exceeds 20 percent of the total hours she works each week, then the worker is to receive minimum wage and overtime protections." The rules, which will take effect in 2015, apply to home care workers who are hired by agencies.
Domestic workers' rights advocates are thrilled with the news. As Sarah Leberstein, staff attorney with the National Employment Law Project, told Rewire, "We haven't finished digesting the rules and the DOL materials that accompanied them, but our initial analysis is that the revised rules will result in the extension of federal minimum wage and overtime rights to the vast majority of home care workers, which is what we had hoped for."
Caring About Care Workers
A confluence of events enabled these regulations to come about—some political, but more movement-driven, demonstrating just how tenacious the modern "alt-labor" movement has become.
Federal-level attention to domestic labor really began with Barack Obama. After the Supreme Court ruling in Coke's case, then-presidential candidate Obama pledged to revise the companionship exemption. He also appointed Hilda Solis to lead the Department of Labor. A longtime workers' rights organizer, Solis worked closely with domestic labor activists to revise the companionship exemption. The process was long, and perhaps deliberately, lasted President Obama's entire first term.
But in order for Obama to care about this issue, the mainstream feminist and labor movements had to care first. The foundation for Tuesday's victory was laid when these movements became more inclusive of domestic worker issues.
People who link the feminist and labor movements, like National Domestic Workers Alliance (NDWA) Director Ai-jen Poo, were especially essential. Poo's focus on organizing domestic workers began when she started volunteering with domestic violence survivors at the New York Asian Women's Shelter. "That's when I began to see the connections between living a violence-free life and economic opportunity," Poo said last year at NDWA's Manhattan office. "That made me understand the importance of organizing workers. I've always believed it's important to make the invisible visible. And valuing that which has been taken for granted is something that I've always instinctually known is the key to the kind of society I want to live in and raise my children in."
As part of her work with the Asian Women's Shelter, Poo organized events in low-income Asian communities, including health fairs; she says many of the people who would attend and take an interest were domestic workers. Poo became a tireless leader for domestic workers and was also deeply connected with feminist leaders like Gloria Steinem.
Though there are still feminist writers who conclude that the wage gap is not as substantial as we think, or that women have already made enough progress, the importance of care work and its relevance in the economy is now a growing part of feminist discussion.
Care workers' concerns have also gained value in the labor movement—even as U.S. labor has historically been led by men and at times has sidelined "women's issues." This is evidenced by AFL-CIO President Richard Trumka fighting hard for domestic workers' legislation. And it was longtime labor advocate and AFL-CIO general counsel Craig Becker who represented Evelyn Coke in her case.
Becker, too, is thrilled by the new domestic workers' regulations, as he told Rewire: "Having had the privilege of representing Evelyn Coke in the Supreme Court and of working with home care workers across the country to secure the same workplace rights enjoyed by other American workers, including the right to be paid the minimum wage and more for overtime, I am extremely happy that the Department of Labor has brought Ms. Coke's long struggle for justice to a successful conclusion."
State Protections for Care Workers

All of this caring about care work is still very new—in the United States and globally. Including domestic workers within labor protections is even more groundbreaking. Minimum wage and overtime protections became codified in U.S. labor law during the New Deal, but the Fair Labor Standards Act passed to allow a "companionship exemption" that allowed these workers to be paid less than a minimum wage and excludes them from overtime protections. At that time, most state labor laws excluded domestic workers as well.
The domestic workers' movement has made headway in states over the past decade. According to the National Employment Law Project, 21 states have some protections in place for home care workers, many of whom are paid with Medicare dollars. New York and Hawaii both improved labor protections for privately-paid domestic workers in the past three years. Bills to improve wages and protect workers from abuse are alive in several other states as well, though Oregon's bill failed this year. Vans filled with workers and community organizers have traveled to state capitals throughout the country to lobby for improved protections.
And last week, the California legislature passed AB 241, a domestic workers' bill of rights. Carlos Alcala, spokesperson for Assemblymember Tom Ammiano (D-San Francisco), AB 241's sponsor, told Rewire last week, "We feel good based on discussions we've had with the governor's office and the administration. Although we don't have an agreement we believe we're headed in the right direction and are hopeful that he will sign this bill."
California has now passed a domestic workers' bill of rights three times, the first time in 2006, when former Republican Gov. Arnold Schwarzenegger vetoed. (This was years after Schwarzenegger had already fathered a child with his housekeeper.) Last year, to the surprise of domestic workers' advocates, Gov. Jerry Brown (D-CA) vetoed a domestic workers' bill of rights that would have established overtime protections and other protections for domestic workers.
It is not yet clear whether Gov. Brown will sign or veto AB 241, but we should know this month.
The Way Forward

The deeper purpose behind the regulations that the White House approved Tuesday is ensuring that all workers are treated with fairness and respect. But much work remains to ensure new laws are implemented, and ensuring that other vulnerable communities are on board with the domestic workers' movement is crucial as well. As such, strengthening Medicaid and Medicare and securing better conditions for care workers, as well as focusing on immigration reform, are goals of the domestic workers' movement.
"The new regulations are a huge step forward for this critically important workforce," Sarita Gupta, co-director of Caring Across Generations, told Rewire. "The level of progress feels great—but tomorrow we start organizing again because this is just the first step forward."