With Sharia Law Bill Threatened, North Carolina Legislators Put Abortion Restrictions in Motorcycle Safety Bill
Hours after the state's Republican governor threatened to veto a Sharia law bill containing abortion restrictions, a state subcommittee took up a motorcycle safety act that was rewritten to add nearly identical anti-choice amendments.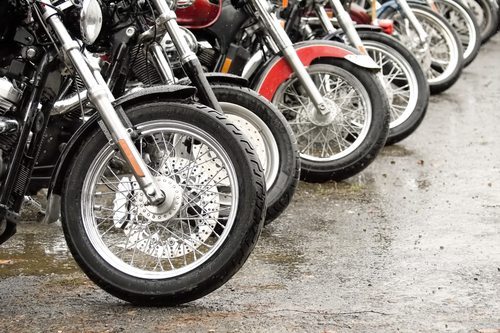 SB 353 now heads to Gov. Pat McCrory for his signature. McCrory has already stated that he will sign the bill, despite his campaign promise not to sign into law any abortion restrictions. Steve Mann / Shutterstock.com
Republican North Carolina Gov. Pat McCrory announced Wednesday morning that unless significant changes were made to HB 695, a bill ostensibly created to bar Sharia law in the state but which would greatly reduce access to safe, legal abortion in North Carolina, he would veto it. However, within a few hours of that announcement a new bill, SB 353, was reviewed by a house subcommittee, and it was rewritten to add nearly identical anti-choice amendments as those found in HB 695. Unlike the previous bill, SB 353 has the approval of the governor.
As originally written, SB 353 is a motorcycle safety act that would increase fines and penalties for drivers who endanger motorcyclists on the road. The bill had remained dormant for much of the legislative session until Judiciary Subcommittee B was informed it would be on the calendar Wednesday morning. Not all of the committee members were informed prior to the meeting that the bill had been amended to add modified versions of abortion restrictions that were inserted earlier this month into HB 695.
"New abortion bill being heard in the committee I am on," tweeted state Rep. Joe Sam Queen (D-Haywood). "The public didn't know. I didn't even know."
"I wish I had more time to look at this new bill before I had to ask questions about it or debate it," he added later.
Legislators spent two hours debating SB 353 (scan available here); they spent some time trying to discern how the language of the new bill differs from the HB 695 language Gov. McCrory had announced he intended to veto. According to the Charlotte News Observer, the new version of the abortion restrictions would only require doctors who provide medication abortions to be present during the initial dose of the drug. The legislation would still ban telemedicine abortions, but it clarifies that a patient does not need to return for a second dose or remain in the practitioner's physical presence throughout the entire process.
Unlike the amendments in HB 695, the amendments in SB 353 do not include a requirement that clinics become full ambulatory surgical centers, although the bill would still allow the state Department of Health and Human Services (DHHS) to "apply any requirement for the licensure of ambulatory surgical centers" while "not unduly restricting access." Like HB 695, the legislation provides little in the way of specifics on this matter, making it impossible to be sure whether a requirement that doctors have admitting privileges to local hospitals will be enforced. SB 353 also authorizes the DHHS to study "what resources the Division needs to adequately enforce regulations," with an April 1, 2014 deadline to report its findings.
Both legislative tweaks seem to be made in reference to concerns specifically outlined by DHHS Secretary Aldona Wos, issues the governor said earlier in the day must be addressed or else he would veto. Gov. McCrory said HB 695 needed to be "further clarified to ensure that it clearly protects the health and safety of women," but that other aspects of the bill are of "sound principal and value," WRAL.com reported Wednesday morning. Similarly, on Monday, the governor said some portions of the bill "clearly cross the line into restrictions," although he would continue to consider the parts "aimed at protecting the safety of patients," reported the Triangle Business Journal.
The governor's legislative director informed the committee that McCrory was "fine with the changes being made" to the motorcycle safety bill. SB 353 passed committee on a 10-5 party-line vote.
McCrory promised during his 2012 gubernatorial campaign that he would veto any abortion restrictions that made it to his desk.
"It is a disgrace to North Carolina that legislators have again resorted to sneak attacks to move their anti-women's health agenda forward," Melissa Reed, vice president of public affairs for Planned Parenthood Health Systems said in a statement. "Once again there was no public notice that this bill would be heard. The public and even many legislators on the committee only learned this was a possibility at 9:57am [three minutes before the committee was to meet] when a political reporter was tipped off and posted it on Twitter. This is outrageous and not how the people's business should be conducted."
Republican lawmakers, on the other hand, wrote off the move as a legislative necessity during a time crunch. "We're late in the session, and this is the way you get things done late in the session sometimes," said state Rep. Ruth Samuelson (R-Mecklenburg), according to WRAL's Twitter account.
"It is disappointing that the state House leadership continues to ignore its citizens who are calling upon state lawmakers to protect access to safe and legal abortion care in North Carolina—a constitutional right," North Carolina Women United, a progressive women's advocacy group, said in a statement. "The leadership's underhanded, last-minute process of 'gut and amend' does not hold up to the high standards of public office that we expect in North Carolina. Slipping bills through the legislative process at the very end of a legislative session without public notice or input is simply unacceptable. This is an issue that calls for open and honest dialogue, and citizen input. Women and their families deserve better."
Unlike other committee hearings, the hearing for SB 353 was not streamed online, and no public comments were allowed. As of two hours after the committee hearing, the new bills still had not been entered online for public viewing.