Abortion a Low Priority on Day One of Religious Right Gathering
The day after Rep. Trent Franks pulled a Todd Akin, senators speaking at the Faith and Freedom Coalition conference breathed barely a word about abortion—and not a peep about contraception.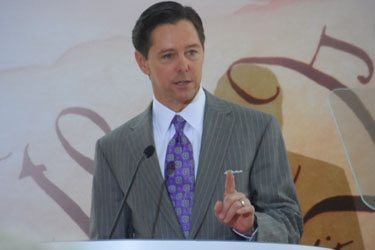 Ralph Reed addresses his Faith and Freedom Coalition's Road to Majority conference, June 13, 2013. Adele Stan / RH Reality Check
WASHINGTON, D.C. — When it comes to elections, Ralph Reed is all about winning, and the 2014 midterm congressional elections loom large. Republican leaders, to whom Reed's private consulting firm provides services, know they've got a women problem—and a Latino problem.
Long considered the religious right's top political strategist, Reed has never been keen to lose on principle. Perhaps still smarting from the drubbing taken by 2012 GOP senatorial candidates Richard Mourdock (IN) and Todd Akin (MO) for their comments on abortion and rape, speakers at the opening day of the Road to Majority conference sponsored by the Faith and Freedom Coalition, Reed's non-profit advocacy group, never mentioned the word "abortion," nor did they mention—even euphemistically—contraception.
The gathering at the Ronald Reagan Building was book-ended by two likely contenders for the 2016 Republican presidential nomination: Sen. Rand Paul (KY) and Sen. Marco Rubio (FL). Paul was followed at the podium by Senators Ron Johnson (R-WI) and Mike Lee (R-UT).
The day after the House Judiciary Committee passed a ban on abortion past 20 weeks after fertilization, Lee, who introduced a similar measure in the Senate, made no mention of it. (Of course, it likely didn't help that just yesterday, during a mark-up session on the House version of the bill, Franks made comments evocative of Akin's famous dismissal of the incidence of pregnancies via rape.)
Likewise, Johnson failed to mention an anti-abortion measure rammed through the Wisconsin state Senate yesterday without debate.
Lee, in fact, devoted most of his speech to imploring Republicans to attend to the economic insecurity faced by American families, though he was not specific in how he might do that in ways that are consonant with his Tea Party sponsors' small-government policies.
Rand Paul's speech focused on his call for an isolationist foreign policy, appealing to Reed's evangelicals by framing aid to Muslim countries as little more than the disbursal of "your tax dollars" to countries in which Christians are persecuted.
"There's a war on Christianity, not just from the liberal elites here at home, but worldwide," Paul said, "and your government—and more directly, you—are having to pay for it." Specifically, he called for the withholding of foreign aid to Egypt, Libya, and Pakistan—the latter for the actions of religious extremists, such as the Taliban, who are at war with the Pakistani government. He used the Taliban attack against Malala, a young education activist whose shooting by insurgents became a feminist cause, as an example of why Pakistan did not deserve U.S. aid, along with the example of a Christian who had suffered tortured in Pakistan's notorious prison system.
Paul, whose opposition to abortion allows no exceptions, said only of his anti-choice stance: "I believe that no civilization can long endure that does not respect life from the not-yet born to life's very last day." He then went on to mention his sponsorship of the Life at Conception Act in the Senate—a piece of legislation destined to go nowhere.
Rubio's speech centered on immigration reform, an issue closely identified with him for his participation in the Senate's "Gang of Eight" which is hammering out a bill. Rubio's bona fides as a child of Cuban immigrants, and his presumed appeal to Latinos, has made him an important symbol for Republican strategists viewing a dismal electoral landscape if the Republican constituency retains its homogenous character.
Echoing Paul's theme of Christian persecution, Rubio nonetheless offered a less isolationist foreign policy, arguing it is that very persecution that calls America to be the salt and light of the world, a phrase from the Gospel of Matthew. (Sarah Posner, who wrote this morning of Rand Paul's misreading of the immigration debate, tweeted that we should expect Christian persecution to be a prominent theme in the 2016 presidential race.) While Paul won the appreciation of the right-wing Christians assembled in a Reagan Building ballroom, Rubio was clearly the star.
At the end of his speech, Rubio called on the Faith and Freedom Coalition members assembled before him to "shine your lights on the world for the glory of our Heavenly Father."
With that, the meeting broke up as attendees headed to Capitol Hill to lobby lawmakers on three topics, according to talking points distributed to the conferees: immigration, same-sex marriage, and tax-law protections for churches that preach politics from the pulpit.
That "A" word? Nowhere in sight.