Nonsurgical Abortion Access to Return to Planned Parenthood in Wisconsin
A protracted legal battle over regulating medication abortions in the state is one step closer to resolution.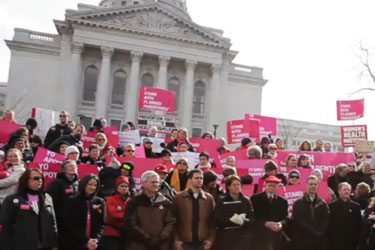 Planned Parenthood WI rallies outside the Wisconsin state capitol in 2011. plannedparenthood / YouTube
Planned Parenthood of Wisconsin announced Friday that it will restore access to medication abortion services at three clinics in Milwaukee, Madison, and Appleton.
The announcement followed an injunction ordered by the Dane County Circuit Court in a lawsuit filed by Planned Parenthood; it claimed 2011's Wisconsin Act 217, which imposed new statutory requirements on providers of nonsurgical abortions, was unconstitutionally vague because it was unclear how providers were to comply. Planned Parenthood had originally challenged the law in federal court, but after a judge refused to approve a settlement agreement between Planned Parenthood and the state over how to interpret Act 217 that lawsuit was dismissed and a new one brought in state court.
Under the terms of the injunction, the judge clarified the compliance provisions of the law enough to satisfy Planned Parenthood's concerns and resume providing medication abortion services to women without fear of prosecution. "Planned Parenthood is pleased to announce the restoration of woman's access to safe and legal nonsurgical abortion services at Planned Parenthood," Teri Huyck, president and CEO of Planned Parenthood of Wisconsin, said in a statement. "This is a significant step in the right direction recognizing that medical professionals should be trusted to determine the safest and best medical care for their patients. We are heartened that the ability of women and their doctors to decide which medical procedure is best for them has been restored for now as the court works to resolve the case."
While returning nonsurgical abortion to Planned Parenthood clinics is a win for reproductive access in Wisconsin, the process of actually getting a nonsurgical abortion in the state remains burdensome and complicated. Those seeking nonsurgical abortion in Wisconsin can only access services after meeting a state-mandated examination and counseling session with a physician and satisfying the state-mandated 24-hour waiting period. Nonsurgical abortion using medication is a safe and noninvasive abortion method only available to women within the first nine weeks of pregnancy.
The injunction will remain in place while a trial on the merits of the law moves forward.