Texas Republicans Don't Act on Threats Against Repro Rights, and That's Called Harmony?
Texas Republicans have promised not to further decimate women's health care in the state, and it's being hailed as a compromise. I think it's more like a hostage situation.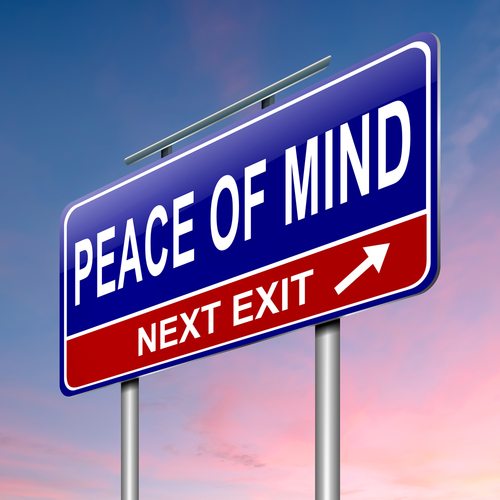 Texas Republicans have promised not to further decimate women's health care in the state, and it's being hailed as a compromise. I think it's more like a hostage situation. peace of mind next exit via Shutterstock
I'm tired of being told I should be thankful that things aren't worse for women in Texas.
When the 83rd Texas Legislature began its session in January, Texans were looking at a whole host of anti-choice, anti-woman, anti-science bills, proposed by Republicans and championed by Gov. Rick Perry. None of those bills have, so far, seen debate outside of senate and house committees. Good sense willing, none of them will.
Why aren't those bills getting the floor hearings they need in order to be put to a full vote? Because legislative leaders—perhaps most vocally, Republican Joe Straus, Speaker of the House—decided to prioritize other issues this session. This isn't a victory for Democrats, or even a good compromise between the two parties. It's a legislature in a holding pattern until Republicans go on the offensive against women again.
The situation: Republicans will talk about restoring some family planning funds in the state budget—conservatives slashed family planning funds by two-thirds in 2011—as long as Democrats don't get mouthy about their own issues, specifically in challenging Texas' abortion "affiliate" ban, which prevents public money from going to Planned Parenthood or any other entity the state thinks is a little too close to any provider of one particular safe, legal medical procedure. The ban, in place since 2005 but not enforced until 2012, effectively dismantled the state's money-saving, federally funded Women's Health Program, which was a success, due in large part to the specialized and affordable services provided by Planned Parenthood to low-income women.
Fifty-nine family planning providers—including public and private primary care clinics, federally qualified health centers, and public and private family planning clinics—closed as a result of the 2011 budget cuts, according to the Texas Policy Evaluation Project at the University of Texas.
Currently, lawmakers are discussing restoring family planning funding as part of the budget discussion in conference committee, a closed-door negotiation between the house and the senate.
The Texas Tribune has described this lack of further decimation of access to reproductive health care in Texas as a "semblance of concession." When the Lubbock Avalanche-Journal re-ran the Tribune's story, the headline used the phrase "rare harmony."
I'm not sure I would describe someone holding an anvil over my head and promising not to drop it as long as I don't say the wrong thing as "harmony" so much as a "hostage situation."
It's important to keep in mind that we're only talking about the beauty of this potentially renewed family planning funding because, two years ago, it was decimated. Restoring funds, which may or may not bring financial support back up to previous levels, isn't an easy or quick fix. Clinics have closed. Doctors, nurses, and support staff have been laid off. It's not a matter of turning the light switches back on and dusting off the stirrups in some kind of imagined feel-good montage.
San Antonio-based OB-GYN Dr. Janet Realini, chair of the Texas Women's Healthcare Coalition, said as much in a recent op-ed she authored for the Houston Chronicle:
Even with full funding restored, however, mending the safety net will take more time and effort than making the cuts did. Because Planned Parenthood clinics will be excluded from state support, other providers will have to increase their preventive care services for women, and the state will have to monitor the number of providers available to women in these programs and the level of access patients have to needed services.
Rep. Bryan Hughes, a Republican, has said that it's "wonderful" to have the abortion affiliate rule go unchallenged, because both Republicans and Democrats "agree we want to make sure these services are provided and women get the health care that they need."
But excluding Planned Parenthood, or any so-called abortion "affiliate," from providing low-cost family planning care is not the most effective, cost-saving, access-increasing solution to the family planning crisis in Texas. Republicans say they want to fix what they broke in 2011, but they're trying to do so without the most effective tool for the job.
Bob Deuell, a Republican senator and doctor, told the Texas Tribune earlier this month that his conservative colleagues "got snookered by some of the people in the pro-life movement about that family planning issue," as if all the available evidence didn't point toward more unplanned pregnancies, and less cost savings to the state, if funds were cut. As if Tea Partiers and Republicans were just hapless do-gooders caught in a no-win situation.
Deuell himself proposed a bill this session that would reduce the total number of abortion clinics in Texas to five. Five. Bob Deuell isn't a reasonable guy looking for compromise. He's an extremist who'll say anything to stay in office after the family planning backlash.
There's no "harmony" in capitulating to an anti-woman party that holds women's health care hostage for the sake of scoring political points with a right-wing base that would like to see abortion made illegal, forcing all pregnant people to carry to term no matter what. Republicans aren't being reasonable. They're biding their time. And until Democrats go on the offensive, rather than the defensive, that'll be the status quo in Texas.
So no, I'm not grateful to Texas lawmakers who say they're piecing public funding for family planning care back together. Making life as fair and equitable as possible for constituents is what elected representatives (should) do, and restoring family planning services isn't a grand gesture, a benevolent compromise or a favor. It's the bare minimum.