Holding Gov. McCrory to His Campaign Promise
As anti-choice bills fly through the legislature, we are counting on Gov. McCrory to stand up to the anti-choice leadership in the legislature and make good on his campaign promise to not support any new restrictions on abortion access.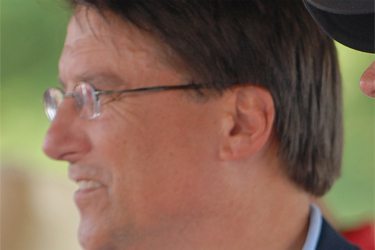 New polling by Public Policy Polling shows that Gov. McCrory's total approval rating has dropped 26 percent in five months. Vince Clements / Shutterstock.com
In the final debate of the 2012 North Carolina gubernatorial campaign, Pat McCrory made a promise to North Carolina voters that he would not support any new restrictions on abortion access. He said it right there, on television, for everybody to see. McCrory won the election weeks later, and we vowed to hold him to his words.
Up until a few years ago, such campaign promises didn't have the sticking power we'd have liked, and just months after an election, could easily be forgotten or overwritten by the elected official's new narrative of "what he really meant," or how his position "evolved." But something has changed. In the age of the internet meme, the sharable graphic, the easy connection between online activity and offline action, the watchful eye of online onlookers means that politicians' positions are not so easily malleable.
North Carolinians are definitely watching and getting involved in what's going on at the state legislature, even us often-maligned Millennials. I have read the articles that suggest Millennials are not as politically active around choice as former generations. But, as a Millennial myself who recently left a career in big law to become executive director of NARAL Pro-Choice North Carolina, I know firsthand that our staff, board leaders, and many of our activists are closer to my age than my mother's, and that their activism takes many forms, from online to in-person and everywhere in between. Yes, they are likely to click a link or post on their blog to show their support, but they are also likely to show up for a rally against legislative attacks on same-sex marriage, voting rights, and reproductive health care.
This year's attacks on reproductive rights all over the United States have ensured that we will need every one of those activists and every form of activism working together to hold elected officials to their campaign promises. In our state, anti-choice politicians have introduced seven measures that would limit access to reproductive health care. Just last week, a committee of lawmakers approved a measure that would threaten health-care providers with lawsuits and steep fines for performing an abortion when sex-selection is a "significant factor" in the woman's decision. When questioned about the prevalence of sex-selective abortions, neither the bill's sponsor nor its proponents were able to offer any evidence of their occurrence in the United States. What's more, reproductive justice supporters know abortion bans are not the way to address the serious and complex issues that contribute to sex discrimination and son preference. The sponsors of this legislation have refused to support measures that would have real impact on discrimination, like the Equal Pay Act and the Healthy Families and Workplaces Act, showcasing just how disingenuous these sponsors are in their "concern" for the welfare of women and girls. Ultimately, while proponents of this measure attempt to cloak their anti-choice agenda in concern for gender discrimination, it is clear that the goal of this legislation is not to curb discrimination but to strip women of reproductive options by making it increasingly difficult for doctors to provide abortion care.
These extreme legislators also have filed bills that would allow employers, including for-profit corporations, to refuse to provide insurance coverage for contraception and increase the cost and limit the accessibility of abortion in North Carolina. And just this week they considered a measure that would force teens to get a parent to sign off on their decision to access birth control or seek treatment for a sexually transmitted infection or even mental health counseling (not to mention bills that would end early voting, slash funding for pre-K programs, and allow guns in bars). These measures are extreme, far-reaching, and out of touch. New polling data shows that 76 percent of North Carolinians think decisions about reproductive health care should be left to a woman, not politicians. But apparently, our state legislature hasn't gotten the message.
As these bills fly through the legislature, we are counting on Governor McCrory to stand up to the anti-choice leadership in the legislature and make good on his campaign promise. And we're using our new She Decides online advocacy campaign to hold him to his word. In the last two weeks alone, over 1,000 North Carolinians have contacted the governor through our site—and encouraged others to do the same.
Millennials in North Carolina care about policies that affect them. They care about voter ID laws, they care about education, and they care about reproductive health. We at NARAL Pro-Choice North Carolina are confident that young people are passionate about their right to information about their own health care (with or without parental consent), their right to make personal and private decisions for themselves, and their right to exercise their voting rights. We know they don't need our help to make their voices heard, but we hope that they will agree to tell the governor: she decides. The goal is, of course, not only to keep abortion safe and legal, but to make it accessible for everyone.